Are you looking to explore the wonderful Mashomack Preserve Shelter Island? The "Jewel of the Peconic" is protected by the Nature Conservancy and many nature-loving Long Islanders. Mashomack Preserve is a world away yet just 90 miles from New York City!! The preserve covers over 2,350 acres of interlacing tidal creeks, mature oak woodlands, fields, freshwater marshes and underwater lands. That's a full one-third of the Shelter Island, so you can see how important it is to the residents of the island and it's visitors.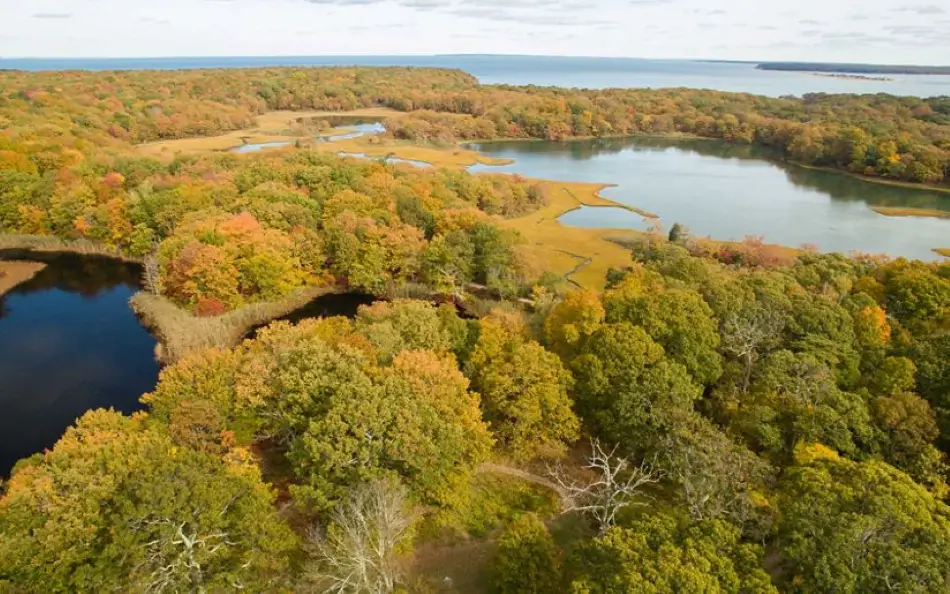 With 11 miles of coastline, woodlands, and acres of creeks and fantastic hiking trails, there's just so much to see, do, and take in. The mix of untouched coastlines, tidal creeks, and woodlands makes for a great place to spot ospreys, turtles, and other endangered wildlife. Be sure to head to their website to check out what's happening at the manor house, which, in addition to the best social events of the summer, offers a variety of environmental programs for adults and children.
As the warmer weather arrives on our doorstep, allow yourself a few hours of exploration as you hike through easy terrain in a beautiful serene setting. During your walk, see how many different types of plants, trees, and wildlife animals you spot. As spring is now upon us, you may spot some baby red fox and deer, as well as box turtles, possum, and many more iconic species.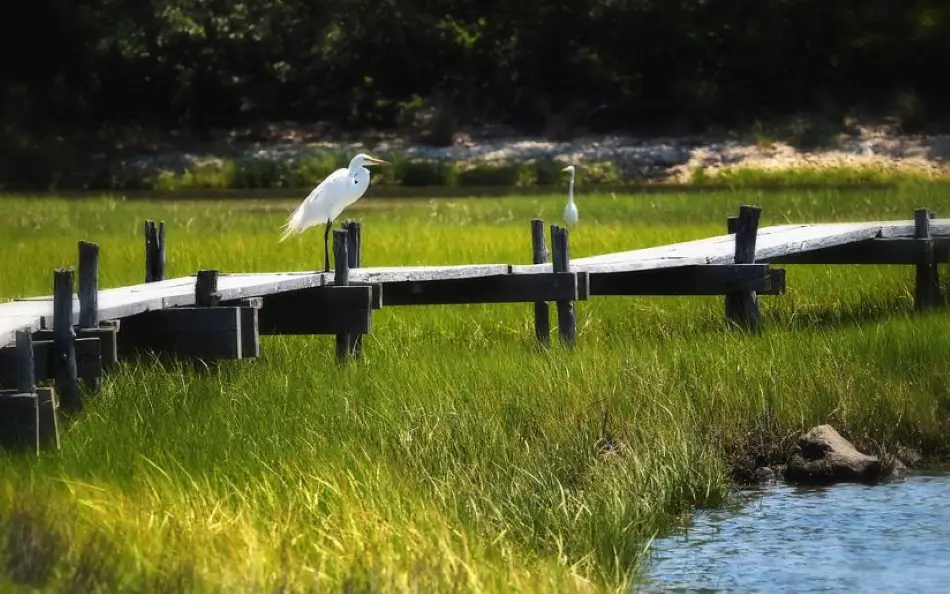 Wildlife to See and Enjoy
Since 1980, over 200 species of birds, including 79 nesting species, have been recorded at Mashomack Preserve Shelter Island. Admire painted turtles basking on a sunny log. See spring peepers chirping. Check out monarch and swallowtail butterflies, dazzling dragonflies, or buzzing cicadas.
Salt marshes shelter clams, blue claw crabs, and a variety of fishes. The night brings little brown bats and moths, including the beautiful luna and rare Imperial. Other nocturnal creatures may leave footprints, scat, or rubbings to signal that a fox, raccoon, or deer passed by.
The only natural community of its kind on Long Island, the Pine Swamp Complex is comprised of plants rooted in a floating mat of sphagnum moss. Probes have found organic accumulations ten feet thick dated to be 3,900 years old. 
More Information
This ancestral land of the Manhanset peoples has housed generations of farmers, fishers and those seeking refuge from the constant bustle of life. The Mashomack Preserve Shelter Island is open Wednesday-Monday from 8am-6pm and is closed on Tuesdays.
79 S Ferry Rd, Shelter Island, L.I., NY 11965
Find out more by visiting nature.org (you can download a trail map) or by calling 631-749-1001.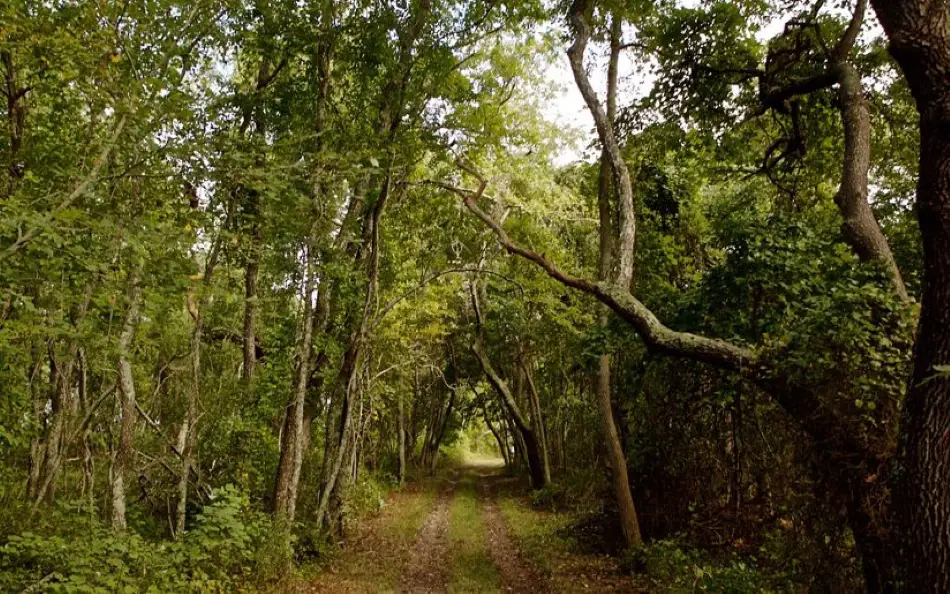 More Shelter Island Information
Find out more about Shelter Island, it's different towns and more by checking out this page that includes a handy Shelter Island Map!!
Shelter Island is…an island. One of the things that makes it so unique, peaceful, and quaint is that there are no bridges linking to the island. Shelter Island is only accessible by the Shelter Island Ferry. The North Ferry connects to Greenport on the North Fork. The South Ferry connects to North Haven on the South Fork.
On the island, car service is available from Shelter Island Go-Fors. Bikes can be rented from Piccozzi's Bike Shop.
Shelter Island is a really special spot. If you think you'd want to check it out and maybe even stay a while…that wouldn't be such a terrible idea.
Be sure to check out all the great Shelter Island restaurants! You'll be surprised how many great ones there are to enjoy!
Enjoy reading up on and hopefully exploring these wonderful Shelter Island hotels and let me know if you decide to make it a vacation!
Places to Stay on Long Island
If you wanted to consider different options for staying on Long Island, be sure to check out these great places to stay in Montauk, 10 Hamptons hotels, 10 North Fork Long Island hotels, and this Guide to Sag Harbor hotels! Shelter Island is right smack in the middle of all these fantastic East End towns!
Check Out Some Long Island Wine
While you're on Shelter Island, you're so close to Long Island Wine Country! It's another great part of visiting the island. If you're in the mood for great wine, be sure to check out our Complete List of Long Island Wineries and Long Island Vineyards.
Check out the absolute best Long Island Wine Tours!
If you can't make it to a tour, why not do some wine tasting at home with Bedell Cellars!
I know you're getting hungry, so be sure to also check out the best wineries on Long Island for some great food!
While you're in the area, be sure to check out these 9 relaxing things to do in the North Fork!
When you're done with all of this wine drinking and relaxing, how about making it a weekend? Here are 10 great North Fork Long Island hotels to enjoy as well.
More From The Long Island Local
Maybe grab a freshly brewed beer at these Long Island breweries and when you've had your fill of vino!
The bounty of great food on Long Island seems endless! From great steakhouses on Long Island to great Greenport restaurants! From Long Island lobster rolls to Long Island bagels! There's so much to enjoy. And how about all the wonderful restaurants on the water Long Island?! Or maybe check out some Long Island oyster farms!
Be sure to find out about more things to do on Long Island. Also, check out more great spots to eat and drink!