Are you looking for fun things to do like taking a few cooking classes on Long Island? Did you know that there are many cooking classes on Long Island? Instead of going out to eat, you and your children can take some great classes. Learn how to cook the most delicious meals ever while having a great time doing it.
By taking culinary lessons, you don't only improve your cooking skills, you also have tons of fun, meet other foodies and enjoy a tasty meal you made yourself. And if you love international cuisine, then you'll learn how to achieve that authentic taste. 
There are plenty of classes for adults and kids of all ages, so taking culinary classes can also mean quality time with your family. Some of the courses can be taken in person, and some are available only online due to the COVID-19 pandemic. There are also a few places that chose to close all classes until it's safe. I decided to include all of them so that you'll know about every option.
So here is the list of all cooking classes on Long Island. This list always seems to be changing in the current world we live in, so please bae sure to contact them ahead of time for the very latest. Also, here are some places to stay on Long Island if you want to make it a weekend!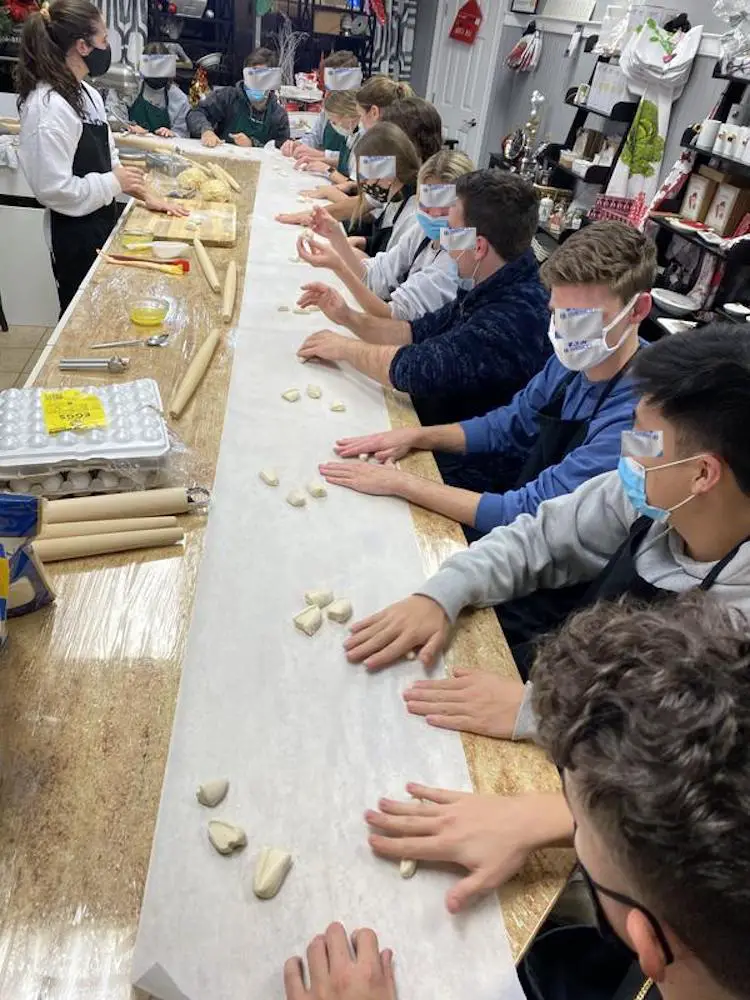 Where to Find Cooking Classes on Long Island for Adults Only
Classes in Nassau County
A La Carte Culinary Services
Taught by a Certified Culinary Professional Polly Talbott, A La Carte Culinary Services is an amazing opportunity to learn how to cook restaurant-level dishes. You can choose any method to learn – online or in group/private classes. 
For online classes, you can participate in a Zoom class or subscribe to her video channel. There are video tutorials on Spanish, Italian, and French classic menus. 
If you want to take the classes in person, you can sign up for one of her upcoming classes. She can accept only up to 4 people for one session. The January classes include $150 Greek Island Cooking (Jan 22), $85 Junior Chef (Jan 23, 11 a.m.), and $150 Cast Iron Cooking (Jan 23, 1:30 p.m.). Greek Lemon Soup, Chicken Piccata, Smoked Salmon Fritatta – don't you want to add them to your holiday menu?
But if you know how to cook these yummy things or you have a particularly stubborn dish that you can't seem to master, you can book a private lesson. A private class for 1-2 people will cost you $375, food cost excluded. 
32 Atlantic Avenue, Lynbrook, L.I., NY 11563
To book a seat in a class, visit https://www.pollytalbott.com/a-la-carte or call 516-317-2075.
The Flour Shoppe Cafe 
The classes at The Flour Shoppe Cafe are usually 3-hour long. And they include dinner and unlimited drinks from Stumptown coffee bar and Cane Sugar Fountain.
Afterward, you'll go home with new recipes and additional food from the class.
The Flour Shoppe Cafe also hosts private classes that you can book for a special occasion, such as birthday parties, baby showers, team building activities, etc.
486 Sunrise Highway, Rockville Centre, L.I., NY 11570
For more information, visit https://flourshoppecafe.com/events or call 516-536-2253.
The Cook's Studio
During the classes organized by The Cook's Studio, you will cook tasty dishes, taste delicious wine, and have a great time. 
In these cooking classes, you'll watch a chef's demonstration first, and then you'll cook the dishes. Everyone works in pairs, but if you come alone, you'll have to work without a partner as The Cook's Studio doesn't pair strangers. 
You can sign up for various classes and learn how to make sushi, dumplings, Lo Mein, fresh Mozzarella, and more (check the schedule here). One session costs $85 per person. Currently, they can only accept 18 people in a class for health safety reasons, so sign up quickly. 
You can also apply for a private class for $100.
156A Engineers Drive, Hicksville, L.I., NY 11801
You can get a spot in a class by visiting https://thecooksstudio.com/ or calling 516-439-1355.
Vienna Cookie Company
Would you like to learn how to make the best Austrian desserts? A self-taught Austrian baker, Heidi Riegler, will be glad to help you with that. 
Because of the COVID-19 situation, she stopped giving in-person classes, but instead, she'll be meeting you online. You can attend one of her online classes held on Saturdays, from 10 p.m. to 12 p.m. The classes start on February 6, and one session costs $25. 
782 Merrick Road, Baldwin, L.I., NY 11510
To sign up for Heidi's class, visit https://www.viennacookiecompany.com/pages/baking-classes or call 347-440-9273. 
Classes in Suffolk County
CocuSocial
CocuSocial is an organization that arranges cooking classes at local venues in different cities. There are four upcoming cooking classes on Long Island, scheduled for January and February.
During these classes, you'll learn how to make hand-rolled Cavatelli pasta and handmade Gnocchi. Each class costs $59, is taught by Chef Brian, and is held at Fire Island Vines. 
CocuSocial also has a variety of online interactive classes.
17 E Main St, Bay Shore, L.I., NY 11706
Learn more about the classes by visiting https://cocusocial.com/cooking-classes/LongIsland.
The Babylon Mercantile
The Babylon Mercantile usually offers in-person culinary classes, but changes that came with coronavirus affected them, too. They chose to suspend all in-person classes and moved their sessions online. 
Their online classes cost $30-35. If you want to include grocery pickup, the price varies from $60 to $100, depending on the meals. 
Some things you'll learn to cook in January include Chicken Under-A-Brick, Middle Eastern Spread, steaks, and more. 
45 E. Main Street, Babylon, L.I., NY 11702
To check out the schedule of upcoming classes, visit https://babylonmercantile.com/class-calender#contact.0 or call 631-818-1100.
North Fork Kitchen and Garden
North Fork Kitchen and Garden also chose to suspend their in-person classes until further notice. But they offer online video tutorials. 
If you feel like your daily menu lacks soups, the course designed by Peter Berly, a winner of the James Beard Award, will teach you how to make savory soups. The class consist of a 2-hour video divided into six sessions and costs $39.99. Or you can subscribe to Craftsy for $7.99/month.
127 Green Street, South Jamesport, L.I., NY11970
To get updates about Peter's in-person classes, visit http://www.peterberley.com/classes or call 917-887-648.
Japanese Cooking Studio
If you a ramen or sushi lover, why not learn how to make authentic meals with a Japanese chef Mamie Nishide? She offers private cooking lessons that you can take at your home or in a beautiful house in Laurel, NY. 
You can choose what you want to learn to make – sushi, ramen, or dumplings. For a group of seven people, the class will cost $100 per person. If your group has fewer people, you'll have to contact Mamie and check the price.
Book a class by visiting https://japanesecookingstudio.com or calling 516-297-9761.
Healthy Cooking Classes
If you want to start eating healthy, clean food but don't know how to make it delicious and appealing, you should ask Olivia Napoli for a class. She can teach you how to make nutritious, easy meals that will definitely benefit your health. 
Olivia is available for individual/group classes, and you can discuss the menu and prices by filling a form here.
Smithtown, L.I., NY
Learn more about Olivia by visiting http://www.olivianapoli.com/ or calling 917-576-4078. 
Where to Find Cooking Classes on Long Island for Adults & Kids
Classes in Nassau County
The Baking Coach
The Baking Coach classes originally were available in two locations – Huntington and Amityville. But these days, you can learn how to bake delicious desserts in Huntington only. 
In this workshop, you and your children can take classes together or separately. Baking Coach offers Kids Only (6 to 14 years old), Basic Skill Level (for all ages), and Supported Entry Level (for people over 15 years old in need of assistance). 
An in-person session costs $85, or if you are accompanying your child under 12 years old, you can pay $35 to join them in class.
Some of the cooking classes will also be available on Zoom, so you can learn without leaving your home. Zoom lessons cost $39.95. You'll receive a list of required ingredients beforehand so that you can prepare them in time. 
In January 2021, some of the things you'll learn to bake are Chicken Pot Pie, Cranberry White Chocolate Scones, Chocolate Rasberry Brownies, and more.
The Baking Coach also offers private workshops for up to 2 people for $150. 
320 Broadway, Greenlawn Road, Huntington, L.I., NY 11743
To learn more about the schedule or to book a class, visit https://www.bakingcoach.com/schedule.html or call 631-543-8608. 
The Well-Seasoned Chef
The Well-Seasoned Chef is a great place for adults and kids to hone their cooking skills. 
For kids, they offer Sous Chef Culinary Classes (ages 15-19) and Junior Chef Culinary Classes (ages 8-14), which are available regularly for $60. 
There is also an event for Valentine's Day on February 13. The event will teach your kids to decorate Valentine cupcakes, make homemade ice cream and personal pizzas. Children of all ages can attend for $45 per person. Parents whose kids are under five years old will have to accompany them. 
For adults, The Well-Seasoned Chef hosts private events, during which you'll prepare the meal with your group. To book an event, your group should have at least ten people. The prices for the events start at $125, and the cost includes ingredients, paper goods, and a coffee bar. You can bring your own alcoholic beverages to the event. 
45 New Hyde Park Road, Garden City, L.I., NY 11530
Learn more by visiting https://thewellseasonedchef.com/ or calling 516-488-1008.
What's Cooking
What's Cooking takes the development of cooking skills in young chefs very seriously. I mean that in a way that they offer not one-time classes but full courses, suitable for children of all ages. 
Each course consists of ten classes of 1-hour duration. They are held either monthly or weekly, depending on the program. One program costs $430, and trial classes are available. 
What's Cooking has classes for adults, too, but these aren't available at the moment. 
Apart from cooking classes, you can also choose What's Cooking for a birthday party, private lessons, team building sessions, and more.
30 East Main St., Oyster Bay, L.I., NY 11771
Sign up or learn about upcoming lessons by visiting https://www.whatscookingny.com/ or calling 516-922-2665.
The Cooking Lab
The Cooking Lab is all about keeping you and your family safe while also teaching you how to cook incredibly. That's why their classes take place in the virtual world now. 
During the lessons, your kids and teens can learn how to make sushi, Tuile cookies, citrus bars, and more. They can also participate in a series of cooking and baking classes, which consist of four weekly lessons and cost $100. 
If you want to cook with your children together, you can attend virtual classes designed for the whole household. Five days before the class, you'll receive a list of all the necessary ingredients, so you'll have plenty of time to prepare. These lessons cost $35.
You can also buy a private virtual cooking experience tailored to your occasion for $250 (up to six screens). 
160 Main Street, Port Washington, L.I., NY 11050
Register for a class by visiting https://www.thecookinglabpw.com/ or calling 516-570-0050.
Closed Until Further Notice
The organizations listed below used to offer in-person cooking classes on Long Island before the Covid-19 period. Since the pandemic, they either canceled or suspended all sessions for everyone's safety. But there is a chance that these classes will soon be available again, so check their websites for updates regularly.
Gingerbread University
Before the pandemic, you could visit Gingerbread University with your kids and participate in decorating gingerbread houses, cookies, chocolate pieces. But now, they are closed for the 2021 season.
However, if you want a special and unique party for your child, you can buy party packages assembled by Gingerbread University and not worry about anything. Professionally trained GingerElves will teach and help you and your guests make the most out of their decorating kits. 
There are two packages available currently – Deluxe Gingerbread House Party for $499.95 and Deluxe Gingerbread Jumbo Cookie Party for $349.95.
3225 Sound Avenue, Riverhead, L.I., NY 11901
Find out more by visiting https://www.gingerbreaduniversity.com/about2 or call 631-727-7309.
Celebrations in the Kitchen
Celebrations in the Kitchen used to host cooking classes, but now they deliver ready-to-use cooking kits. You'll get everything you need to make donuts, cookies, cupcakes with detailed instructions. 
There are also decorating kits for holidays, including Valentine's Day, Mother's Day, Easter, etc. 
Everything is easy to use and kid-friendly, so you'll have a lot of fun making yummy colorful desserts with your family. 
63 E Old Country Rd, Hicksville, L.I., NY 11801
To select a suitable cooking/baking kit, visit https://celebrationsinthekitchen.com/collections/all or call 516-396-2193.