Are you looking for the best Long Island hiking spots? Well, you are in luck nature lovers because Long Island is truly a treasure trove when it comes to hiking. There are trails of all sorts of distance, terrain, and difficulty for a beautiful hike. Some are easier hikes and some are more challenging hikes, but there is something to enjoy for most skill levels. And with so many parks and preserves, it's easy to find the perfect spot for you, whether you prefer to hike in a forest or a meadow, with people around you or away from crowds, dog-friendly or with a no-pets policy. Just remember to be safe, learn as much as you can about the trail and its conditions, and beware of ticks and poison ivy. 
RELATED: Long Island Arboretums and great gardens of Long Island.
Long Island Hiking in Nassau County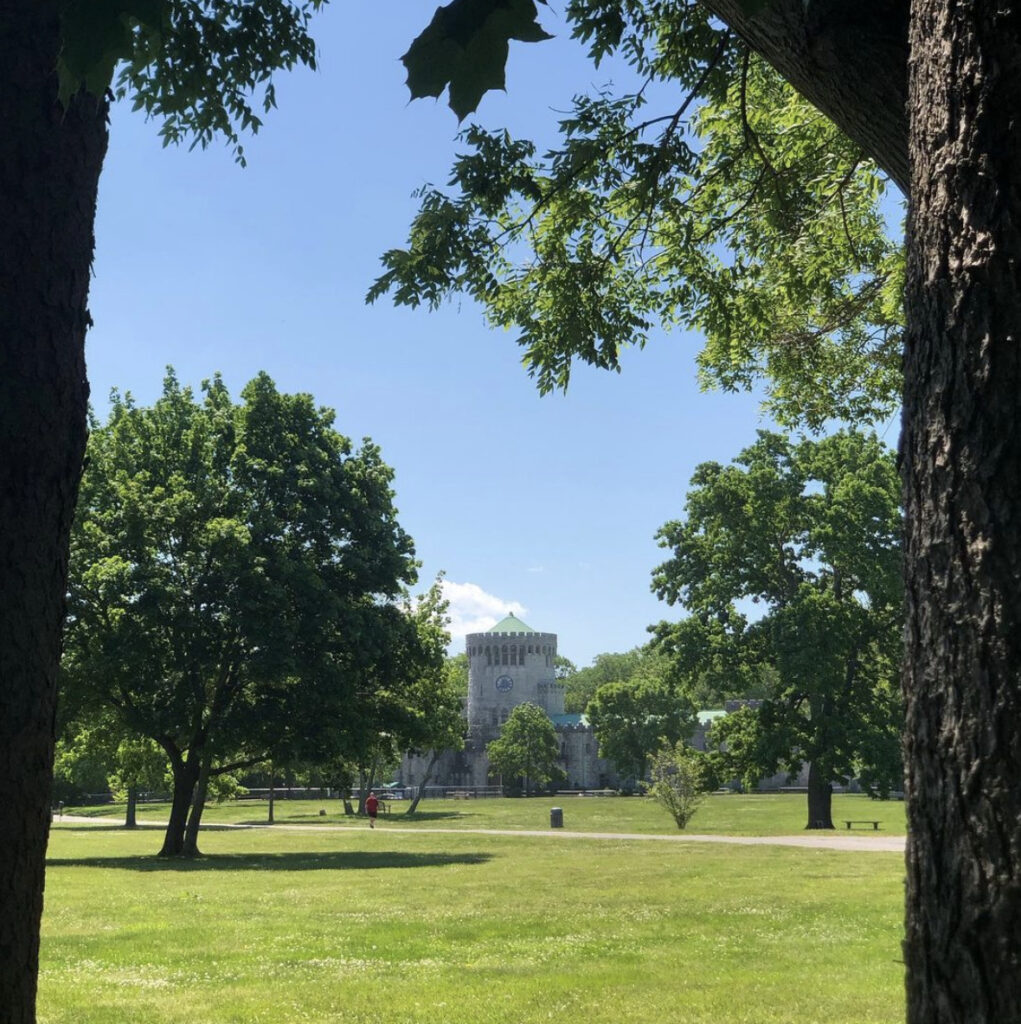 Sands Point Preserve
This is a 216-acre park on the original Guggenheim Estate. Sands Point Preserve offers six marked trails that take you through natural and landscaped areas. You can walk through the woods, around the pond, or the manicured lawns of Castle Gould and Hempstead House where you can get a glimpse of Long Island Sound (click here to check the trail map). It's perfect for people who easily get bored with one view and love to mix things up. The trails are also easy enough to walk with little kids and the elderly. The trails aren't that long or strenuous, and it's almost impossible to get lost. This is also a really popular spot for movie, tv, and photoshoots!
127 Middle Neck Road, Sands Point, L.I., NY 11050
Muttontown Preserve
Muttontown Preserve is the largest nature preserve in Nassau County. It offers over 500 acres of beautiful fields and ponds to explore. Take notice that the trails are poorly marked and it's very possible to get lost. So it's not the best for beginners, even though the walk itself is pretty easy. The hikers who can figure out their way around the preserve will be able to enjoy a piece of history in the form of Chelsea Mansion. These are the mansion ruins of the last king of Albania, King Zog. 
25A west of Jericho-Oyster Bay Road, Muttontown Lane East Norwich, L.I., NY 11732
RELATED: Long Island's Gold Coast Mansions.
Planting Fields Arboretum State Historic Park
Planting Fields Arboretum, which used to be the estate of insurance magnate William Coe and his wife Mai Coe offers you a 409-acre property with formal gardens, greenhouses, rolling lawns, and woodland trails. Five miles of trails take you through almost 200 acres of native forest (the map is here). It's a vast, enchanting, and ever-changing place, so no matter how many times you've hiked here before, you'll always find something new here.
1395 Planting Fields Rd, Oyster Bay, L.I., NY 11771
Hempstead Lake State Park
Hempstead Lake State Park is a 737-acre park with the largest freshwater lake in Nassau County. There's also a 5-kilometer loop trail to enjoy. The walking trails are safe and suitable for all levels. You can stay on the marked trail or venture into the wilderness. Be sure to explore the park thoroughly as it has its secrets – a historic hand-carved wooden carousel, for one. 
Eagle Ave, West Hempstead, L.I., NY 11552
Massapequa Preserve
Massapequa Preserve is one of those rare places that allow you to feel one with nature and completely forget about everything outside the park. It features the longest hiking trail in Nassau County that follows the shore of Massapequa Lake. The trail is mostly flat, shaded, easy to walk, and offers you plenty of things to see – lots of wildlife, a pond, bridges, and more. 
Bethpage Bikeway, Massapequa Park, L.I., NY 11762
Mill Pond Park
If you aren't in the mood for a long hike but wouldn't mind a short nature walk in a lovely place, Mill Pond Park is the one you should go to. The 1-mile trail around Mill Pond is as green as it gets, is easy to walk, and offers you some spectacular views around sunset time. During your stroll in the park, you'll be able to fully relax, and your mind will slow down enough to notice the refreshing sweet smell of wild rose and the calming sounds of a little waterfall. Oh, and don't forget to bring something for the residents of the park – ducks.
2286 Arby Ct, Wantagh, L.I., NY 11793
Twin Lakes Preserve
Twin Lakes Preserve is a 58-acre preserve on Old Mill Road in Wantagh that features two lakes, five freshwater ponds, wetlands, woodlands, and trails that go through the entire place and are suitable for hikers of all levels. The preserve's natural elements create a wonderful atmosphere for hiking, bird watching, and fishing, providing a peaceful sanctuary from your everyday problems.
200 Park Ave, Wantagh, L.I., NY 11793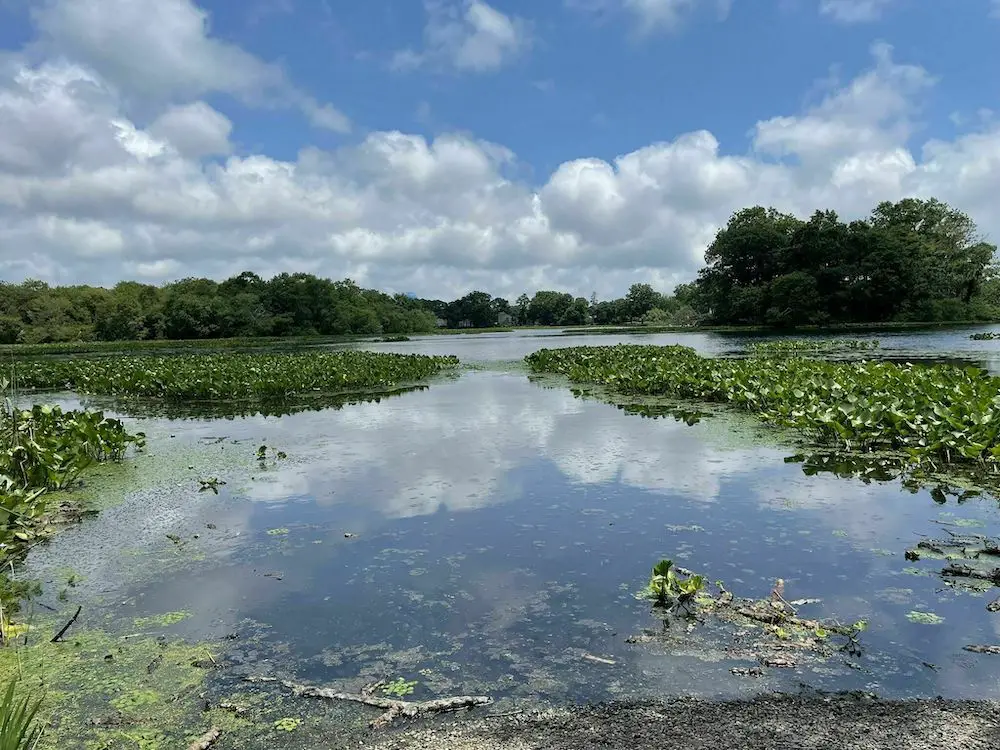 Nassau-Suffolk Greenbelt Trail
Nassau-Suffolk Trail is a 19-mile trail that runs from Cold Spring Harbor to Massapequa and connects several Long Island parks and preserves. While it's indeed pretty long and includes different terrains (from flat to steep hills), the trail is very well marked, easy to follow, and provides plenty of options for different length outings. So whether you are a beginner or expert hiker, you'll be able to appreciate the beautiful experience Nassau-SuffolkTrail can offer you. Also, please note that rainy weather makes the southern parts of the trail a bit swampy. 
Woodbury, L.I., NY 11797
Marine Nature Study Area
Any park or preserve can provide a hiking trail, but how about an informative hiking trail? For that, you should visit the Marine Nature Study Area. It's a 52-acre preserve divided into eight designated observation and study sites where you can learn something new about the tides, birdlife and migration, beach barrier and its flora and fauna, and more. The trail that takes you through all the areas is only one mile long and is suitable for all ages and levels. You can arrange a guided program for your group or take a walk by yourself with a self-guided booklet. 
500 Slice Dr, Oceanside, L.I., NY 11572
Humes Preserve
The 27-acre Humes Preserve is at the heart of 150 contiguous acres of protected land. It includes the Humes Japanese Stroll Garden, Francis Pond conservation areas, and Shu Swamp. It features a two-mile trail system that takes you through a hilly forest and gorgeous meadow. The trails are easy, straightforward, and well-maintained; it'll be a pleasure to hike there especially since you can bring your dog (on a leash) with you. Check out the trail map here.
349 Oyster Bay Road, Mill Neck, L.I., NY 11765
Cushman Woods
Cushman Woods is a 28-acre hilly forest. It features one of the longest trail systems among North Shore Land Alliance preserves. The forest is home to many bird species and native plant species (such as yellow trout lilies). There are also mammals such as foxes. It's not that hard to believe that this trail system used to be a popular fox-hunting route in the 19th century. Fortunately for foxes, the woodland preserve isn't a hunting area anymore. Their peaceful life can only be disturbed by occasional hikers, like you and me. You can download the trail map here.
Locust Valley, L.I., NY 11560
Hope Goddard Iselin Preserve
The 42-acre Hope Goddard Iselin Preserve consists of a white pine plantation, a lovely hardwood forest, and a colorful meadow. It features a mile-long interpretive trail with 13 signs that will help you learn more about the rich history and ecological communities of the preserve. The path is well-marked, well-maintained, and overall, it's a pretty easy hike, although the forest does have some challenging spots. The map of the trail system is available for download here.
Chicken Valley Rd, Oyster Bay, L.I., NY 11771
Red Cote Preserve
Another one of North Shore Land Alliance preserves, Red Cote Preserve is 42 acres of charming meadows and vast woodlands. The 1.2-mile trail system includes the wide grassy path around the fields and the narrow trail in the woods. Hikers of all levels and ages will be able to enjoy the hiking experience in Red Cote Preserve, as the trails are flat and easy. You can find the map of the preserve here.
27 L 02320, Oyster Bay, L.I., NY 11771
Long Island Hiking in Suffolk County

Sunken Meadow State Park
Sunken Meadow State Park features the most stunning views of Long Island Sound, which you can enjoy from the boardwalk and during your hike on the shoreline trail. Beautiful water views, fun well-marked trail with some challenging sections (moderate difficulty level), plenty of different paths to follow – all that is guaranteed at Sunken Meadow State Park. The only downside is that it can get crowded sometimes, but that's the price you pay for an excellent hiking opportunity, right?
New York State Reference Rte 908K, Kings Park, L.I., NY 11754
Belmont Lake State Park
A 463-acre dog-friendly park, Belmont Lake State Park offers you 7.6 miles of hiking trails (the map is available here). Hiking here is very pleasant as the path is wide, safe, mostly flat, and the scenery is incredible. But the trails aren't the only highlight of the park; it has more to offer. During your walk, you get to enjoy the serene beauty of the lake and see a wide variety of birds, and after you finish hiking, you can have a picnic or do some of the water activities – boating, kayaking, fishing, etc. 
625 Belmont Ave, West Babylon, L.I., NY 11704
Brookhaven State Park
Brookhaven State Park sits on 1,638 acres and features The Brookhaven trail that goes through the park and meets up with the Paumanok Path (a 125-mile hiking trail that goes from Rocky Point to Montauk Point State Park). The Brookhaven trail is suitable for beginner hikers of all ages as the path is flat and well-marked; however, more experienced hikers might find it boring. For those hikers, several other paths aren't marked but are easy to follow and offer more challenging terrains. You can find the Brookhaven State Park trail map here.
2500 William Floyd Pkwy, Ridge, L.I., NY 11961
Caleb Smith State Park
One of the four Long Island state nature preserves, Caleb Smith State Park is perfect for a peaceful hiking experience. It tends to be a more relaxed experience since no bikes allowed. Check out the trail map is here. The variety of terrains in this land of ponds, streams, and wetlands will keep you on your toes at least in the beginning. But even after you become familiar with the layout, you'll never get bored because there is simply too much beauty and peace in that place.
581 W Jericho Turnpike, Smithtown, L.I., NY 11787
Nissequogue River State Park
Hiking in Nissequogue River State Park is definitely not for the faint-hearted, especially if the hike happens on a gloomy cloudy day. The park that opened on a 153-acre land of a former psychiatric center in 2000 has a bit of an apocalyptic vibe with abandoned buildings, overgrown homes, and creepy graffiti. But the park can be just as beautiful as it can get spooky. It follows the Nissequogue River and provides you with unforgettable water views. Avid hikers should take notice of Nissequogue River State Park because it also features a section of the Greenbelt Trail and the trailhead of Kings Park Hike and Bike Trail.
Nissequogue River State Park is open year-round from sunrise to sunset and is pet-friendly.
Kings Park, L.I., NY 11754
Makamah Nature Preserve
Makamah Nature Preserve is a hill-filled forest famous for birdwatching, but it's also a local gem for hiking. The preserve is large and is full of twists through its dry and wet woodlands, which can be challenging even for expert hikers. The trail width is mostly suitable for a single person only. The path is well-marked and easy to follow, so even if you go on a solo hike, you are unlikely to get lost. If you don't feel safe hiking alone, you are welcome to bring your dog, but you have to keep it on the leash. 
Fort Salonga Rd, Fort Salonga, L.I., NY 11768
Wawapek Preserve
The 32-acre Wawapek Preserve used to be part of the 600-acre estate of the de Forest family. The preserve is a wonderful place to relax and forget your worries. More than 60 percent of the preserve takes up magnificent mature hardwood forest that makes you feel like a character from the Hobbit book. The other 40 percent takes up the historic garden with specimen trees and newly planted fruit trees. The trail in Wawapek Preserve is only half a mile long, and it's very easy, but the atmosphere of the preserve will make your hike unforgettable. 
Cold Spring Harbor, L.I., NY 11724
Uplands Farm Sanctuary
Uplands Farm Sanctuary in Cold Spring Harbor, New York, retains the appearance of an old dairy farm, complete with a silo and open meadows that were once cattle pastures. Today, the old brick farm buildings serve as an office for The Nature Conservancy's Long Island Chapter.
Before you visit, download a trail map.
The preserve offers visitors the chance to enjoy a variety of natural habitats and native species. Nearly 2.5 miles of the marked trail meanders from bird and butterfly meadows, through deciduous forests, and into a white pine-shaded ravine.
Cold Spring Harbor, L.I., NY 11724
Sans Souci County Park/Nature Preserve
The name of Sans Souci County Park is spot on. Sans Souci means 'without worry' in French, and that's what you'll be like when you set out on a hike in this nature preserve. The park features several lakes filled with lily pads, a sprawling forest, and an uncountable number of trails that lead in every direction. Most of the trails are unmarked, so you need a good sense of direction to hike in the preserve. Unlike other hiking spots on Long Island, Sans Souci is usually empty, which can be very good or very creepy, depending on how you look at it. The nature preserve is dog-friendly, though, so if you want to enjoy the beauty of the park, bring your four-legged best friends to keep you company. 
Broadway Ave, Sayville, L.I., NY 11782
West Hills Nature Preserve
Don't confuse West Hills Nature Preserve with West Hills County Park; while both of them are suitable for hiking and nature time, the nature preserve is usually less crowded because the county park gets all the glory. The hiking trail of the nature preserve also isn't great for beginners or younger hikers because it isn't properly marked and includes plenty of uphill climbing. It's a moderate difficulty level of hiking, but if you are up for the challenge, you'll get rewarded with a pretty amazing getaway from people and traffic. 
6 Country Meadow Ct, Melville, L.I., NY 11747
Carmans River Pine Barrens State Forest
Carmans River Pine Barrens State Forest is a 24.8-acre undeveloped property located between Carmans River and the Long Island Expressway. The forest is open year-round and is like a magical portal into a completely different land without people and their nonsense. The fresh air, the calming smell of pines, the sight of animals whose home you are visiting, the feeling of happiness and harmony that only nature can grant you – this and more is awaiting you at the Carmans River Pine Barrens State Forest. The map of the forest is available here.
Carmans River Pine Barrens State Forest, Yaphank, L.I., NY 11980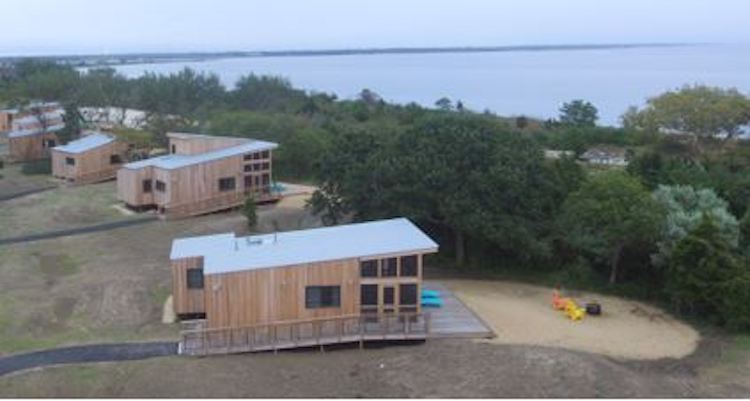 Heckscher State Park
The 1,600-acre Heckscher State Park features trails that are so flat and straightforward most people don't even take them seriously. They say that the path isn't exactly for hiking, more for strolling. But the unchallenging nature of the 1.5-mile trail shouldn't stop you from enjoying all that Heckscher Park has to offer – the lovely views of Great South Bay and Fire Island and an opportunity to see wildlife up close, including whitetail deer. And if after such a great time in the park you decide that you still need to exercise, you can always take the Greenbelt trail, which crosses Heckscher State Park.
You can also go glamping here, too, and spend night…
RELATED: Click here to find out about all of the Long Island glamping spots, like Eastern Long Island Kampground and Wildwood State Park camping, and Long Island Glampers!
1 Heckscher State Pkwy, East Islip, L.I., NY 11730 
Long Island Pine Barrens Trail
The second-longest hike on Long Island, Pine Barrens Trail is a 47-mile trail that starts in Rocky Point, passes multiple parks, and ends in Hamptons Bays. It's also one-third of the 125-mile Paumanok Path, which leads to Montauk Point. Long Island Pine Barrens Trail has two starting points: one is the trailhead of Paumanok Path (the southern side of NY Route 25A just west of Rocky Point Yaphank Road) and the other is in the parking lot of Shoreham-Wading River High School. The path isn't that challenging and even though the trail is well-marked, it's best to make proper arrangements for the journey because of its length. You can start by reading this guide.
Rocky Point, L.I., NY 11778
Cold Spring Harbor State Park
Cold Spring Harbor State Park is 40 acres of hilly terrain that features the northern section of the Nassau-Suffolk Trail. The 1.8-mile hike features breathtaking views of the harbor and lake and also woodlands. It sounds short and easy, but in reality, the Cold Spring Harbor trail is quite challenging; several steep spots will definitely make you sweat. 
Cold Spring Harbor State Park is open from dawn to dusk and leashed dogs are welcome. The trail map is available here.
95 Harbor Rd, Cold Spring Harbor, L.I., NY 11724
Trail View State Park
A 400-acre, 7.4-mile linear park, Trail View State Park links Cold Spring Harbor State Park and Bethpage State Park. Its grounds are made of hardwood forests, marshes, and succession fields. There are separate trails for hiking and biking, which is great when you are hiking with kids. The hiking trail is 1.7 miles (there and back), and mostly, it's flat and easy to follow. There are some places you should pay attention to where you step because of roots and big branches on the ground. The map of the park is available here. Dogs on a leash are welcome to join you on your hike. 
8101 Jericho Turnpike, Woodbury, L.I., NY 11797
Blydenburgh County Park
Blydenburgh County Park is 627 acres of densely forested hills and valleys. It features Long Island's second-largest lake – Blydenburgh Lake, a.k.a Stump Pond, New Mill, or Weld's Pond – and is the perfect place for hiking. The well-maintained 6-mile blue trail takes you around the lake, which means beautiful water views all day long, through flatlands, hills, a boardwalk, and occasional wetlands. The park also has a section of the Greenbelt Trail (white blaze). 
Leashed dogs are welcome, and the entrance is free for Suffolk County residents with a Green Key card. And if you don't want to go alone, you can participate in the hikes organized by The LI Greenbelt Trail Conference (call 631-360-0753 for more information). 
Veteran's Memorial Highway, Smithtown, L.I., NY 11788
Bayard Cutting Arboretum
Bayard Cutting Arboretum is a 691-acre state park situated on the Connetquot River. It serves as a natural oasis in the middle of a busy life. The park features eight well-marked, well-maintained, easy trails that are suitable for hikers of all ages and levels. Some trails go along the river and others through the gardens, but peace, quiet, and gorgeous scenery are guaranteed whichever path you choose. Unlike other state parks, Bayard Cutting Arboretum doesn't allow any activities that disturb the harmonious environment.
The park is open from 10 a.m. to 4 p.m. from Tuesday to Sunday; admission costs $8. The map of the trails is available here.
440 Montauk Hwy, Great River, L.I., NY 11739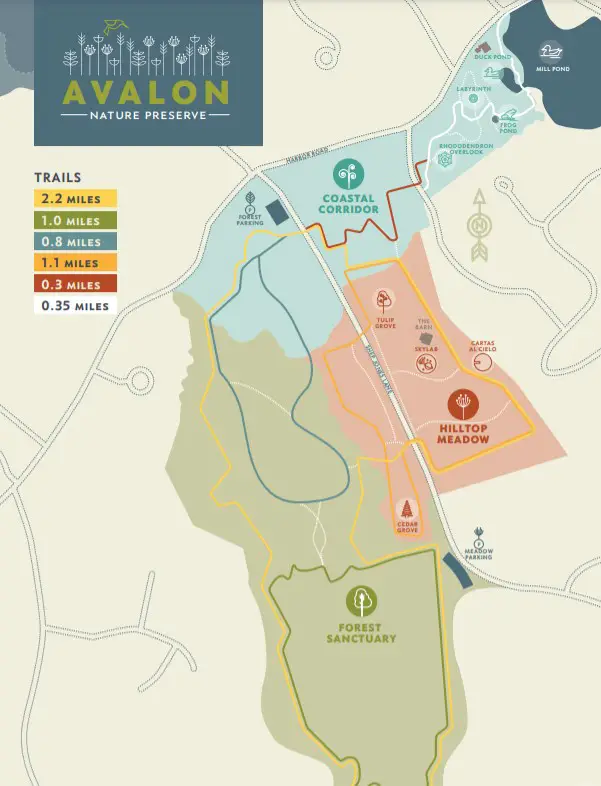 Avalon Park and Preserve
Avalon Park and Preserve protects 216 vital acres on Long Island's north shore, but only 140 of those are open to the public. It consists of three parts – hilltop meadow, forest sanctuary, and coastal corridor – and features six trails of varied length. Hiking in the park is like going on an egg hunt; Avalon is full of hidden and not so hidden treasures, such as Prometheus Sculpture, a labyrinth, the Sphere (Cartas Al Cielo Sculpture), and more. 
Avalon Park and Preserve is open from dawn to dusk and is free for everyone, including leashed dogs.
RELATED: More details about the beautiful Avalon Park and Preserve
Harbor Rd, Stony Brook, L.I., NY 11790
Caumsett State Historic Park Preserve
Situated on a peninsula projecting out into Long Island Sound, the 1750-acre Caumsett State Historic Park Preserve is rightfully considered one of the top hiking spots on Long Island. It offers you a dozen marked trails and 6.4 miles of unmarked ones and a variety of terrains to explore – woodland, meadows, salt marsh, and rock shoreline. With such a range of trails, you can make your hike as easy or challenging as you like. 
Caumsett State Historic Park Preserve is open from sunrise to sunset, and you can find the map of the preserve here. The entry fee for a car is $8, and no pets are allowed.
25 Lloyd Harbor Rd, Lloyd Harbor, L.I., NY 11743
Long Island Hiking on Fire Island
Fire Island National Seashore
Fire Island National Seashore takes up 26 miles on the 32-mile long barrier island called Fire Island and features a ¾ mile boardwalk nature trail that leads you straight to Fire Island Lighthouse. The hike is pretty easy and doesn't provide much exercise, but that's not what people come here for. They come for the white sand beaches, windswept dunes, a glimpse of wildlife, and the much-needed change of pace. 
Ocean Beach, L.I., NY 11770
Sailors Haven Sunken Forest
Check out the 1.5-mile boardwalk trail through Sunken Forest in the Sailors Haven reserve. This nature trail starts near the ferry dock and is easy to hike, though it's not completely flat; there are a few ups and downs as the trail makes its way over the dunes. The trees that make up this centuries-old forest provide a great shade for hikers on a sunny day. It's also are a wonderful sight, and yet, they aren't the only highlight of the hike. There is also the bay observation deck, a chance to see deer, and more await you.
Fire Island National Seashore, Sayville, L.I., NY 11782
Fire Island Wilderness
What is wilderness for you? Is it inhospitable land or a welcome gulp of freedom? An answer to these questions and many others you'll find as you hike your way through Fire Island Wilderness, a 1,380-acre federally protected wilderness area. It is approximately 7 miles long. It extends from Wilderness visitor center to Watch Hill. The area includes pine forests, grassy wetlands, and dunes. You'll reflect upon many things in your life (hiking does this to people). Don't forget to notice the indescribable beauty of the land and wildlife on the way.
County Rd 46, Shirley, L.I., NY 11967
Long Island Hiking on The North Fork and Shelter Island
Calverton Pine Barrens State Forest
The trail at the 191-acre Calverton Pine Barrens State Forest might test your patience and your faith in yourself as you follow the path that serpentines through the pine barrens. At one point in your hike, you might feel like you are lost in a labyrinth. You might start doubting your inner sense of direction, too. Just remember, as long as the yellow blazes are in front of you, you'll make it out of the forest. And once you safely reach home, you might even think of this hiking experience as one of the best. 
To use the trails in Calverton Pine Barrens State Forest, a permit from the NYS DEC is required. The map is available here.
Wading River, L.I., NY 11792
North Fork Sunflower Maze
Some might say that walking through North Fork Sunflower Maze, a 170-acre farm, can't be considered hiking. I disagree completely. Walking in a beautiful place and feeling mesmerized by Mother Nature is a great hiking experience. I bet that you'll agree that this gorgeous sunflower maze absolutely does belong on this list. 
Admission costs $8. The farm is open 10 a.m. – 6 p.m. from Monday through Thursday, 9 a.m. to sunset Friday through Sunday. The season usually starts in late July; for more information, visit northforksunflowermaze.com.
RELATED: Sunflower festival near me: Waterdrink Farm

There are a good number of sunflower fields on Long Island!!
8350 Wickham Ave, Mattituck, L.I., NY 11952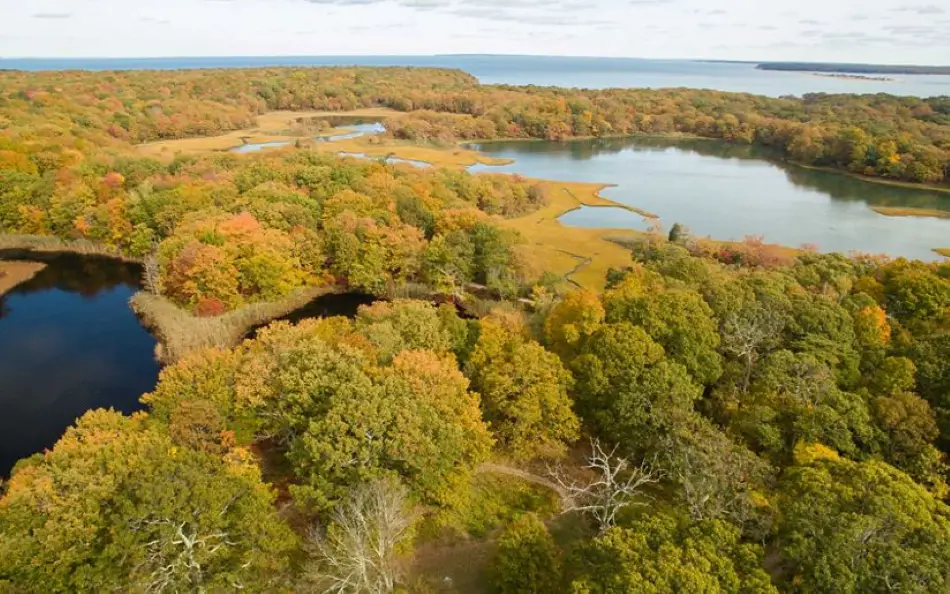 Mashomack Preserve
The 2,039-acre Mashomack Preserve takes up one-third of Shelter Island. It is sometimes called "Jewel of the Peconic," rightfully so. The Nature Conservancy claims that it is one of the richest in the Northeast. The preserve includes interlacing tidal creeks, mature oak woodlands, fields, freshwater, and saltwater marshes. It's also not hard to guess that with such a varied environment, it's the perfect place to hike. Indeed, Mashomack Preserve offers you several hiking-only trails of different lengths, including wheelchair-friendly Joan C. Coles Trail and the 4.4-mile blue trail. The trail map can be found here.
79 S Ferry Rd, Shelter Island, L.I., NY 11964
RELATED: Guide to the Mashomack Preserve Shelter Island.

Find out more about Shelter Island, its different towns, and more by checking out this page that includes a handy Shelter Island Map!! The Shelter Island Ferry is needed to get to the island. The North Ferry connects to Greenport on the North Fork. The South Ferry connects to North Haven on the South Fork

Be sure to check out all the great Shelter Island restaurants! You'll be surprised how many great ones there are to enjoy!

Enjoy reading up on and hopefully exploring these wonderful Shelter Island hotels and let me know if you decide to make it a vacation!
Long Island Hiking on The South Fork
Quogue Wildlife Refuge
Quogue Wildlife Refuge is a 300-acre non-profit nature reserve. It is home to diverse wildlife, which you get to see when you hike one of its multiple trails. Here you'll find owls, falcons, a fox, and other animals that need human care to survive. Quogue Wildlife Refuge provides a sanctuary for people who need to get away from it all! It sports seven miles of easy-to-walk trails that take you through forests, ponds, and fields. You can download the map of the reserve here.
The trails in Quogue Wildlife Refuge are open from sunrise to sunset, and admission is free.
3 Old Country Rd, Quogue, L.I., NY 11959
Camp Hero State Park
Camp Hero State Park encompasses 415 acres of diverse landscape. It includes heavily wooded areas, a long expanse of beachfront along the Atlantic Ocean, and a historic military installation. There are magnificent pristine maritime forests, freshwater wetlands, spectacular ocean vistas, and dramatic bluffs rising from the beach. An extensive system of trails is available for hiking, biking, and horseback riding.
The park boasts some of the best surf fishing locations in the world. The park is open 24 hours a day to fishermen with permits. An undisturbed environment shelters bountiful wildlife and an abundance of birds. The former military base that is in the park is registered as a National Historic Site. Swimming is not permitted.
1898 Montauk Highway, Montauk, L.I., NY 11954
Montauk Point State Park 
Montauk Point State Park is an 862-acre park located on the eastern tip of Long Island's South Fork. It includes the state's oldest lighthouse, Montauk Point Light. The park offers unique views of the Atlantic Ocean meeting Block Island Sound, and has some of the best hiking trails on Long Island. If you are into hiking, it's a must-visit for you. 
Montauk Point State Park features multiple trail lengths (check out the map here), including the 3.4-mile section of Paumanok Path, but the most noteworthy are Seal Haul Out Trail and Money Pond Trail. The Seal Haul Out Trail is a mile of relatively easy walk and wonderful scenery. Of course, the highlight of the path is hidden in its name – seals! If you hike during cold weather, there is a good chance of seeing seals!
The 1.2-mile Money Pond Trail can't compete with Seal Haul Out when it comes to wildlife, but its scenery is far superior. The pond is rumored to be bottomless! It is also believed to be one of the places where Captain William Kidd hid his treasure.
2000 Old Montauk Hwy, Montauk, L.I., NY 11954
There is just so much fun and scenic hiking to enjoy, isn't there? A beautiful hike is fun for the entire family! If you have been to any of these great Long Island hiking places, which is your favorite spot?
Things To See and Do on the South Fork
Something I always recommend to those on Long Island, make sure to really see as much of the South Fork as possible!! When you are in Manorville, you actually aren't too are away from the World Famous North Fork and South Fork (The Hamptons)!!
The Hamptons and Montauk is a world-renowned beach resort destination for good reason! There is just so much to see, do, and enjoy! Here are just a few of them:
Check out this Guide to the Best Beaches in Montauk! Also, check out this Guide to The Hamptons best beaches!!
Check out some luxury homes in The Hamptons!
Maybe you will love it so much, you'll want to check out some Hamptons wedding venues!
Enjoy some of the world-class, amazing art in The Hamptons!
While You're Enjoying the Outdoors
Be sure to find out about more things to do on Long Island as well as more great spots to eat and drink and wonderful places to stay on Long Island!
Check out this guide to Long Island driving ranges, including this feature on the popular Heartland driving range! Go have fun at one of these great Long Island skate parks!
Check Out Some Long Island Wine
While you're on Shelter Island, you're so close to Long Island Wine Country! It's another great part of visiting the island. If you're in the mood for great wine, be sure to check out our Complete List of Long Island Wineries and Long Island Vineyards.
Check out the absolute best Long Island Wine Tours!
If you can't make it to a tour, why not do some wine tasting at home with Bedell Cellars!
I know you're getting hungry, so be sure to also check out the best wineries on Long Island for some great food!
While you're in the area, be sure to check out these 9 relaxing things to do in the North Fork!
When you're done with all of this wine drinking and relaxing, how about making it a weekend? Here are 10 great North Fork Long Island hotels to enjoy as well.
Make It A Weekend
The East End of Long Island is a really special spot. If you think you'd want to check it out and maybe even stay awhile…that wouldn't be such a terrible idea.
If you wanted to consider different options for staying on Long Island, be sure to check out these great places to stay in Montauk, 11 Hamptons hotels, 10 North Fork Long Island hotels, and this Guide to Sag Harbor hotels! Enjoy reading up on and hopefully exploring these wonderful Shelter Island hotels and let me know if you decide to make it a vacation!
More From The Long Island Local
Maybe grab a freshly brewed beer at these Long Island breweries and when you've had your fill of vino! I mean, after a day of searching for the best tacos on Long Island, I think you need a drink, no?
The bounty of great food on Long Island seems endless! From great steakhouses on Long Island to great Shelter Island restaurants to Long Island lobster rolls and Long Island bagels, there's so much to enjoy. Check out this Huge List of Restaurants on the Water Long Island!!!
And how about all the wonderful Wölffer Estate Vineyard events and tastings?! Or maybe check out some Long Island oyster farms! How about these guides to Long Island Coffee Shops and Long Island coffee roasters!! Check out these 16 Long Island Boardwalks! Take the ferry over and enjoy these Fire Island restaurants! Let's not forget about the best tacos on Long Island and these great Long Island pizza places either!!
Be sure to find out about more things to do on Long Island as well as more great spots to eat and drink! Maybe take a stroll in one of these amazing Long Island arboretums and gardens! There are even this great Long Island kayaks and paddleboard guide to exploring!