Are you looking to find out more about the history and grandeur of Long Island's amazing gold coast mansions? Gold coast North Shore mansions are one of the greatest attractions on Long Island. They are also highly underrated. These historic mansions will make you travel through time to the Gilded Era without a time machine. I'd venture to say that many of these gold coast mansions are on par with the world-famous mansions of Newport, RI. Many associate Long Island's wealthiest areas with the South Fork (Hamptons), but the North Shore is and always has been a place of great wealth and opulence.
During the Gilded Age, many wealthy families purchased and built luxurious private estates on the North Shore of Long Island, which we now call the Gold Coast. These estates exist in a big way in both Nassau County and Suffolk County. 
Once, there were over 500 opulent gold coast mansions, but time wasn't merciful to them, so now there are only about 200 houses left. Some of these extant estates became museums and preserves, and some were converted into hotels and event venues. These places you can visit freely and enjoy the architectural wonders and lush gardens of the Gilded Era. But some of the mansions are private and aren't open for tours.
Many of the mansions built during this golden era do not still exist, unfortunately. Of those that have survived, several have been opened up for the public to enjoy. This guide contains all the Gold coast North Shore mansions open to the public, and some private ones, so you'll know which ones you can and should check out.
Whether you love history or want to know what it was like to live in a grand mansion and entertain important guests, or you simply wish to visit some gorgeous places while you are on Long Island, these estates won't disappoint.
The Gold Coast, North Shore of Long Island
From Discover Long Island:
Luxury and legends abound on the North Shore, the area north of the Long Island Expressway stretching from Sands Point Preserve on the west to Wildwood State Park on the east. Known as Long Island's Gold Coast, iconic attractions include Old Westbury Gardens, Oheka Castle, and Vanderbilt Museum & Planetarium. 

Tour the sites of America's First Spy Ring which is credited by General George Washington as being a leading factor in turning the tide of the American Revolution during the 1700s. Explore the quaint harborside villages of Huntington, Oyster Bay, Stony Brook, and Port Jefferson for downtown dining, shopping, and incredible views.

The North Shore is also known for its rocky beaches on the Long Island Sound, upscale shopping areas including Americana Manhasset, nature parks, museums, and innovation sites including Brookhaven National Lab and Cold Spring Harbor Lab.
Nassau County Gold Coast Mansions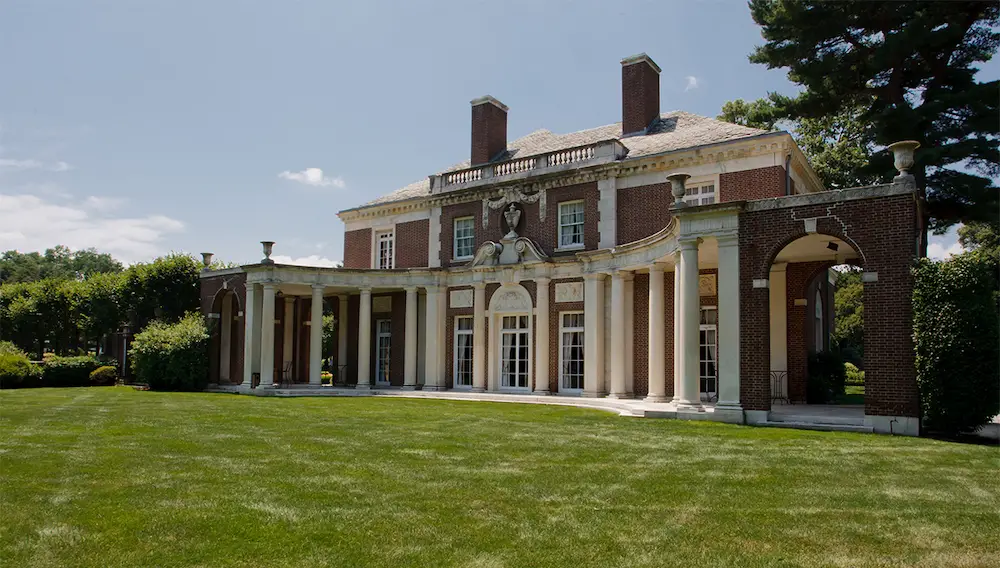 NYIT de Seversky Mansion
Currently acting as an event venue, the magnificent NYIT de Seversky Mansion once used to be home to several famous people.
In 1916-1918, a business and philanthropist Alfred I. du Pont had his new residence built for his wife, Alicia Heyward Bradford. He named it White Eagle, but the du Pont family never lived in it as Alicia died before the construction was complete. In 1926, Alfred sold his estate to Fredrick E. Guest and Amy Phipps.
The Guest family named the mansion Templeton. Two generations lived there until 1972. That's when the New York Institute of Technology purchased the estate from Winston Guest (the son of Fredrick and Amy).
Once NYIT bought Templeton, they renamed it after Alexander P. de Seversky, one of the members of the NYIT Board of Trustees. They repurposed the bedrooms and parlors into offices, and now the de Seversky Mansion hosts academic and private events.
The estate, being rented as an event venue, gives you a rare chance to have an unforgettable Gatsby-themed wedding celebration in one of the most beautiful gold coast mansions, with all its charm and elegance. This is another great estate turned over to education like close-by neighbor LIU Post.
Northern Blvd, Glen Head, L.I., NY 11545
Find out more by visiting https://www.nyit.edu/deseversky or calling 516-686-7675.
Chelsea Mansion
Chelsea Mansion, also known as Benjamin Moore Estate, was designed in 1923-1924 by architect William Adams Delano for Benjamin Moore and Alexandra Emery. This white cement block mansion has a Chinese and French Renaissance style.
The peculiar choice of this architectural style was of the owner's wife, Alexandra. During their honeymoon in China, she saw a black and white farmhouse framed by water and knew what she wanted her home to be like.
But Alexandra's love for Chinese culture didn't end with the mansion's design. She also collected various items for the house as she traveled around, such as a carpet from a Chinese palace and Chinese porcelain.
Later, Alexandra deeded the estate to Nassau County. Apart from the mansion, the property features a garden, a small pond, gazebos, and large lawns.
These days, you can book the mansion for a romantic and elegant wedding and other private events or take a self-guided tour around the grounds.
34 Muttontown Ln, East Norwich, L.I., NY 11732
Find out more by visiting https://www.nassaucountyny.gov/4178/Chelsea-Mansion or calling 516-571-8551.
Nassau County Museum of Art
The land on which Nassau County Museum of Art now stands has had several owners, buildings, and names.
Most of its 145 acres originally belonged to William Cullen Bryant, an editor of the New York Evening Post. On his Upland Farm, he built a Gothic Revival board guesthouse in 1862.
Later, in 1900, the Upland Farm was purchased by Lloyd Stephens Bryce. An architect Ogden Codman designed a neo-Georgian mansion for him.
In 1919, Henry Clay Frick bought the Bryce house as a gift for his son and daughter-in-law, Childs and Frances Frick. The facade and interior were redesigned by a British architect Sir Charles Carrick Allon, and the mansion's name was changed to Clayton.
Nassau County purchased the Clayton estate in 1969 and converted it into the Nassau County Museum of Art.
As you can see, the estate has a long and rich history, so if you want to know more about it or to see various art pieces, you should visit the Museum. It offers a lot of indoor exhibitions, virtual tours, and events. An adult ticket for access to the mansion will cost you $15 and $5 for children under 12 years old.
There are also outdoor spaces to explore – an arboretum, a sculpture garden, a formal garden, and nature trails. An adult ticket costs $5, and admission is free for children under 12 years old.
The Museum is also available for weddings and private events. Due to its many wonderful uses, this is clearly one of the most used and loved of the gold coast mansions.
One Museum Dr, Roslyn, L.I., NY 11576
To learn more, visit https://nassaumuseum.org/ or call 516-484-9338.
Old Westbury Gardens
Old Westbury Gardens once belonged to John S. Phipps, Margarita Grace Phipps, and their four children. A British designer George A. Crawley with the help of an American architect Grosvenor Atterbury designed the Phipps family residence in Charles II style. The construction of this luxurious mansion lasted for three years, from 1903 to 1906.
The chosen architectural design was a way for John to bring a piece of Britain for his wife, as he promised her to build a home that resembled her family's British residence at Battle Abbey.
In 1959, the estate was converted into a museum home and open to the public. So now you can explore the gorgeous gardens that remained untouched from the Phipps era. You can sneak a peek into the lives of the Phipps family by taking a tour of the mansion. You can head over to Old Westbury Gardens to take amazing wedding photos or book the venue for your wedding ceremony.
There are also plenty of opportunities for your children to learn from this historical site. They can participate in backyard learning, Girl Scout programs, and other educational events. Of all the gold coast mansions, this may be the most well-known and most photographed.
71 Old Westbury Road, Old Westbury, L.I., NY 11568
Learn more by visiting https://www.oldwestburygardens.org/ or calling 516-333-0048.
Planting Fields Arboretum State Historic Park
Planting Fields is an arboretum and a state park that covers over 400 acres. It is open for guided and self-guided tours of a mansion that once was a residence of William Robertson Coe and his second wife, Mary Huttleston Coe.
As you take a tour around the mansion called Coe Hall, you'll get to admire the building designed by architects Walker and Gillette. It's a stunning house built from 1918 to 1921, and it resembles a 400-year-old English manor.
For members of the Planting Fields Foundation, an adult ticket for the mansion tour costs $20 and $9 for children. For non-members, tickets cost $25 for an adult and $12 for a child.
If you enjoy tours of greenhouses and gardens, you'll definitely love visiting the park. William and Mary put a lot of effort into developing the landscapes of their estate. Their two greenhouses, the Main Greenhouse and the Camellia House are places to behold. There are also several gardens, including the Italian Garden, Cloister Garden, Rose Garden, Dahlia Garden, and more.
Planting Fields Arboretum State Historic Park is also open for school field trips, private events, and it hosts summer concerts annually.
1395 Planting Fields Road, Oyster Bay, L.I., NY 11771
Learn more by visiting https://plantingfields.org/ or calling 516-922-9210.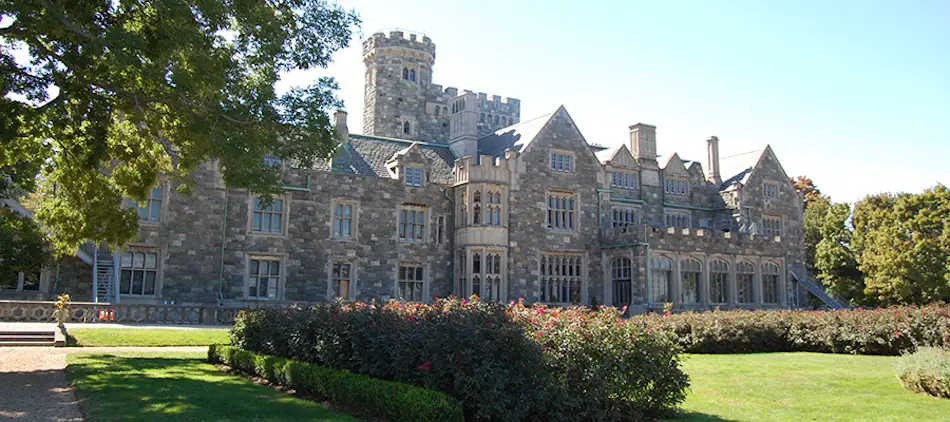 Sands Point Preserve (Guggenheim Estate)
The Sands Point Preserve, also known as Guggenheim Estate, is a 216-acre preserve with four mansions on its grounds – Castle Gould, Hempstead House, Falaise, and Mille Fleur.
Castle Gould was the first residence built on the land of Guggenheim Estate in 1902-1904. Its designer was Augustus N. Allen, and its owner was a financier Howard Gould, who wanted the house built to please his wife, Katherine Clemmons. The castle modeled after Ireland's Kilkenny Castle was supposed to be the main residence of the estate, but Katherine didn't find it suitable, so he built another mansion – the Hempstead House. The massive 100,000-square-foot Castle Gould was used as stables and servants' quarters.
Although Castle Gould isn't open for tours nowadays, the Great Hall inside the building hosts private events, fitness classes, and family nature programs.
Hempstead House is a 50,000-square-foot Tudor-style castle with 40 rooms and an entry foyer. The mansion was completed in around 1912. Five years later, after Howard divorced his wife Katherine, he sold the estate to Daniel Guggenheim. He and his wife Florence Shloss lived there until 1930. That was the year Daniel died. After his death, Florence closed the Hempstead House and moved into Mille Fleur, a smaller waterside home.
These days, you can visit the Hempstead House for a $10 tour, a private event, concerts, or lectures. It's also a popular venue for film and television production.
Falaise, which means cliff in French, is a French-Noman-style mansion built atop of the bluffs overlooking Long Island Sound. Its owner was Harry F. Guggenheim, who received a 90-acre waterfront property from his father, Daniel Guggenheim, in 1923.
Today, Falaise is open for docent-guided tours from May to November, and a ticket costs $15 per person.
Mille Fleur, which means a thousand flowers in French, is a French Country style mansion designed by Polhemus & Coffin in 1932. It's now a property of Nassau County and isn't open to the public.
Besides the tours of the gold coast mansions, you can visit the Sands Point Preserve for a picnic, walks, hikes, or a stroll in the gardens. Your children can enjoy the Woodland Playground and various learning programs. Truly a majestic and wondrous place to visit.
127 Middle Neck Road, Sands Point, L.I., NY 11050
For more information, visit http://sandspointpreserveconservancy.org/ or call 516-571-7901.
Mill Neck Manor
You may know Mill Neck Manor as Sefton Manor or Lillian Sefton Dodge Estate. It's a 34-room, 60,000-square-feet mansion standing amid an 86-acre estate overlooking Long Island Sound.
Designed in Tudor Revival style for Robert Leftwich Dodge and his wife Lillian Sefton Dodge, the building is truly majestic. But there is one extraordinary detail about this mansion that will make your tour of it one of a kind. That detail is four large stained glass windows that illustrate five Shakespeare plays. Charles Connick created them, and at the time Lillian bought them, each window cost more than $10,000.
But the mansion isn't the only majestic thing on the estate. There are also a beautiful formal garden, greenhouse, and garage.
The Mill Neck Manor estate belonged to Lillian Dodge from 1922 until 1949, when Lutheran Friends of the Deaf purchased it. The mansion was a residential school at first but then hosted a day elementary school program until 2001. Then the school relocated to a new Deaf Education Center and stopped using the manor.
Nowadays, Mill Neck Manor is a space that you can book for wedding photoshoots, film/TV production, and corporate meetings. There are also 90-minute docent-guided tours available once a month on Sundays.
40 Frost Mill Road, Mill Neck, L.I., NY 11765
Learn more by visiting millneck.org or calling 516-628-4239.
Sagamore Hill National Historic Site
Sagamore Hill National Historic Site was once called Sagamore hill and was home to the 26th President of the United States, Theodore Roosevelt.
Theodore Roosevelt spent a lot of summers in Oyster Bay are when he was young. In 1880, he bought a 155-acre land and hired the architectural firm Lamb & Rich to design a Queen Anne-style house in 1884. The 22-room house was completed in 1886; later, in 1905, Roosevelt expanded the house by adding one more room.
Roosevelt originally planned to name the mansion Leeholm after his first wife, Alice Hathaway Lee Roosevelt. But after her death and his second marriage, he decided to name the mansion Sagamore Hill (Sagamore means chieftain in the Algonquin language).
In 1887, Roosevelt moved into Sagamore Hill, and it was his home until he died in 1919.
In 1962, Congress established Sagamore Hill National Historic Site to preserve the house.
These days, you can visit Theodore Roosevelt's home for a guided tour to learn more about his career and life. An adult ticket costs $10, and children under 16 years old can join for free.
You can also head over to Sagamore Hill to walk the nature trail and explore the Old Orchard Museum. For these activities, there is no entry fee.
20 Sagamore Hill Road, Oyster Bay, L.I., NY 11771
Find out more by visiting https://www.nps.gov/sahi/index.htm or calling 516-922-4788.
Welwyn Preserve
A 204-acre public nature preserve, Welwyn Preserve used to be a residence of Harold and Harriett Pratt. It was a wedding gift from Harold's father, Charles Pratt.
In 1913, the architectural firm Babb, Cook & Welch designed a Georgian-style mansion that the Pratt family called Welwyn. The landscape architects Olmsted Brothers designed the basic layout of the estate and did some preliminary work on gardens.
After Harold and Harriett died, they bequeathed their property to Nassau County for a nature preserve, and the county became the owner of the Welwyn estate in 1975. That's how Welwyn Preserve came to be.
Today, the Holocaust Memorial and Tolerance Center uses the mansion as a museum. Its mission is to teach the dangers of Anti-Semitism, promote the resistance of prejudice, and advocate respect for every human being.
100 Crescent Beach Rd, Glen Cove, L.I., NY 11542
Learn more by visiting https://www.hmtcli.org/ or calling 516-571-8040.
Suffolk County Gold Coast Mansions
Vanderbilt Museum & Planetarium
The William K. Vanderbilt estate didn't become a museum by chance but by the will of William himself.
When he first started building his mansion in 1910, he intended it to be a modest bachelor's retreat called Eagle's Nest. But later, because of two major turning points in his life (his father's death in 1921 and his son's death in 1933), the construction design changed. The building ended up as an extensive Spanish Revival-style mansion complex you see today. The complex includes the mansion, curator's cottage, a seaplane hangar, and a boathouse.
William saw the potential of his growing estate to become a museum for his extensive collection of marine specimens. He established a trust to fund the operation of the museum, and after his death in 1944, the estate was deeded to Suffolk County. Suffolk county opened the museum to the public in 1950, and the planetarium was opened in 1971.
Now, the Vanderbilt estate is open for tours of the mansion, museum, and planetarium. It's also open for school visits, weddings, and other events.
180 Little Neck Rd, Centerport, L.I., NY 11721
Learn more by visiting https://www.vanderbiltmuseum.org/ or calling 631-854-5579.
Caumsett State Historic Park Preserve
Caumsett (a place by a sharp rock) was an impressive architectural project for the early 20th century, led by Marshal Field (the owner), the Olmsted Brothers, and John Russel Pope.
When Marshal Field purchased the land, it was a combination of overgrown woodland and meadow, full of abandoned farms. But they turned it into a beautiful mansion with all the comforts, such as a central water system, electrical and telephone lines. Apart from the main house, there were the Summer and Winter cottages, polo stable, greenhouses, and indoor tennis court. There also were numerous smaller houses for caretakers and resident employers. To give you an idea of how many employers' homes there were – at one point, more than 100 people were employed at Caumsett.
The Caumsett estate was acquired by New York State in 1961. Nowadays, you can head over to the park to jog, run, watch birds, ride horses, and participate in park activities all year round. And as you walk where the Field family once walked, it'll be easy to imagine the way they lived – how they arranged grand parties, shot pheasants, and hunted foxes.
25 Lloyd Harbor Road, Lloyd Harbor, L.I., NY 11743
Find more information by visiting https://www.caumsettfoundation.org/ or calling 631-423-1770.
Coindre Hall
Originally named West Neck Farm, Coindre Hall is a grand 40-room, 80,000-square-foot mansion. It was designed in a medieval French chateau style by Paris architect Clarence Luce in 1912. It was a residence of a pharmaceutical magnate George McKesson Brown, who lived there until he couldn't maintain the house anymore and sold it.
From 1939, the property belonged to the Brothers and the Sacred Heart and turned into a boarding school. The school was closed in 1971 because there weren't enough teachers.
In 1972, Suffolk County purchased the estate, and since then, it was used by Hungtinton Militia, the Suffolk County Highway Patrol Bureau, and the Huntington Art League.
In 1981, there was another school that used the estate – Eagle Hill School. The school originally planned to rent the property for 25 years, but in 1989, they went bankrupt and broke the lease.
Currently, Coindre Hall is open as an event venue that you can book by contacting Lessing's caterer. During summers, you can participate in a free guided tour of the estate organized by Splashes of Hope, a non-profit organization of artists.
101 Browns Rd, Huntington, L.I., NY 11743
For more information, visit https://www.suffolkcountyny.gov/Departments/Parks/Parks-History/Coindre-Hall or call 631-854-4410.
Gold Coast Mansions You Can Stay In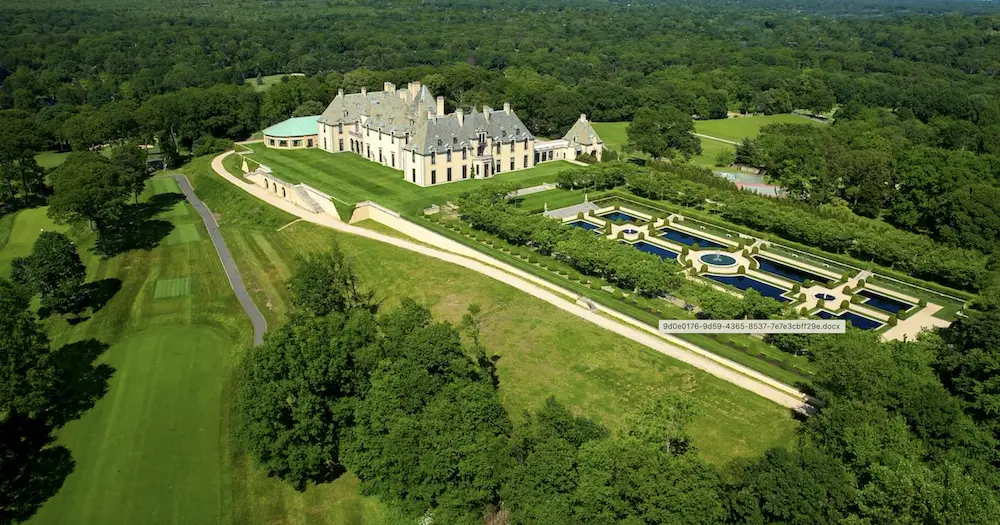 OHEKA Castle
The second-largest private home in America, OHEKA Castle has a century-long history with sad twists and a happy ending.
The story started with Otto Hermann Kahn, who built the French-style mansion in 1919 on the highest point in Long Island. The construction of this 127-room estate, which Otto used as a summer house for parties, cost him around eleven million dollars – approximately $158 million in today's currency. Otto named the mansion OHEKA as an acronym for his full name.
At 109,000 square feet, OHEKA was and remains the second-largest private home in America (only the Biltmore in North Carolina can boast grander dimensions). 
After Otto died from a heart attack in 1934, the mansion served as a retreat for New York sanitation workers. Later, it became a radio operator's school for Merchant Marines. And since 1948, OHEKA had belonged to the Eastern Military Academy for about 30 years.
After the Academy went bankrupt in 1979, the estate stood abandoned for about 14 years. But the mansion and its history weren't lost to time because, in 1984, a developer Gary Melius bought OHEKA to restore it. With the help of architects, historians, and researchers, he preserved the authenticity of the estate.
Nowadays, OHEKA Castle is open as a hotel, bar & restaurant, and a venue for weddings and events, such as galas, fundraising, and others. You can dine at the restaurant and stay a weekend at this luxurious mansion. You'll feel as if you are living during those prosperous times.
OHEKA is one of the finest Long Island hotels outside of these 10 Great Hamptons Hotels and 10 North Fork Long Island Hotels.
OHEKA Castle is also open for a tour of this spectacular historic mansion.
135 W Gate Dr, Huntington, L.I., NY 11743
For more information, visit https://www.oheka.com/ or call 631-659-1400.
The Glen Cove Mansion
The Glen Cove Mansion, also known as The Manor, is a brick Georgian mansion with a two-story portico entrance designed by Charles Adams Platt in 1910. It was named one of the Twelve Best Country Houses in America, and it belonged to John Teele Pratt, a corporate attorney, and Ruth Baker Pratt, a politician.
After Ruth died in 1965, The Manor became one of the first conference center hotels in America.
Nowadays this gold coast mansion is a Gilded Age style hotel featuring 186 cozy guest rooms and suites, SPA, indoor and outdoor pools. It can also host weddings and other private events.
200 Dosoris Ln, Glen Cove, L.I., NY 11542
For more information, visit https://themansionatglencove.com/ or call 516-671-6400.
Mansions Unavailable for Tours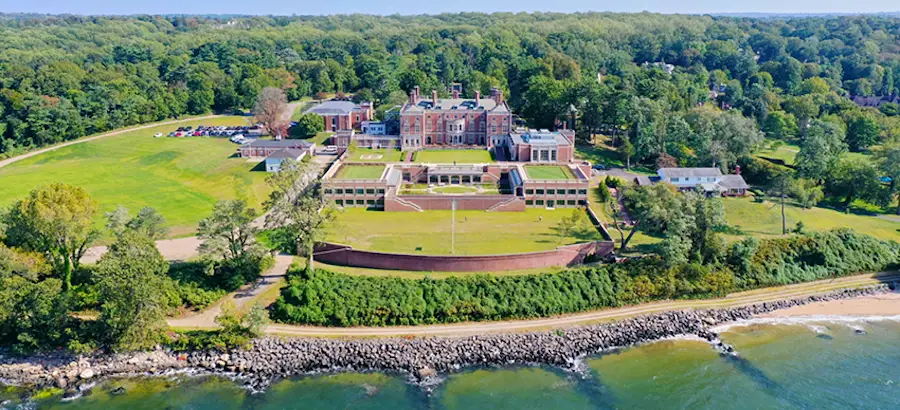 Webb Institute of Naval Architecture
The mansion that houses the Webb Institute of Naval Architecture was once called The Braes mansion. It was built for Herbert Lee Pratt and his wife Florence Balsdon Gibb in 1912. Before this Jacobean-style mansion that you see today, the Pratt family built a Colonial-Revival one in 1902, but they tore it down ten years later.
Herbert Pratt died in 1945, and since 1947, his mansion has been used by Webb Institute of Naval Architecture.
298 Crescent Beach Rd, Glen Cove, L.I., NY 11542
Find out more by visiting https://www.webb.edu/ or calling 516-671-2213.
Glengariff Healthcare Center
Glengariff Healthcare Center was once a 21-room French Renaissance-style mansion called Poplar Hill. Constructed in 1925 and designed by Charles A. Platt for Frederick B. Pratt, the mansion stood on a 35-acre estate.
Frederick Pratt died in 1945. Two years later, the Sister Kenny Foundation bought the estate to use as a hospital, which later became Glengariff Rehabilitation and Healthcare Center.
141 Dosoris Ln, Glen Cove, L.I., NY 11542
For more information, visit http://glengariffrehab.com/ or call 516-676-1100.
LIU Post
A part of LIU, C.W. Post – Post used to be the Hillwood mansion built for Marjorie Merriweather Post and her husband Edward F. Hutton. The Tudor Revival-style mansion was a perfect country retreat for the family from 1921 to 1951.
In 1951, Marjorie sold the estate to Long Island University, and the Board of Trustees decided to name the college after Marjorie's father, Charles William Post. LIU Post was born.
Today, LIU Post consists of 47 buildings, ten residence halls, and three mansions. The Hillwood mansion, now known as Winnick House, serves as administrative offices, meeting rooms, and performance spaces for LIU Post campus.
720 Northern Blvd, Greenvale, L.I. NY 11548
Learn more by visiting https://liu.edu/post or calling 516-299-2900.
St. Josaphat's Monastery
St. Josaphat's Monastery is formerly known as John E. Alfred Estate. It was a 119-acre estate with a Tudor Revival style main house called Ormston. It was designed by architect Bertram Goodhue for John Edward Alfred. Other than the mansion, the estate consists of a henhouse, stables, greenhouse, conservatory, garage, garden shed, gazebo, and two gatehouses.
Since 1944, the property has belonged to the Basilian Order of Saint Josaphat and is home to brothers and priests of the order.
1 E Beach Dr, Glen Cove, L.I., NY 11542
Find out more by visiting https://www.stjmny.org/ or calling 516-671-0545.
The Woolworth Estate
The Woolworth Estate has a history that has gone up in flames twice so far.
It used to belong to Frank Winfield Woolworth, an entrepreneur and the founder of F.W. Woolworth Company.
His first house burned down in a mysterious fire, and immediately after, in 1916, he had a new mansion built. This 56-room, 48,000-square-foot mansion called Winfield Hall was an Italian Renaissance-style house designed by C.P.H. Gilbert.
After Frank died in 1919, the house stood unused until Grace Downs, the wife of Richard S. Reynolds, bought it in 1929. She turned the mansion into a business school for young women called Grace Downs Academy.
In 1976, Martin Carey bought the property and leased it to Pall Corporation to use it as the company's headquarters.
In 2015, a fire broke out and caused extensive damage to Winfield Hall, even though Frank Woolworth designed it to be fireproof.
Currently, the estate is listed for sale, but rebuilding the house might cost tens of millions of dollars.
77 Crescent Beach Rd, Glen Cove, L.I., NY 11542
Things To See and Do on the South Fork
There are so many amazing houses things to do on Long Island! I always recommend seeing as much of the South Fork as possible!! 
The Hamptons and Montauk is a world-renowned beach resort destination for good reason! There is just so much to see, do, and enjoy! Here are just a few of them:
Check out this Guide to the Best Beaches in Montauk! Also, check out this Guide to The Hamptons best beaches!!
Check out some luxury homes in The Hamptons!
Maybe you will love it so much, you'll want to check out some Hamptons wedding venues!
Enjoy some of the world-class, amazing art in The Hamptons!
Check Out More Long Island Wine
You're so close to Long Island Wine Country! It's another great part of visiting the island. If you're in the mood for great wine, be sure to check out our Complete List of Long Island Wineries and Long Island Vineyards.
Check out the absolute best Long Island Wine Tours!
If you can't make it to a tour, why not do some wine tasting at home with Bedell Cellars!
I know you're getting hungry, so be sure to also check out the best wineries on Long Island for some great food!
While you're in the area, be sure to check out these 9 relaxing things to do in the North Fork!
When you're done with all of this wine drinking and relaxing, how about making it a weekend? Here are 10 great North Fork Long Island hotels to enjoy as well.
While You're Enjoying the Outdoors
Be sure to find out about more things to do on Long Island as well as more great spots to eat and drink and wonderful places to stay on Long Island!
Check out this guide to Long Island driving ranges, including this feature on the popular Heartland driving range! Go have fun at one of these great Long Island skate parks!
Make It A Weekend
The East End of Long Island is a really special spot. If you think you'd want to check it out and maybe even stay awhile…that wouldn't be such a terrible idea.
If you wanted to consider different options for staying on Long Island, be sure to check out these great places to stay in Montauk, 11 Hamptons hotels, 10 North Fork Long Island hotels, and this Guide to Sag Harbor hotels! Enjoy reading up on and hopefully exploring these wonderful Shelter Island hotels and let me know if you decide to make it a vacation!
More From The Long Island Local
Maybe grab a freshly brewed beer at these Long Island breweries and when you've had your fill of vino! I mean, after a day of searching for the best tacos on Long Island, I think you need a drink, no?
The bounty of great food on Long Island seems endless! From great steakhouses on Long Island to great Shelter Island restaurants to Long Island lobster rolls and Long Island bagels, there's so much to enjoy. Check out this Huge List of Restaurants on the Water Long Island!!! How about 54 of the best tacos on Long Island!
And how about all the wonderful Wölffer Estate Vineyard events and tastings?! Or maybe check out some Long Island oyster farms! How about these guides to Long Island Coffee Shops and Long Island coffee roasters!! Check out these 16 Long Island Boardwalks! Take the ferry over and enjoy these Fire Island restaurants! Let's not forget about the best tacos on Long Island and these great Long Island pizza places either!!
Be sure to find out about more things to do on Long Island as well as more great spots to eat and drink! Maybe take a stroll in one of these amazing Long Island arboretums and gardens! There are even this great Long Island kayaks and paddleboard guide to exploring!