Are you looking for more information about Avalon Park and Preserve in Stony Brook? Avalon Park and Preserve, or Avalon Nature Preserve, is one of those lesser known and almost hidden gems that more people should know about! This beautiful spot is located on Harbor Road in the beautiful and historic North Shore Long Island town of Stony Brook, NY.
Since its inception, Avalon Nature Preserve has sought to protect and restore the ecological heritage of this special landscape. With the purchase of 8 acres in 1997, Avalon's evolution began. The preserve has flourished into a thriving 216 acres of fields, forest, and wetlands, 140 of which are open to the public.
RELATED: Check out this Guide to Long Island Arboretums and Gardens!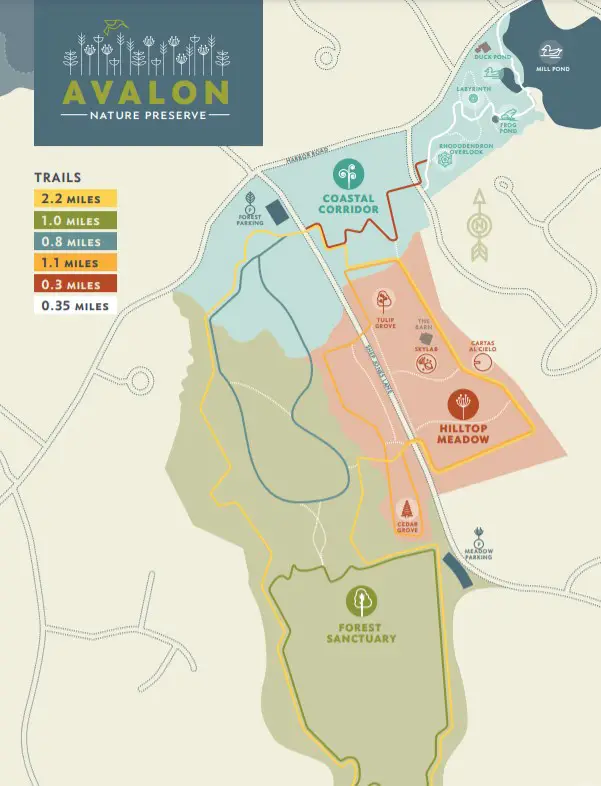 Hiking Trails
Avalon Preserve offers many distinctive hiking and walking opportunities for individuals of varied abilities. The main sections of the preserve are Mill Pond, Coastal Corridor, Hilltop Meadow, and Forest Sanctuary. You are welcome to hike undulating forest trails or enjoy the sweeping views of meadows! Whichever you choose, you will find a trail that's perfect for exploring. 
Avalon offers approximately 5 miles of trails to enjoy. Click on this link for interactive maps. Please remember to stay on those trails, minimizing our impact on a natural habitat.
Attend Events
Avalon park and preserve is not only about hiking and passive recreation. There are a number of events scheduled throughout the year. Be sure to visit their website to see all that's offered, including youth programs, yoga, and meditation. Avalon Nature Preserve also offers programs in the Avalon Observatories, which houses several permanently mounted telescopes for observation, and two-hour Audobon Society nature walks.

Help Practice Nature Conservation
Stewardship has always been at the core of Avalon Nature Preserve's mission. Avalon's conservation initiatives aim to sustain thriving habitats for the flora and fauna residing within the Preserve. Be sure to find out about Avalon's exciting conservation and restoration initiatives for our shared future.
Parking Information
Parking is available along Main Street, on Harbor Road, and in the shopping center just past the Preserve on Main Street. Additional parking is available on Shep Jones Lane to access the Forest Sanctuary.
Additional Avalon Park and Preserve Information
Avalon park and preserve is open during the Spring/Fall (April-May/September-October) from 7AM-6PM, in the summer (June-August) from 6AM-8PM , and in the winter (November-March) from 7AM-5PM.
Avalon is FREE and open to the public year round. Leashed dogs are welcome!
200 Harbor Road, Stony Brook, L.I., NY 11790
To find out more about this wonderful place, be sure to visit avalonnaturepreserve.org or call 631-689-0619.
Explore Long Island Wine
While you're in Stony Brook, you may be surprised by how close you are to Long Island Wine Country! It's another great part of visiting the island. Be sure to check out our Complete List of Long Island Wineries and Long Island Vineyards.
Check out the absolute best Long Island Wine Tours!
If you can't make it to a tour, why not do some wine tasting at home with Bedell Cellars!
I know you're getting hungry, so be sure to also check out the best wineries on Long Island for some great food!
While you're in the area, be sure to check out these 9 relaxing things to do in the North Fork!
When you're done with all of this wine drinking and relaxing, how about making it a weekend? Here are 10 great North Fork Long Island hotels to enjoy as well.
Make It A Weekend
The East End of Long Island is a really special spot. If you think you'd want to check it out and maybe even stay a while…that wouldn't be such a terrible idea.
If you wanted to consider different options for staying on Long Island, be sure to check out these great places to stay in Montauk, 10 Hamptons hotels, 10 North Fork Long Island hotels, and this Guide to Sag Harbor hotels! Enjoy reading up on and hopefully exploring these wonderful Shelter Island hotels and let me know if you decide to make it a vacation!
More From The Long Island Local
Maybe grab a freshly brewed beer at these Long Island breweries and when you've had your fill of vino!
The bounty of great food on Long Island seems endless! From great steakhouses on Long Island to great Shelter Island restaurants to Long Island lobster rolls and Long Island bagels, there's so much to enjoy. And how about all the wonderful Wölffer Estate Vineyard events and tastings?! Or maybe check out some Long Island oyster farms!
Be sure to find out about more things to do on Long Island as well as more great spots to eat and drink!