Have you heard about Eastern Long Island Kampground in Greenport, Long Island? If you are looking for a great place on Long Island to go camping and even glamping, then Eastern Long Island Kampground is the place for you and your family to explore.
The 20-acre gorgeous campground offers you plenty of campsites for tents and RVs as well as fabulous glampsites, such as safari tents, cabins, and rental glampers. It provides a beautiful natural environment, all the creature comforts you need during your connection with nature – Wi-Fi, fire barrels, restrooms, showers – and a lot of entertainment options. Whether you came to eastern Long Island campground for some fun family time or to get away from the pandemic and the constraints of the city, you'll be able to find what you are looking for here.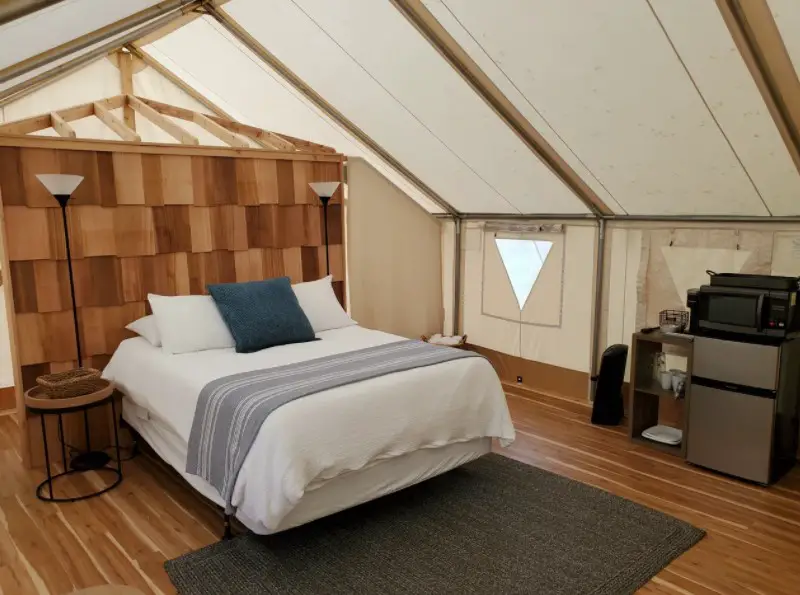 Glamping Accommodations
Eastern Long Island Kampground has thought of everything a camper (or should I say a glamper) might need during their time in nature. They offer three accommodation options – luxurious Safari Tents, homey cabin suites, and deluxe or basic campers.
Here are the things you should know before you book ELIK's accommodations. You'll have to do it for two nights minimum on the usual weekend, three nights on holiday weekends. Bottled water and coffee pods are included and refreshed daily.
All four types of accommodations are designed for a family of four but can fit up to six people. Additional charge for children under 18 is $10, for adults $25 per night. If you need space for more than two kids, you can also ask for a junior tent; it costs an additional $50 and can accommodate up to four children under 18.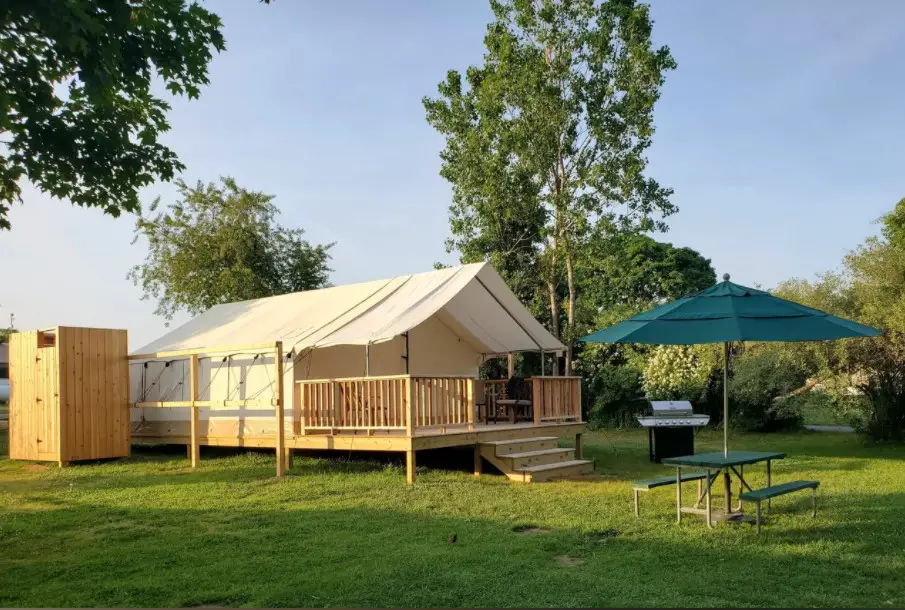 Safari Tents
These 16×20 feet safari tents have plenty of room to fit a queen bed, full-size pull-out couch, full bathroom, a TV, and TV stand. There is also a kitchenette that includes a microwave, fridge, and coffee maker. AC/heat, Wi-Fi, fire pit, private outdoor shower – that's what staying in a luxury tent means.
The price for a night in safari tents is $350, and they are available for booking from April 30th until October 31st. If you book now, you can get a special offer – $300 per night if you stay on any day from Sunday to Wednesday.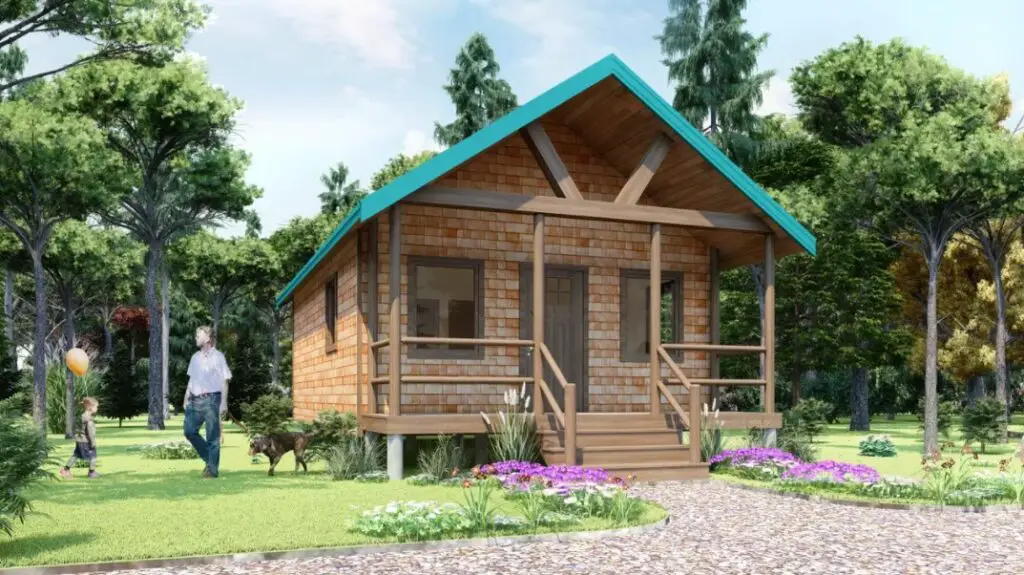 Cabin Suites
For $500 per night, you can rent a cabin suite with two bedrooms, a living area, a kitchen, and a bathroom. For sleeping arrangements, you'll find a queen bed in the master bedroom, twin xl bunk beds in the second bedroom, and a pull-out couch in the living area. The bathroom consists of a vanity sink, toilet, and shower. The kitchen includes a fridge, microwave, coffee maker, sink, gas range, and utensils. And of course, you'll have Wi-Fi, AC/heat, a TV, a fire pit, and a gas grill. You'll love camping in these cabins; it's like a home away from home. This is eastern Long Island campground life…in style!
The suites are currently under construction and should be ready by June 2021.
Deluxe Campers
Located on a private site near the woods, the deluxe camper has pretty much everything a cabin suite has. There is a queen/king-size bed, twin bunk beds for kids, a pull-out couch, a fully equipped kitchen, and two bathrooms. With TV, Wi-Fi, AC/heat, coffee machine, gas grill, and a porch, you won't even feel like you're living in a vehicle.
The camper rental rates are $250-350 per night from Sunday to Wednesday, $350-400 Thursday through Saturday.
Basic Campers
Eastern Long Island Kampground's basic campers aren't that different from the deluxe one. They are also located in private sites and include a queen bed, bunks for kids, a full kitchen with microwave and coffee machine, and a porch. The only difference is that there is only one bathroom and no pull-out couch.
Depending on which camper your book, a 3-night weekend special for holidays might cost $450-1200.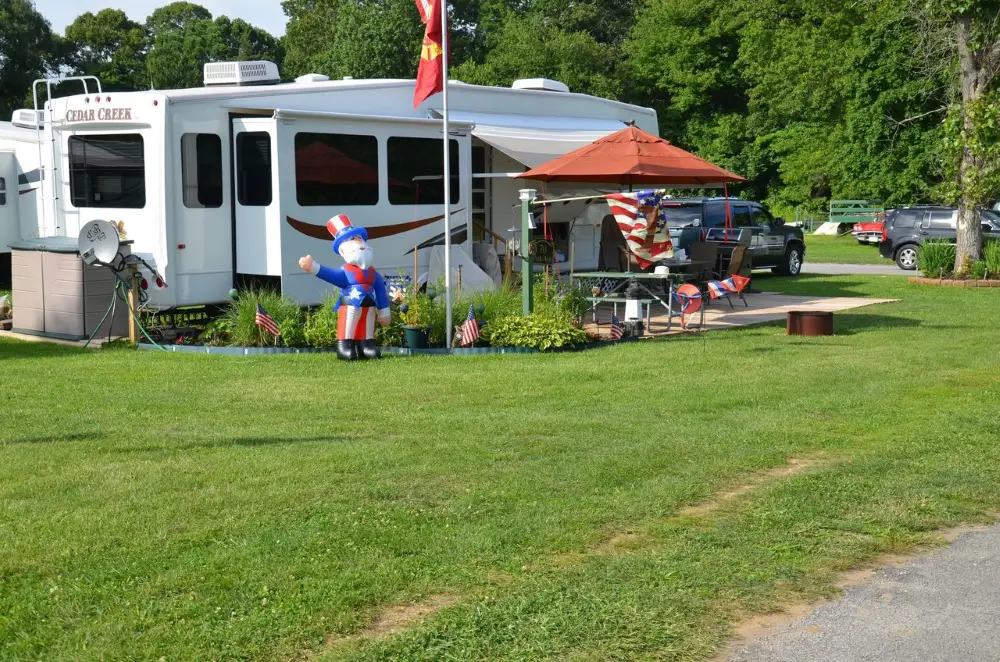 RV & Tent Sites
If you prefer to visit and eastern Long Island campground with your own accommodations, as in your own tent or RV, Eastern Long Island Kampground has a lot of campsites you can rent. There are sites with 20, 30, and 50-amp service; all of them come with electric, water, cable TV, and Wi-Fi. The 30 and 50-amp campsites also include sewer services.
The rates are as follows:
20-amp: $65 per night, $75 on holidays; a 30-night stay costs $1250;
30-amp: $75 per night, $85 on holidays; a 30-night stay costs $1850;
50-amp: $85 per night, $95 on holidays; a 30-night stay costs $2150.
If you want to rent a campsite weekly, then you'll only have to pay for six nights; the seventh night is free.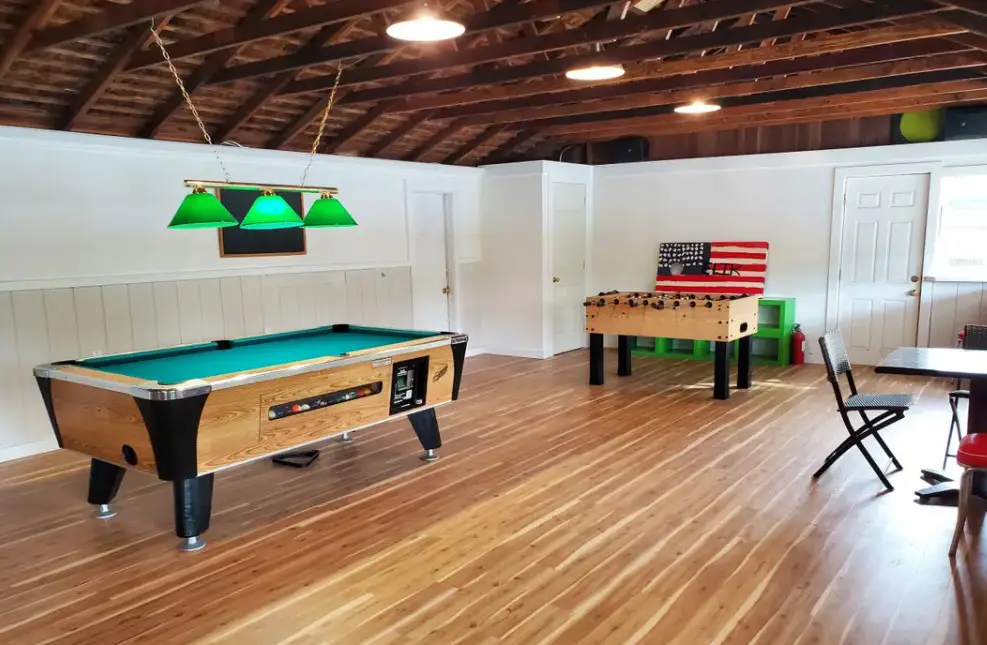 Amenities & Activities
Whether you are staying in one of the ELIK's lavish accommodations or your RV/tent, the whole campground and its abundant amenities will change your perspective of camping so much that you'll never go back to the wild again.
On the property, you'll find laundry facilities, free Wi-Fi, three bathroom & shower facilities, fire barrels on each campsite, and a camp store. The garbage is picked up daily.
The campground also has a swimming pool, a playground, a basketball court, an archery range ($10 per half hour; instruction and equipment provided), and a newly renovated Recreational Center with a pool table, foosball, video games, and more.
During some of the holiday weekends, Eastern Long Island Kampground also organizes events and activities, such as live music on Labor Day, Haunted Woods Experience and costume contests on Halloween, and more.
And if you ever get bored with all the nature and want some time in the city, you can go outside of ELIK to lovely wineries and breweries in Greenport, which is minutes away.
COVID-19 Safety Measures
To keep you safe during the pandemic, Eastern Long Island Kampground implemented several measures, including closing the playground until further notice. All other amenities are open, and frequently touched surfaces and areas are cleaned and disinfected regularly – bathrooms, trash cans, light switches, etc.
Currently, the campground allows up to 10 people per site, and if you are within a 6-feet distance of other guests, you must wear a mask. Click here for more information on COVID-19 rules.
690 Queen Street Greenport, L. I., NY 11944
Find out more by visiting elikampground.com or calling 631-477-0022.
More Glamping Options
If you are looking for other Long Island glamping options, then check out this Guide to Glamping Long Island, including Wildwood State Park camping, Long Island Glampers, and Terra Glamping!
While You're Enjoying the Outdoors
Be sure to find out about more things to do on Long Island as well as more great spots to eat and drink and wonderful places to stay on Long Island!
RELATED: Check out this Guide to Long Island Hiking spots!
Check out this guide to Long Island driving ranges, including this feature on the popular Heartland driving range! Go have fun at one of these great Long Island skate parks!
If that all makes you hungry, get to eating! The bounty of great food on Long Island seems endless! From great steakhouses on Long Island to great Greenport restaurants to Long Island lobster rolls, there's so much to enjoy. And how about all the wonderful restaurants on the water Long Island?! Or maybe check out some Long Island oyster farms!
If you're in the mood for great wine, be sure to check out our Complete List of Long Island Wineries and Long Island Vineyards.
Check out the absolute best Long Island Wine Tours!
I know you're getting hungry, so be sure to also check out the best wineries on Long Island for some great food!
While you're in the area, be sure to check out these 9 relaxing things to do in the North Fork!
When you're done with all of this wine drinking and relaxing, how about making it a weekend? Here are 10 great North Fork Long Island hotels to enjoy as well.