Long Island Glampers (LI Glampers), to put it simply, is an RV rental company. But if you dig deeper, you'll find out that the company's RVs are all fashionably designed and equipped with everything you need for comfortable camping. Yes, camping can be comfortable, and the owners of LI Glampers, Hal and Rachel Kench know all about it. They have been camping/ RVing with their kids across the USA since 2005 and have visited all 48 contiguous states, 10 countries, and four continents during their travels.
So as you can see, the Kench family knew what they are doing when they came up with the LI Glampers idea. And you can trust their campers to be absolutely the best.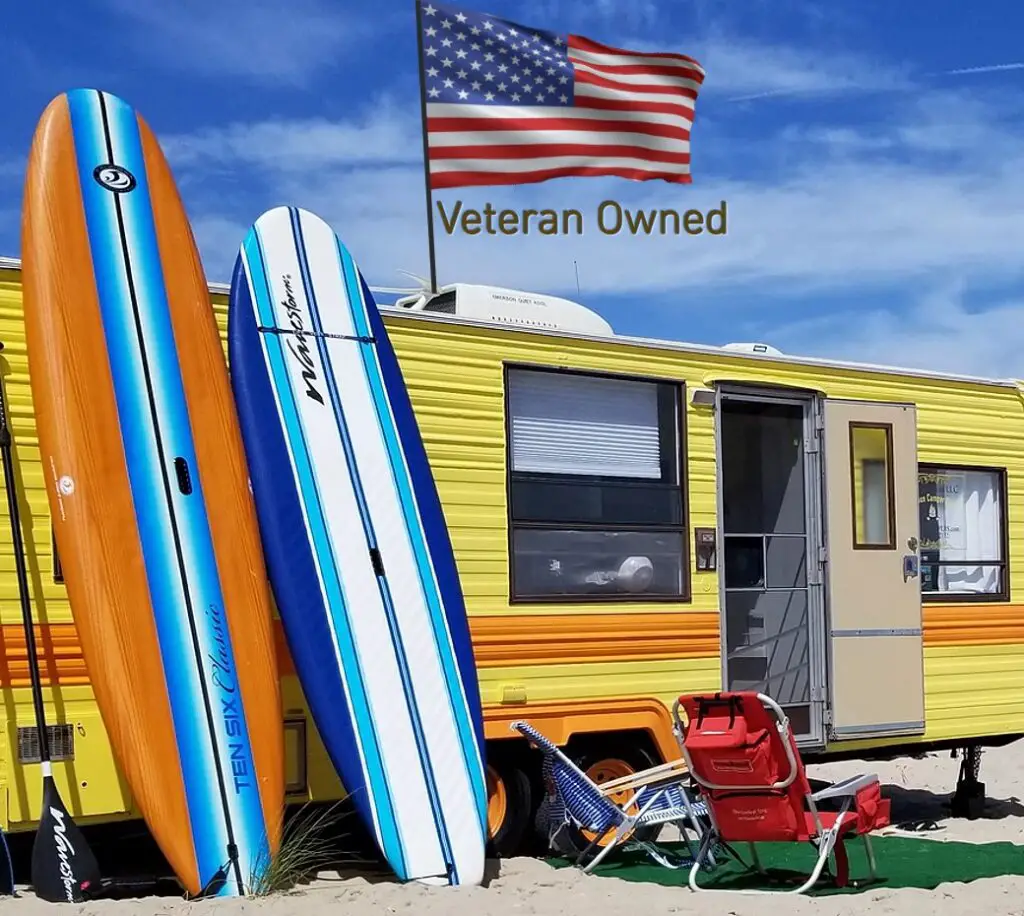 Glamper Rentals
LI Glampers currently owns and rents four glamorously designed RVs they call Glampers. All Glampers come with a fully-stocked bathroom, generator, gas, Kuerig coffee machine, microwave, fridge, stovetop, toaster, silverware, camp chairs, and more. You'll have to bring the K-cups yourself, though, as they aren't provided. Neither does the company provide linens; they used to do it, but with COVID-19 running around, it's better to use your own. Click here for a full list of things you should pack when you are going camping with LI Glampers.
There is also a TV, DVD player with several DVDs that you can watch with your family, and board games. It shows how deeply this company cares about your glamping experience; not only do they provide comfortable accommodations, they even think of entertainment options. So, meet the Glampers:
Henrietta
Henrietta is a 1989 Yukon Wilderness travel trailer with a shiny personality that you notice as soon as you see her. Colored in bright yellow and orange colors on the outside with yellow design elements of her interior decor, the RV will surround you with good vibes throughout the whole trip.
For $160 per night, Henrietta can accommodate up to six people if four of them are children or four adults. The sleeping areas include one full bed (for 2 people), a full-size futon (1 adult or 2 kids), and a fold-down dinette (1 adult or 2 kids).
Sarabi
If you've always wanted to see an African safari but for some reason can't make it there, rent LI Glampers' Sarabi. Its exterior walls are covered with zebra stripes, and inside, there are images of different animals everywhere. When you live in that RV, it'll feel like you are on safari every day. It's an appropriate mood for camping adventures, don't you think so?
The rate for Sarabi starts at $180 per night, and it can accommodate up to six people since it has four single and one double bed. The singles include bunk beds, a pull-out sofa, and a fold-down dinette.
Groovy Suzie
"Love, peace, and positivity" is your life motto? Then Groove Suzie was made for you. It's as if your way of thinking manifested itself into a cute and pretty vehicle. And camping in this colorful RV will be like spreading those good feelings everywhere around you.
Groovy Suzie's floorplan is similar to Sarabi – four single beds and one double – and the only difference is that the bottom bunk bed is larger than Sarabi's. The rate of this RV is the same, starts at $180 per night.
Satine
With Moulin Rouge-themed design, Satine is a beautiful, dreamy RV suitable for romantic getaways and, somehow, also for chic bachelorette parties. Its decor whispers Paris, freedom, love, celebrations, and glamour. What can better express the idea behind glamping than this lovely Glamper?
Satine offers you three single beds and one double, so it can accommodate up to five people. The daily rate for the RV starts at $180.
Booking from LI Glampers
All Glampers have a strong, unique personality, and they are so adorable you want to book them immediately. Hold your horses. Before you make a reservation, you should be sure that you can secure a campsite and that you'll go on the trip. When you book a Glamper, you'll have to pay a $300 security deposit, which won't be returned to you if you cancel the reservation, unless L.I. Glampers can find someone to take the RV for the dates you booked it. Note that the deposit has to be paid through Venmo or Paypal.
The minimum number of nights you have to rent a Glamper for is four, but as they have a special offer (pay for 6 nights, get one free), you might as well just rent it for a week. No pets and no smoking is allowed in the glamper. Check-in is at 6 p.m., check-out time is 9 a.m.
Add-ons
Camping on Long Island, or should I say glamping, has its perks: plenty of state and private campgrounds, beaches, lots of beautiful nature trails, beaches. Also, have I mentioned beaches? But seriously, Long Island is lucky to have its beaches (even luckier to have not just one). There are so many campers who dream of camping on a beach but don't have access to any. So, take full advantage of living on the island in such proximity to so many gorgeous beaches and sign up for adventures that LI Glampers' partners offer.
Currently, LI Glampers partnered with two companies that will come to your campsite to arrange the best beach time ever. There is stand-up paddleboarding organized by Moku Loa Paddle Tribe and surfing lessons taught by Island Surf School NY. Whether you sign up for one of those or both, you'll remember this camping trip for life.
Merchandise
Long Island Glampers have an online shop where you find their awesome merchandise. They sell T-shirts, beer koozies, trucker hats, car magnets, and frisbees. You can also buy a gift certificate for your loved one who loves camping. It's customizable and comes with a frisbee and a magnet. Check out the shop and souvenirs from LI Glampers here.
The Long Island Glampers company is an approved vendor with Suffolk County Parks. That means they meet the county's requirements for insurance and safety. This, in turn, makes your check-in a lot smoother and easier when you camp in one of the parks in Suffolk County. However, please note that the LI glamping company doesn't service Montauk and East Hampton.
Find out more by visiting liglampers.com or calling 631-806-2152.
While You're Enjoying the Outdoors
Click here to find out about all of the Long Island glamping spots, like Eastern Long Island Kampground, Terra Glamping, and Wildwood State Park camping!
RELATED: Check out this Guide to Long Island Hiking spots!
Be sure to find out about more things to do on Long Island as well as more great spots to eat and drink and wonderful places to stay on Long Island!
Check out this guide to Long Island driving ranges, including this feature on the popular Heartland driving range! Go have fun at one of these great Long Island skate parks!
Check Out Some Long Island Wine
While you're on Shelter Island, you're so close to Long Island Wine Country! It's another great part of visiting the island. If you're in the mood for great wine, be sure to check out our Complete List of Long Island Wineries and Long Island Vineyards.
Check out the absolute best Long Island Wine Tours!
If you can't make it to a tour, why not do some wine tasting at home with Bedell Cellars!
I know you're getting hungry, so be sure to also check out the best wineries on Long Island for some great food!
While you're in the area, be sure to check out these 9 relaxing things to do in the North Fork!
When you're done with all of this wine drinking and relaxing, how about making it a weekend? Here are 10 great North Fork Long Island hotels to enjoy as well.
More From The Long Island Local
Maybe grab a freshly brewed beer at these Long Island breweries and when you've had your fill of vino!
The bounty of great food on Long Island seems endless! From great steakhouses on Long Island to great Greenport restaurants to Long Island lobster rolls and Long Island bagels, there's so much to enjoy. And how about all the wonderful restaurants on the water Long Island?! Or maybe check out some Long Island oyster farms!
Be sure to find out about more things to do on Long Island as well as more great spots to eat and drink and wonderful places to stay off of Shelter Island!