Are you looking to find out information about Old Bethpage Village restoration? Old Bethpage Village Restoration is a wonderful, historic destination in the heart of Nassau County, Long island. Old Bethpage Village restoration is so much more than just a museum!!! It's a place to learn, enjoy, and be fully immersed in 19th century Long Island life!  It's one of my favorite destinations on Long Island!
Antebellum America was a place of numerous social, economic, and technological changes that have shaped our country into the great nation that it is today. Experience, for yourselves, that the future truly lies in the past!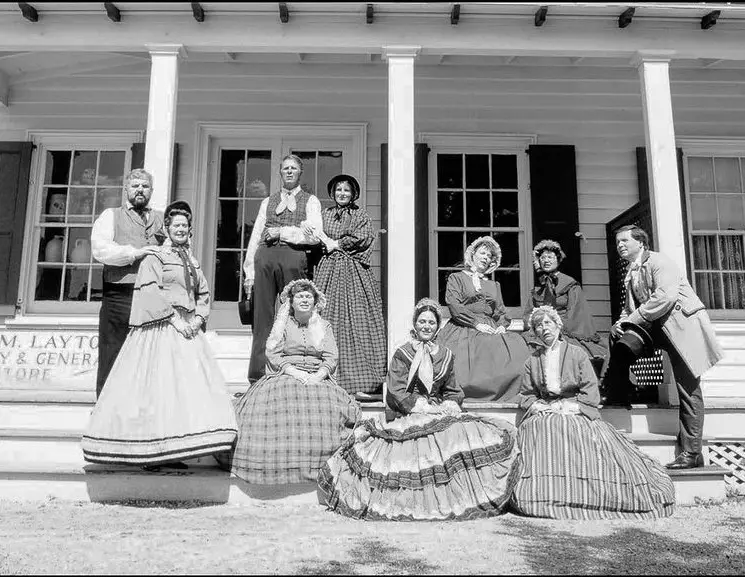 Old Bethpage Village Restoration History
In the late 1950's and early 1960's there was an idea to preserve Long Island's architectural and rural history of the 18th and 19th centuries. This was happening at a time of massive growth. Being the first true suburban area, Long Island was building and building.
Looking to the future with an eye to the past, the County of Nassau very wisely purchased 209 acres of property in Old Bethpage, New York  in 1963.
Old Bethpage Village opened with numerous historic homes, wonderful exhibits, the finest interpreters and tradespeople, farm animals, and interactive activities and demonstrations on June 27, 1970! It's hard to believe it's been around over 50 years!! I've been going since I was a kid!
The Long Island Fair
One of the major annual events held at Old Bethpage Village is the Long Island Fair, initially the Queens County Fair.
Beginning in 1842, The Agricultural Society of Queens, Nassau, and Suffolk Counties sponsored its earliest fair. In 1866 that the Fair found a permanent home on Old Country Road and Washington Avenue in Mineola.
The Queens County Fair was held nearly every Fall until 1899. In this year, Nassau County was created and the Fair changed its name to the Mineola Fair. Over the next 50 years, Nassau County would grow in population, eventually displacing the Fair to make room for the County Court Complex. The Fair was then moved to Roosevelt Raceway until 1970.
In 1970, the Fair would move to Old Bethpage Village Restoration, where it was renamed the Long Island Fair. The fairgrounds constructed on the Restoration's property would replicate the original grounds, including the Superintendents' Office, the only surviving 19th century building from the Mineola Fairgrounds.
The Long Island Fair has been a part of Long Island history for 174 years and counting! It's a wonderful event and something I try to attend every year if at all possible.
Old Bethpage Village Now
Old Bethpage Village Restoration has seen many different programs, and events. The Village has also added more and more historic homes. Currently, there are 18 historic buildings and over 50 other structures including barns, sheds, outhouses, and a thimble factory. Not to mention the thousands of artifacts from the period!
One thing will always stay the same,  to spread and expand their knowledge to others and to educate and showcase 18th and 19th century life as it was.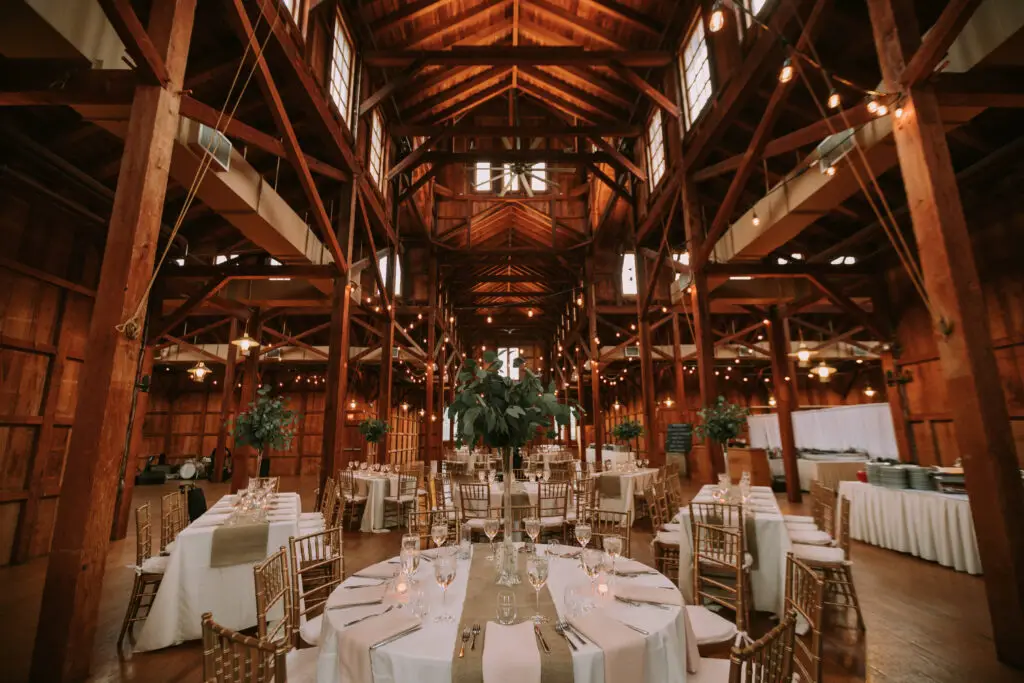 The Barn at Old Bethpage
The Barn at Old Bethpage Village Restoration offers the unique combination of a rustic yet elegant barn setting. With over 8,000 square feet of indoor and outdoor event space, The Barn is fitting for a guest list of up to 300 for weddings, galas and more. The exposed wooden beams stretched across high ceilings, sprawling country fields and authentic farmhouse scenery are sure to delight your guests and have them talking for years to come.
Find out more by visiting lessings.com or calling 516-921-5707.
Museum of American Armor
The 25,000-square-foot Museum of American Armor was born, just inside the grounds of the Old Bethpage Village Restoration.
The ability of the museum to create a military armored column among vintage farm houses and country roads, accurately replicating the sights and sounds of American forces during World War II, stands as one of the most compelling educational tools our region has at its disposal, in telling the seminal story of American courage, valor, and sacrifice—a virtual time machine, if you will.
Once visitors walk through the museum's camouflaged front doors, they are greeted by a stunning display of some 30 vehicles. Half a dozen times a year, in coordination with Old Bethpage Village Restoration programming, these vehicles are presented in the field, or on the village's country roads, as living historians offer skilled demonstrations of WWII tactics.

Find out more by visiting museumofamericanarmor.com or by calling 516-454-8265.
Old Bethpage Information
The restoration has welcomed hundreds of thousands of visitors from all over the World, and continues to be Long Island's most attended museum!
1303 Round Swamp Road, Old Bethpage, L.I., NY 11804
Find out more by visiting oldbethpagevillagerestoration.org or by calling 516-572-8409.
More From The Long Island Local
In addition to enjoying the wonderful Old Bethpage Village restoration, it's a great time to enjoy all those great spring activities we all love so much, like the Tulip Festival at Waterdrinker Long Island! A really big thing for me…enjoying all those great Long Island lobster rolls! How about all the wonderful restaurants on the water Long Island?!
It's also a time for farms and their farm stands to spring (pun intended) back to life with local produce, flowers, cheese, pies, and more!! Sign up for a CSA on Long Island and really take full advantage of our local bounty! Long Island spring is when our beautiful Island really spreads it's wings and shows off how amazing it can be. It's a great time, really, and I'm so happy that Long Island spring 2021 is here!
The bounty of great food on Long Island seems endless! From great steakhouses on Long Island to great Greenport restaurants and Long Island bagels…there's so much to enjoy. Or maybe check out some Long Island oyster farms! 
Be sure to find out about more things to do on Long Island as well as more great spots to eat and drink and wonderful places to stay on Long Island!