If you are you looking for a beautiful, fun peak spring activity, then check out the awesome Greenport Cherry Blossom Festival on Long Island. Cherry Blossoms are some of my favorite things…period. The beauty and the arrival of spring is unparalleled. But, as you may know, the beauty is fleeting. Once they pop, you have maybe two weeks to really enjoy them. So…you better get out to Greenport ASAP then!! Haha.
About the Greenport Cherry Blossom Festival
The second Greenport Cherry Blossom Festival Petal Tour is a self-guided walking tour of the village's 350-plus cherry (and pear) trees in full bloom. If that's enough (though it pretty much is), local merchants will be offering cherry blossom inspired drinks, food & merch items. Support nature, Greenport, and their hardworking local business owners.
RELATED: If you are in the mood for gorgeous, colorful flora! Be sure to check out the Tulip Festival at Waterdrinker Long Island in Manorville either on your way to or back from the Greenport Cherry Blossom Festival. What an amazing was to celebrate the spring awakening on Long Island!
The Greenport Cherry Blossom Frestical is presented by AgroCouncil and sponsored by Daniel Gale and Greenport Harbor Brewery. Thank you!!!
For more information, contact AgroCouncil at Greenporter Hotel 326 Front St., Greenport, LI, NY at 631-500-0850. Check out this map to help guide you!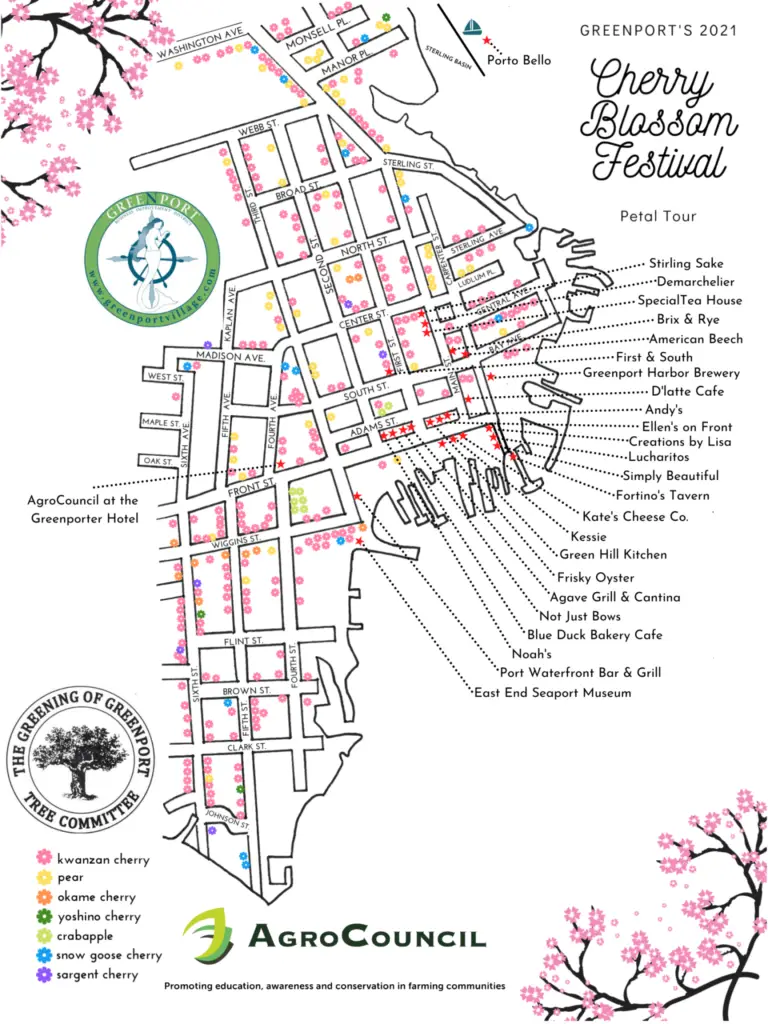 Participating Businesses
Here are some of the 25 businesses participating in the second Greenport Cherry Blossom Festival Petal Tour. For the full list, visit villageofgreenport.org.
Stirling Sake: 477 Main St.; 631-477-6782, stirlingsake.com
SpecialTea House: 455 Main St.; 631-477-2265, specialeffectssalonandtea.com
American Beech: 300 Main St.; 631-477-5939, americanbeech.com
Greenport Harbor Brewing Company: 234 Carpenter St.; 631-477-1100, greenportharborbrewing.com
Andy's Restaurant: 34 Front St.; 631-333-2525, andysnofo.com
Creations By Lisa: 123 Main St.; 631-477-9612
Lucharitos: 119 Main St.; 631-477-6666, lucharitos.com.
More To Do and See In Greenport
Greenport was settled in 1682 and established in 1838. Greenport's rich history is anchored in fishing, whaling and shipbuilding. Now a popular tourist destination, our charming, seaside village was voted one of the prettiest towns in America by Forbes Magazine, and Vogue Magazine named Greenport one of the top  9 U.S. destinations to visit in 2018. Find out more by visiting greenportvillage.com.
While you're in this fantastic village, be sure to not only enjoy those cherry blossoms! Explore the village and the area as much as you can!!
Greenport is loaded with amazing food choices! Check out this list of North Fork restaurants you need to try as well as North Fork restaurants that deliver!! Go glamping or stay at a brand new cabin in Eastern Long Island Kampground.
Take a ride on the Shelter Island Ferry and enjoy the neighboring island!
Places to Stay on Long Island
If you wanted to make it a weekend on the East End, be sure to check out these great places to stay in Montauk, this Guide to Shelter Island hotels, 10 Hamptons hotels, 10 North Fork Long Island hotels, and this Guide to Sag Harbor hotels!
Check Out Some Long Island Wine
While you're in Greenport, know that you're so close to Long Island Wine Country! It's another great part of visiting the island. If you're in the mood for great wine, be sure to check out our Complete List of Long Island Wineries and Long Island Vineyards.
Check out the absolute best Long Island Wine Tours!
If you can't make it to a tour, why not do some wine tasting at home with Bedell Cellars!
I know you're getting hungry, so be sure to also check out the best wineries on Long Island for some great food!
While you're in the area, be sure to check out these 9 relaxing things to do in the North Fork!
When you're done with all of this wine drinking and relaxing, how about making it a weekend? Here are 10 great North Fork Long Island hotels to enjoy as well.
More From The Long Island Local
Maybe grab a freshly brewed beer at these Long Island breweries and when you've had your fill of vino!
The bounty of great food on Long Island seems endless! From great steakhouses on Long Island to great Greenport restaurants to Long Island lobster rolls and Long Island bagels, there's so much to enjoy. And how about all the wonderful restaurants on the water Long Island?! Or maybe check out some Long Island oyster farms!
Be sure to find out about more things to do on Long Island as well as more great spots to eat and drink!