Are you as excited as I am to check out what's new in Long Island brewing in 2021? I have to admit, learning about our beloved places closing down because of the pandemic was heartbreaking. But seeing these new ones opening and powering through lifts my spirits, and I mean it quite literally.
The industry is in hyper growth mode and I'm loving every hoppy minute of it! Nine breweries on Long Island opened new taprooms in 2019, bringing the region's total to 46! Despite COVID, 2020 and 2021 brought ten more amazing spots of the Island!! That's a huge number. Even better, another seven that I know of are in the planning and/or build phases!
These establishments really went through quite a few bumps but have seemed to come out on top!! Let's support these new and our established local breweries to keep the Long Island vibes and economy humming along!!
The only thing more impressive than their surviving the COVID year is only their drinks. Interested in a glass of truly wonderful beer? You'll find it in any of these must-visit breweries.
While you're at it, be sure to check out the complete list of Long Island Breweries on the Local as well!!
What's New in Long Island Brewing for 2020 and 2021?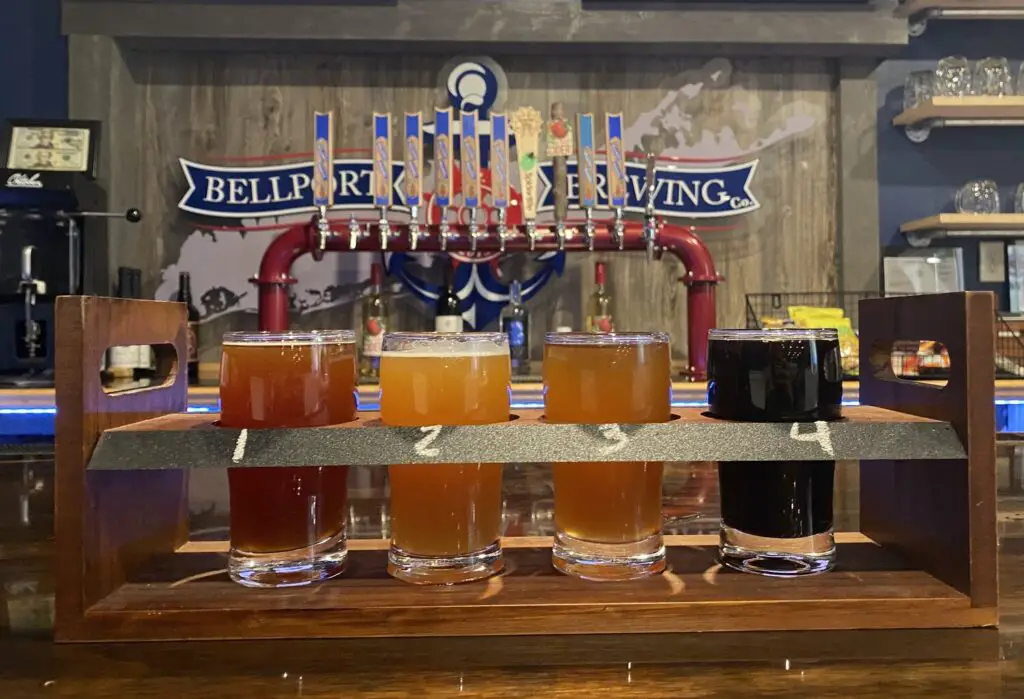 Bellport Brewing Co.
The owner and head brewer of Bellport Brewing Company, Brian Baker, walked a very long way from a homebrewer to seeing his dream come true and owning a brick-and-mortar building for his brewery. He even tried to open it at the same location back in 2013, but he didn't have the support needed to keep the brewery alive.
This time, though, when Brian opened his brewery on December 3, 2020, he did have the support – his partners, the Turner Family – and together they turned the building into a lovely 5-barrel navy blue brewhouse with a bar and plenty of space.
The Bellport Brewing Company is open Wednesday through Sunday and offers craft beers brewed from locally sourced ingredients, a selection of local guest beverages, and various fun events. As for food, food trucks and nearby restaurants can take care of that.
14 Station Rd., Bellport, L.I., NY 11713
For more information, visit bellportbrewing.com or call 631-909-4457.
Bright Eye Beer Co.
With names like Ooh Baby I Love Your Haze Hazy IPA and Dank Goodness IPA, you know you are in for a treat. Opening during COVID was not easy, but dropping good beer in 32 oz. crowler cans (drink within 3 weeks to get it at its freshest) will work wonders for beer lovers.
The former Point Lookout Brewing Company kicked into 2020 and beyond with a name change and a great 5,000-square-foot space on Park Avenue in Long Beach.  
50 West Park Ave, Long Beach, L.I., NY 11561
For more information, visit brighteyebeerco.com or call 516-543-5736.
HopWin's Brewery
HopWin's is a brewery, a brewery that hopes to change the way you look at the industry. They want to be different and hope to bridge the gap between your normal "I'll have a beer every once in a while" guy to The most passionate craft beer snob.
Craft beer is a limitless obsession at HopWin's and they believe everyone with the gift of taste buds can really enjoy beer even if you don't realize it yet. If you don't believe them, now is the time to pay attention to what's happening in the world of specialty beers. HopWin's is now on the scene, and it is their mission to find your perfect beer. 
HopWin's Brewery in Bay Shore, another Long Island brewing hub, was founded in 2015 by brothers-in-law William Hoppe and Steve Winn. They took over a building that is near Great South Bay Brewery and The Brewers Collective Beer Company.
1460 North Clinton Avenue, Unit L, Bay Shore, L.I., N.Y. 11706
Find out more by visiting hopwinsstore.com or call 631-316-8441.
Motion Craft Brewed
You might not have had the chance to enjoy Motion Craft Brewed yet because it opened on February 14, 2020, only a few weeks before the lockdown. What unfortunate timing the owners, Angel Santiago and Kris Constantelos had!
But you have plenty of opportunities to visit it now since this 855-square-feet microbrewery stayed strong and survived the COVID year, which managed to kill more local businesses than we'd like to admit. That should tell you a lot about the quality and taste of their products. Black IPA, a chocolate peanut brown ale, a Saison with honey and orange peel called My First Crush, s'mores porter So Happy Together – these are just a few of their mouth-watering drinks.
I can guarantee that with their great variety of delicious craft beers, ciders, meads, hard seltzers, Motion Craft Brewed will soon become your favorite place to be.
1036 Park Blvd., Massapequa Park, L.I., NY 11762
To learn more, visit facebook.com/MotionCraftBrewed or call 516-654-9555.
Moriches Field Brewing Company
According to the founders, good beer, good friends, good conversation and good times. That sums up the reason Moriches Field Brewing was created. Rich Flynn, had the opportunity to travel the world for work and noticed that the most genuine discussion always happened outside of the office over a beer. Plans were made and friendships cemented over a local beer that was fresh, full of flavor and something to be remembered.
Honoring the rich aviation history of Long Island, the beers run the gambit from American Cream Ale to IPAs to Bohemian Pilsners and Stouts. One core goal was to have a huge variety of beer that wasn't overly reliant on "trendy" beer. Part of that comes from the love of beer styles around the world and part is simply that they want to brew beer that people like to drink rather than just taste.  To help meet this goal, they have a split barrel brew system which allows them to brew 2 beers simultaneously resulting in more variety. 
1 Wilcox Avenue, Center Moriches, L.I., N.Y. 11934
Find out more by visiting morichesfieldbrewing.com or call 631-909-4404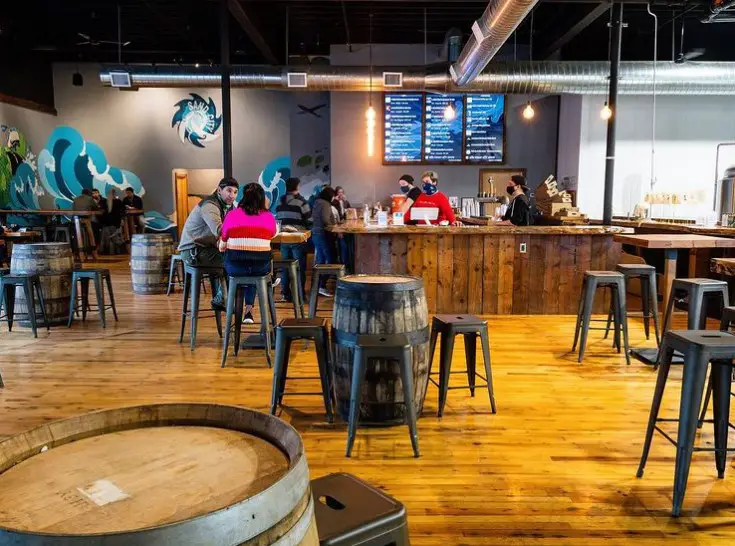 Sand City Brewing Co. South
Sand City is one of the big boys of Long Island brewing. On March 5, 2021, Sand City Brewing Company finally introduced its South Shore branch to the public. The brewery was supposed to open in spring 2020, but well, COVID-19. So this was something we all looked forward to for two long, dragged-out years. But as hard it was for us to wait, it was just as hard to get all the construction done. Just imagine how much work was ripping out old floors and pouring new ones!
But enough about hardships; let's see what we have in Sand City Brewing Co. South. Its decor is industrial style, meaning that with wooden barrels serving as tables and shiny beer tanks gleaming happily in the corner, you won't forget that you are in a brewery. But that's not a bad thing; on the contrary, somehow, it makes you all the more relaxed and gives you a homey vibe, and the outdoor patio with a gas fire pit helps with that.
Northport has been enjoying Sand City Brewery since 2015, so Lindenhurst has a lot catching up to do. Luckily, the South brewery is open seven days a week from 12 p.m. to 9 p.m., so catching up won't be a problem. And if you get hungry while completing the challenge, Hermanas Kitchen & Cocktails got your back.
The South Shore Brewery
150 Wellwood Ave., Lindenhurst, L.I., NY 11757
The North Shore Brewery
60 Main ST., Northport, L.I., NY 11768
Find out more by visiting sandcitybeer.com or calling 631-651-2767.
Riverhead Breweries
Riverhead is a major Long Island brewing hub along with towns like Bay Shore. But 2020 and 2021 may have put it firmly in the driver's seat with four new breweries opening up!! It's so awesome to see. I would love to see Long Island (along with NYC) being mentioned up there as one of the top beer destinations in the USA.
Peconic County Brewing
The construction and opening of Peconic County Brewing started as an impossible idea one craft beer lover had. But when something is right, everything falls into place. In May 2020, Jeff Schaeffer declared he was going to open a brewery, and then on February 12, 2021, here it was. The whole project took less than a year to go from a crazy idea to a capacious brewery with a feel of a winery, a full kitchen, and an outdoor deck overlooking the Peconic River.
At Peconic County Brewing, James Miller, a former assistant brewer at Barrage Brewing Co., takes care of brewing beer, while chef Luke Andrews manages the kitchen. The brewery is located at the back of Riverview Lofts, so it's pretty tucked away.
Imagine yourself basking in the sunshine on the deck and enjoying a cold lobster roll served on a croissant and a glass of Belgian Wit. Sounds like heaven, doesn't it? Peconic County Brewing can make it happen on any day of the week from 12 to 10 p.m. Oh – almost forgot – Happy Hours are from 4 to 6 p.m. Monday through Thursday.
221 E. Main St., Riverhead, L.I., NY 11901
To find out more, visit peconiccountybrewing.com or call 631-740-9797.
Tradewinds Brewing Company
After spending four years at Greenport Harbor Brewery as the director of brewing operations, Griffiths left to focus on the small boutique, high-end craft beer destination. Until 2015, founder and brewer Duffy Griffiths was the original brewer at Crooked Ladder Brewery, which closed last year, and now he is opening up Tradewinds Brewing Company in that same spot, right in the heart of downtown Riverhead.
Located at 70 West Main Street in downtown Riverhead, Tradewinds opened with five beers on the menu — the Lilly light lager, the No Paddle pilsner, the Alsatian Hefeweizen, the New Guy! New England IPA and the Breaking Tide double IPA – and hasn't looked back since. There are now 8 beers on tap with 6 being offered in cans. There are also plenty of IPAs for all you hopheads out there.
70 W. Main St. in Riverhead, L.I., N.Y. 11901
To find out more, visit tradewindsbrewing.com or call 631-591-3466.
Twin Fork Beer Company
Long Island brewing hub Riverhead welcomes yet another brewery to it's environs. Twin Fork Beer Company was founded by twin brothers that were born and raised Out East on those beloved Twin Forks. Peter started homebrewing joining the Brewers East End Revival homebrew club. After interning at another Riverhead brewery, Long Ireland Beer Company, his brother joined him to start their own brewery.
The brothers purchases an undeveloped lot on Raynor Avenue and built an awesome 11,480-square-foot facility with a 20-barrel brewhouse, cold storage for distribution, and a tasting room. 
Twin Fork will soon have its own permanent food truck at the brewery, serving food in perfect harmony with its beers.    
807 Raynor Avenue in Riverhead, L.I., N.Y.
Find out more information by visiting twinforkbeer.com or calling 631-209-4233.
übergeek brewing
The newest kid on the Long Island brewing block is übergeek brewing. Coronavirus year has been disastrous for some while offering new opportunities for others. So while our beloved Moustache Brewing Company closed its doors last year, it gave the nomadic übergeek brewery a chance to settle down and open their own tasting room (before the company used to rent the other breweries' equipment).
The untraditional nomadic way of brewing beer isn't the only innovative thing about übergeek brewery. Rob Raffa – the head, heart, and hands behind übergeek – is like a modern alchemist who concocts beers using strange techniques and stranger ingredients, such as turmeric, hibiscus, cacao nibs. Well, whichever way he does it, his beers do taste like magic.
The grand opening of the brewery took place on April 2, 2021. Now you can enjoy these delicious craft beers in a tasting room that matches the drinks in creativity and uniqueness Wednesday through Sunday.
400 Hallett Ave., Riverhead, L.I., NY 11901
Learn more by visiting ubergeekbrewing.com or emailing [email protected].
More Great Long Island Brewing To Come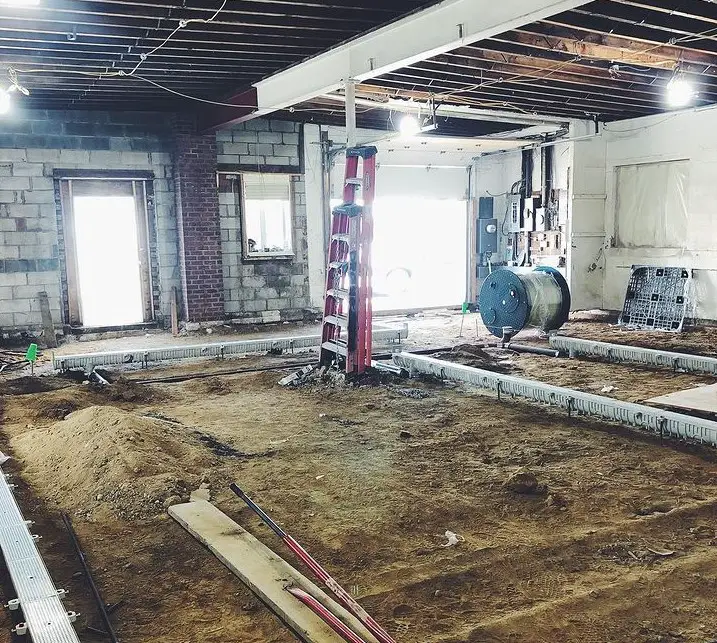 Root+Branch Brewing
Perhaps one of the most anticipated openings for Long Island craft beer lovers in a long time (perhaps ever) is Root+Branch's brewery,coming to Copiague. This is a work-in-progress. Keep up with them on social and at rootandbranchbrewing.com.
Long Beach Brewing Company
Long Beach Brewing Company is already cranking out great beers on it's 10 BBL system. The tasting room should be opening soon in 2021! Long Beach is such an amazing city and area, it deserves to have great breweries. Keep up with them at longbeachbrew.com.
Lost Farmer Brewing Co.
Happily, I hear there are more to come! Lost Farmer Brewing Co. is very close to setting up shop in a "hidden" Mineola spot not far from the great beer bar The Black Sheep. Keep track of their journey at lostfarmerbrewing.com.
Somerset Brewing Company
Also, Somerset Brewing Company is looking to open just south of Garden City sometime soon as well. Can't wait!
Take Two Brewery
Back in 2013, brewers, and cousins, Brendan Byrne and David Cristelot were at a family Thanksgiving party. They started discussing craft beers and how the industry was rapidly changing. Both had a love for craft beers and started to think, maybe we should give this brewing thing a try. From the first batch they made from a kit, they were hooked.
Within less than a year they had moved on to all-grain brewing and designing their own recipes. That has continued forward. Being dark beer drinkers, they tend to make darker beers. However, hey also make various other styles such as IPAs, Saisons, and Lagers. They continually work toward making each batch better than the previous one.
Their new brewery is being built in downtown Bay Shore, right across from the LIRR station. A perfect spot I must say. Plans are to open in the Fall of 2021. Keep up to speed by visiting taketwobrewery.com.
Flying Belgian Brewery
If you like Belgian beer, this is the brewery for you. It's been brewing great beers for years with plans to open a tasting room in Oceanside in 2020. There don't seem to be any website or Facebook updates, so I'm trying to find out what's happening. I hope this is one that's just been delaying by COVID, with an opening date to be announced soon.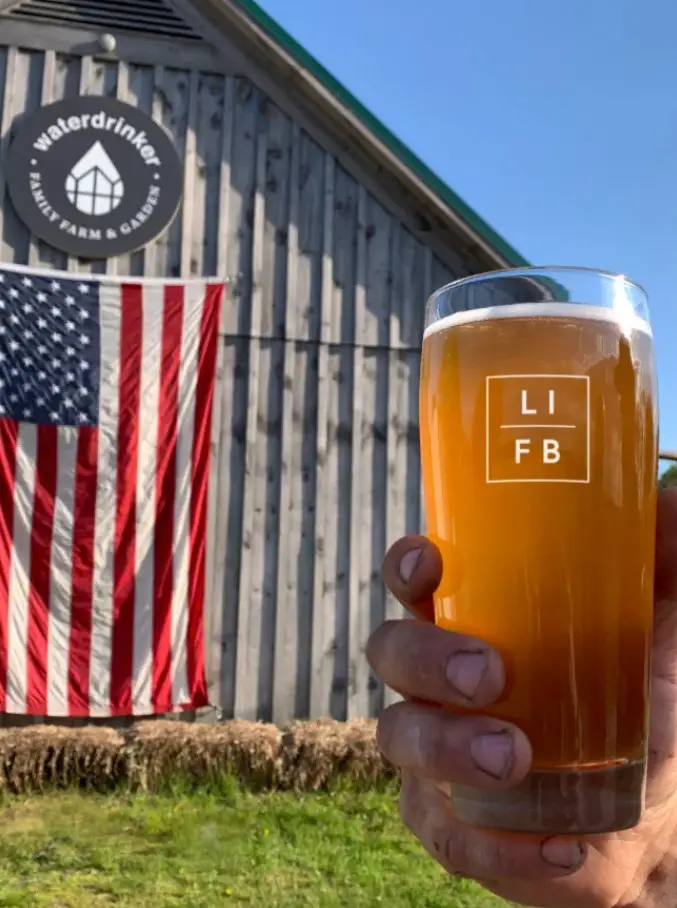 Long Island Farm Brewery
On the awesome Waterdrinker Family Farm & Garden in Manorville, just before the North Fork, a new addition is being built and I'm all for it. Long Island Farm Brewery is being planned in a sleek, black, barn right on the farm's property. So take in the festivals, grab some good eats, and then grab some craft beer to make the day that much better. Check it out at longislandfarmbrewery.com.
More About the Beer
Check out my list of the Absolute Best Long Island Brewery Tours!
If you can't make it out for a tour, be sure to look into beer delivery!
Read more about some of the best Long Island craft beer around!
Be Sure To Check Out Some Local Food To Go With That Drink
The bounty of great food on Long Island seems endless! From great steakhouses on Long Island to great Greenport restaurants, there's so much to enjoy. And how about all the wonderful restaurants on the water Long Island?! Or maybe check out some Long Island oyster farms! You know you love Long Island lobster rolls, too!
More From The Long Island Local
Be sure to find out about more things to do on Long Island as well as more great spots to eat and drink and wonderful places to stay on Long Island! How about all the great spring activities, too!