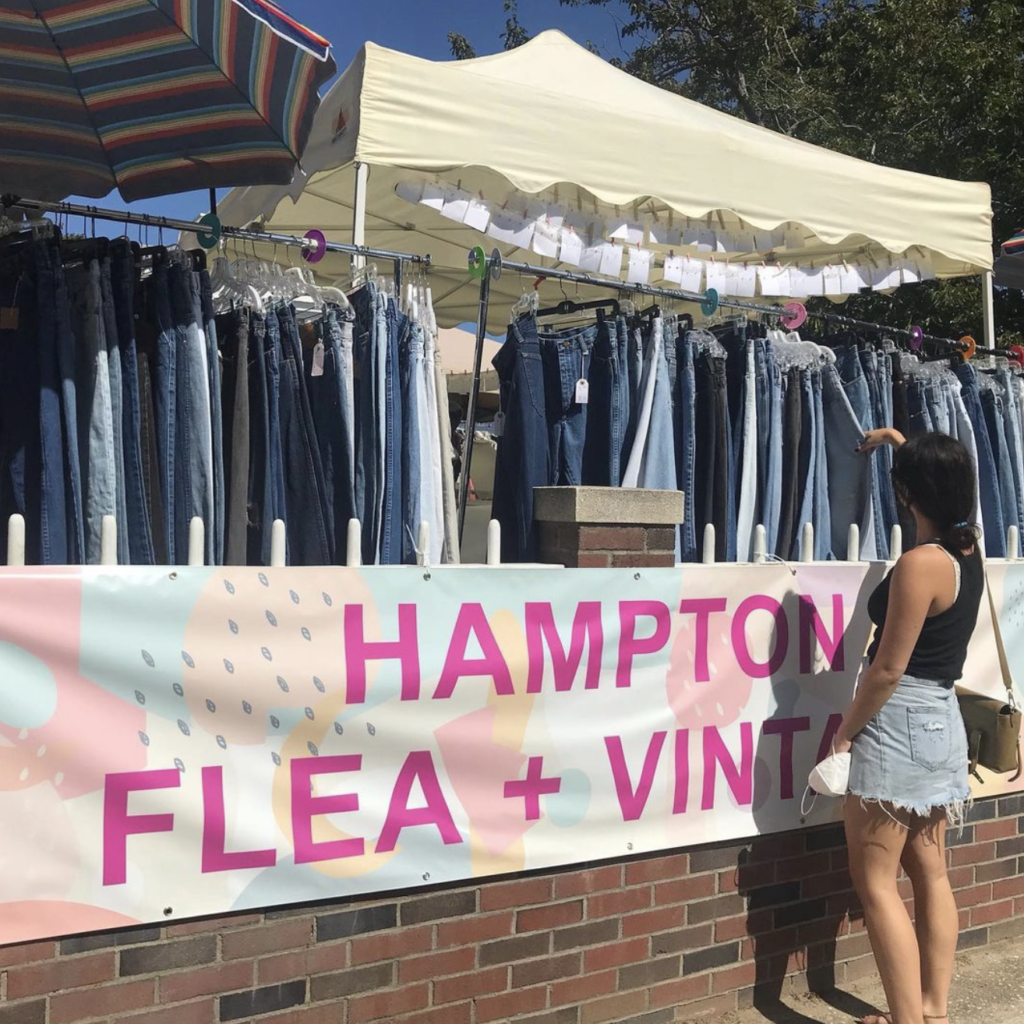 The Details
The Hampton Flea, the great Southampton Flea Market, will return this summer to the Southampton History Museum, 17 Meeting House Lane on June 5, July 3, August 7, and September 11th.
And, will debut in a new, second location in Amagansett at 15 Montauk Highway on July 10 and August 14. Showcasing 40+ hand selected vintage dealers alongside creators of one-of-a-kind goods with an emphasis on sustainability.
Each market will have a live musician performing or a dj spinning, creating a festive atmosphere for attendees. The event is 10am to 4pm and free to the public.
Do Good
This wonderful Southampton flea market, Hampton Flea, is partnering with the Southampton Animal Shelter Foundation again this summer who will be present at the Southampton History Museum with a live adoption drive. Last year, we matched many homeless cats and dogs with their new families. These fur babies are now living happily in their forever homes. We look forward to doing it again this season!
The Vendors
Vendors include: Marilyn Hitchcock Vintage, Upper East Side Vintage, Dammi Vintage, Antique Reflections, Geri Besca LLC, Carin Constant, Vintage With A Twist, Cristina Rueda, Aluna's Vintage, Gem de la Gem, The N.Y.S.O.M, SUPERFUSSY, Allegra Vintij, Lisa Victoria Vintage, Vanessa's Vintage, Coco Cabana Shop, IndigoStyle Vintage, 22 Print Studio, Eve Behar Ceramics, Bespoke Smoke Studios, Stephanie Putter Jewelry, By Vlada, Etereo Vintage, Retired Girl Scout Club, Silibi Vintage, Phenix Vintage, IMJM Vintage Couture, and NAMAI.
If that's not enough, the list goes on to include: VF Design, Auerbach and Maffia, Kimono Dragon, Nohemm, What Was Is Vintage, Island Exchange, PRNYC, Swanee Grace, Antoinette Vintage, Horizons Vintage, Olive's Very Vintage, Morphew, Lady Holiday, MITZI New York, Select Vintage NYC, Beach House Antiques, Collective Good Shop, Chinalai Tribal Antiques, Angels and Warriors, Lady V's Second Time Around, Luxury Junkyard, Kathy Hates Surprises, Demetra Vintage, Armed & Dangerous, EBB AND FLOW, Lofty Vintage, Thread Circus, Queen Mother's Corner/ Kirsten Jewelry Collection, Sccollection LLC, Zingara Vintage, Nightie Night Vintage, Lucestella Studio, Susan Oates Antiques, SV Decker, J Wilder Imports, and Midnight Dolls Vintage.
Find out more about Hampton Flea, the great Southampton flea market
Find out more by calling 917-767-3279 or visit hamptonflea.com.
After you check out the Southampton flea market, be sure to enjoy the following!
More From The Long Island Local
Maybe grab a freshly brewed beer at these Long Island breweries!
And how about all the wonderful Wölffer Estate Vineyard events and tastings?! Or maybe check out some Long Island oyster farms! How about these guides to Long Island Coffee Shops and Long Island coffee roasters!! Check out these 16 Long Island Boardwalks! Take the ferry over and enjoy these Fire Island restaurants! Let's not forget about the best tacos on Long Island and these 32 great Long Island pizza places either!! Here are 21 great spots to enjoy Long Island Gelato!
Be sure to find out about more things to do on Long Island as well as more great spots to eat and drink! Maybe take a stroll in one of these amazing Long Island arboretums and gardens! There are even this great Long Island kayaks and paddleboard guide to exploring!
Long Island Farm Guides To Explore
Suffolk County agriculture includes over 560 farms with 4,600 people that generate more than $226 million in sales annually. Long Island knows farming as well as Long Island farmland preservation!! How about enjoying some wonderful Long Island hiking trails!
Check out more Long Island Farm coverage on The Long Island Local!
Explore our Guide to organic farms on Long Island and our Guide to CSA on Long Island.
Read about great events like the Tulip Festival at Waterdrinker Farm and all that the Golden Earthworm has to offer!
What about this massive list of Long Island farmers and farms you need to visit!
How about Long Island Oyster Farms, the last Long Island Duck farm, or the only fresh American snail farm Peconic Escargot!
When the season's right, explore our Long Island Christmas Tree farm guide and our list of great Long Island pumpkin picking farms!
Check Out Long Island Wine
If you're in the mood for great wine, be sure to check out our Complete List of Long Island Wineries and Long Island Vineyards.
Check out the absolute best Long Island Wine Tours!
If you can't make it to a tour, why not do some wine tasting at home with Bedell Cellars!
I know you're getting hungry, so be sure to also check out the best wineries on Long Island for some great food!
While you're in the area, be sure to check out these 9 relaxing things to do in the North Fork!
When you're done with all of this wine drinking and relaxing, how about making it a weekend? Here are 10 great North Fork Long Island hotels to enjoy as well.
Things To See and Do on the South Fork
I always recommend seeing as much of the South Fork as possible!! 
The Hamptons and Montauk is a world-renowned beach resort destination for good reason! There is just so much to see, do, and enjoy! Here are just a few of them:
Check out this Guide to the Best Beaches in Montauk! Also, check out this Guide to The Hamptons best beaches!!
Check out some luxury homes in The Hamptons!
Maybe you will love it so much, you'll want to check out some Hamptons wedding venues!
Enjoy some of the world-class, amazing art in The Hamptons!
While You're Enjoying the Outdoors
Be sure to find out about more things to do on Long Island as well as more great spots to eat and drink and wonderful places to stay on Long Island!
Check out this guide to Long Island driving ranges, including this feature on the popular Heartland driving range! Go have fun at one of these great Long Island skate parks!
Make It A Weekend
The East End of Long Island is a really special spot. If you think you'd want to check it out and maybe even stay a while…that wouldn't be such a terrible idea.
If you wanted to consider different options for staying on Long Island, be sure to check out these great places to stay in Montauk, 11 Hamptons hotels, 11 North Fork Long Island hotels, and this Guide to Sag Harbor hotels! Enjoy reading up on and hopefully exploring these wonderful Shelter Island hotels and let me know if you decide to make it a vacation!