If you are looking for great Long Island bookstores to visit and enjoy some good reading, this is the guide for you!
Are you a hopeless bookworm who's looking for a great Long Island bookstore to call your second home? Why did I say hopeless? It's because even though you are living in the age of ebooks and e-readers, which make reading possible anywhere anytime, you can't seem to give up the good old print books. But then again, who can blame you?
The feel of the weight of a book in your hands, the smell of a new book, the rustling sound of pages, and the excitement of seeing how many pages are left – no e-reader will ever be able to offer you that. But bookshops can. And luckily, Long Island has plenty of independent and chain bookstores that will keep your bookworm soul happy.

Independent Long Island Bookstores
Berry & Co.
Berry & Co. isn't just another simple one of many Long Island bookstores filled with books where you visit with only one goal – to find the book you want and get out. No, this Long Island bookstore (formerly known as Harbor Books) has such a homey and welcoming vibe that makes you fall in love with the place immediately. There you can spend a whole afternoon without even realizing it – just checking book after book until you find the one. And don't doubt that you'll find the perfect book for yourself because the bookshop offers you a selection of fiction and non-fiction, children's books, and literary collections carefully and thoughtfully picked by Taylor Rose Berry, the owner and operator of Berry & Co.
But books aren't the only thing Berry & Co. specializes in; there are also special teas, coffee, herbal remedies, crystals, CBD, tea tastings, workshops, aura readings, and other magical events. The sweet lovely shop seems to be a physical representation of its owner's soul; all Taylor Berry's interests and hobbies in one place that she'll gladly share with you.
Stop by and participate in the book club, blind date dinner party, or just come for a book and try some tea – either way, you'll love the experience.
26 Main St, Sag Harbor, L.I., NY 11963
For more information, visit berryandcosagharbor.com or call 631-899-4118.
BookHampton
In 2015, the East Hampton book lovers nearly lost their cozy little source of books that served them well for almost 40 years, but luckily, they were saved by Carolyn Brody when she purchased BookHampton in 2016. It was a win-win situation for everyone – Carolyn got her childhood dream of owning a bookstore, and the East Hampton residents got to keep their beloved bookshop (they even got an upgraded version of it).
The BookHampton store you see now is a brightly lit space with a cute interior and a good selection of fiction, non-fiction, and children's books. Even though the shop doesn't offer a place to sit and relax while choosing a book, it has something equally valuable – knowledgeable staff. Whether you are feeling overwhelmed by options or can't seem to find that particular book, the employees of BookHampton will help you find what you need. And they understand the line between helpful and pushy, so don't be afraid to approach them.
BookHampton regularly hosts a variety of events for adults, teens, and kids, including a book club and author events, so be sure to check their calendar. The bookshop is open 10 a.m. – 5 p.m. Monday through Saturday, 10 a.m. to 3 p.m. on Sundays.
41 Main St, East Hampton, L.I., NY 11937
Visit bookhampton.com or call 631-324-4939 to find out more.
Book Revue
A paradise for Huntington book lovers and maybe the most well known of Long Island bookstores, since 1977, Book Revue is currently Long Island's largest independent bookstore. In the shop, you can find new, used, rare, collectible, signed books, digital audiobooks, kids books, and they also feature works by local authors. And if you always have trouble choosing a book to read, you'll love their 6 books for a $40 discount book bundle. The idea behind this offer is, you provide information on what books and genre you love, and based on that information, the staff picks six books from their discounted remainder tables for you. This way, you don't have to go through the time-consuming process of selecting a book, save money, and get to find the most interesting gems you otherwise could have missed.
But Book Revue doesn't only sell books; it also buys them from anyone willing to sell – given that the used books meet their criteria, of course. There is also a book club every third Wednesday of every month (except for September); it's free to attend. And like any self-respecting bookstore, Book Revue offers you author events; check their calendar to learn more. A part of the shop is also a cafe with delicious sandwiches and specialty coffee, so if during your visit you get hungry (and that can easily happen because, well, hello, books!), you won't have to leave this paradise.
Enjoy all that Book Revue has to offer in person or through their online shop. The bookstore is open every day: 10 a.m. to 9 p.m. from Monday to Saturday, 11 a.m. to 8 p.m. on Sundays.
313 New York Ave, Huntington, L.I., NY 11743
Visit bookrevue.com or call 631-271-1442 to learn more.
Dolphin Bookshop
Opened in 1946, Dolphin Bookshop is the oldest independently owned of the Long Island bookstores. During the 75 years of its operation, the bookshop has changed three locations, four owners, and numerous book signing by famous authors and celebrities, including J.K. Rowling.
The Dolphin Bookshop might look like a small establishment from the outside, but you'll see that it's pretty capacious once you enter. You'll find a wide selection of books, toys, games, arts & crafts supplies, and more; the store also features jewelry, hats, and scarves provided by Fair Trade vendors. In addition to all of that, there is a nice little cafe inside the store where you can enjoy the unforgettable Stumptown coffee and spend a lovely time reading or writing.
If you are looking for a gift to give to a book lover, The Dolphin Bookshop is your place to be. Not only is the staff extremely knowledgeable and able to find the perfect book for a gift, but they also offer gift certificates, gift baskets, and the Book-of-the-Month program.
This LI bookshop hosts various events – from tarot card readings to fundraisers – and welcomes you anytime between 11 a.m. and 3 p.m.
299 Main St, Port Washington, L.I., NY 11050
To find out more, visit thedolphinbookshop.com or call 516-767-2650.
The Good Times Bookshop
If you are looking for out-of-print, scholarly, or rare books, then The Good Times Bookshop should be the first one to check out. Founded in 1972 by Michael and Mary Mart (and still operated by them), the bookstore was available offline until July 2006, but since then, all sales are conducted online.
The antiquarian book business offers you more than 10,000 titles, but The Good Times Bookshop keeps most of these books in storage and only a fraction on display. So if you cannot find the book you want among the 1,400 titles listed on the website, send an email to this address, and Michael and Mary will search for it.
The Good Times Bookshop makes an appearance at a few Book Fairs a year on Long Island and in New York City, so if you want to check their collection in person, you can call and ask about their schedule.
7 Flowerfield Suite 11. St. James, L.I., NY 11780
To learn more, visit goodtimesbookshop.com or call 631-403-8055.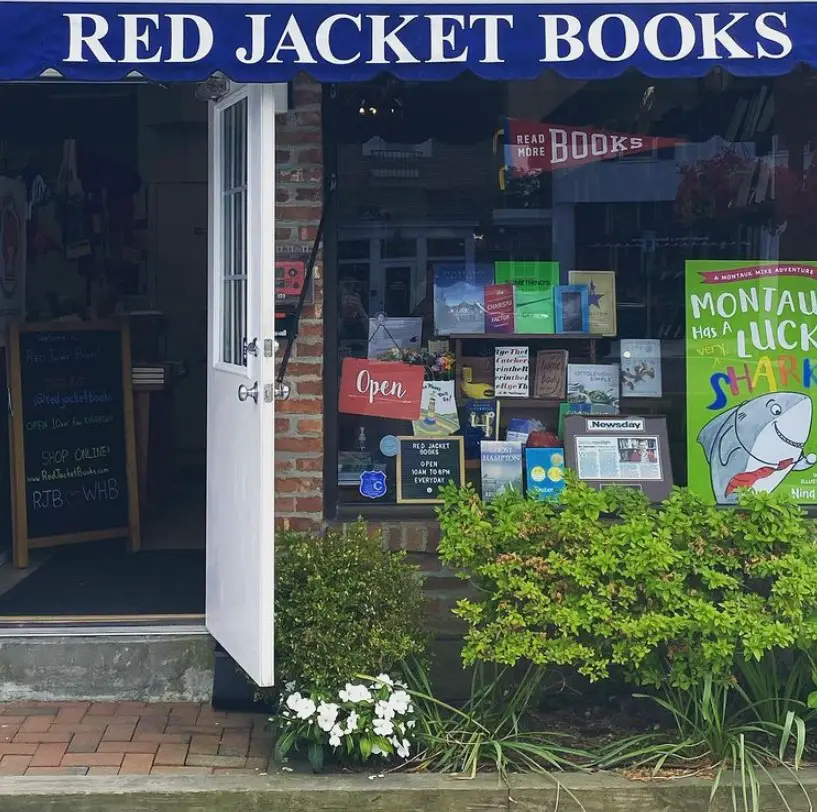 Red Jacket Books
Don't you just love Long Island bookstores that has a genuine love for books? That's Red Jacket Books for you. Opened in July 2020 by a fellow book lover Ben Vengroff, it's a place where everyone – no matter their age, profession, gender – will feel like they belong as long as they love books. And even then, even the people who hate reading will be able to find that one book that'll change their opinion.
You might be wondering about the name of the store – after all, it's a weird choice for a shop that sells books. Why Red Jacket? Bed Vengroff has been wearing the red jacket he fell in love with and bought in California for a very long time. He's been wearing it every single day, and it's become the feature he's recognized by. Some love it, some hated it, but everyone knew Ben and his red jacket. So when it came to naming his store, Ben didn't have to think for too long.
You can check out the Red Jacket Books shop from 10 a.m. to 6 p.m. Monday through Sunday, and don't forget to follow Ben's Instagram account for weekly book recommendations.
77D Main St, Westhampton Beach, L.I., NY 11978
For more information, visit https://redjacketbooks.com/ or call 631-533-5580.
Bookstore Chains
Barnes & Noble
With over 600 stores across the U.S. and several Long Island bookstores alone, Barnes & Noble is, without a doubt, the largest bookstore chain in America. They offer an overwhelming number of titles in their stores and online shop. Fiction, non-fiction, kids books, audiobooks, ebooks – they've got it all and then some more: toys, games, collectibles, movies, music. If you ever struggled to find a book, then chances are, you haven't checked Barnes & Noble.
But being your source of all kinds of entertainment is just a part of Barnes & Noble. They also developed and sell NOOK tablets and e-readers, and there is a free NOOK reading app available for iOS and Android. In addition to these achievements, the bookstore chain also acts as a publishing service, helping independent authors reach millions of readers easily.
Most Barnes & Noble bookstores have cafes inside where you get to reading your new book immediately after the purchase or just relax after shopping.
Visit here to find the nearest Barnes & Noble location.
Find out more by visiting barnesandnoble.com.
Book Warehouse
There are only two things that can break a book lover's heart – book prices and unattainability of the book they want. And while the second one doesn't happen too often, book prices are thorns in any bookworm's side. However, Book Warehouse solves both of these problems simply by existing – it has a wide selection of books and low prices!
With more than 30 locations across the U.S., Book Warehouse is the leader among discount booksellers that has plenty of titles and categories to choose from – romance, science, history, cookbooks, children's educational books, and more. Every reader of every age and interest will be able to find something to their taste and get a great deal during the process.
The Long Island Book Warehouse location is in Riverhead; the bookstore is open every day: 11 a.m. to 7 p.m. Monday through Saturday, 12 p.m. to 6 p.m. on Sundays.
200 Tanger Mall Drive, Riverhead, L.I., NY 11901
Learn more by visiting book-warehouse.com or calling 631-591-1001.
Things To See and Do on the South Fork
While you are checking out all of these great Long Island bookstores, make sure to really see as much of the Island as possible!!
The Hamptons and Montauk is a world-renowned beach resort destination for good reason! There is just so much to see, do, and enjoy! Here are just a few of them:
Check out this Guide to the Best Beaches in Montauk! Also check out this Guide to The Hamptons best beaches!!
Check out some luxury homes in The Hamptons!
Maybe you will love it so much, you'll want to check out some Hamptons wedding venues!
Enjoy some of the world-class, amazing art in The Hamptons!
Check out Shelter Island! Shelter Island is only accessible by the Shelter Island Ferry. The South Ferry connects to North Haven on the South Fork. Find out more about Shelter Island, it's different towns and more by checking out this page that includes a handy Shelter Island Map!!
Explore Long Island Wine
Long Island Wine Country is another great part of visiting the island. If you're in the mood for great wine, be sure to check out our Complete List of Long Island Wineries and Long Island Vineyards.
Check out the absolute best Long Island Wine Tours!
If you can't make it to a tour, why not do some wine tasting at home with Bedell Cellars!
I know you're getting hungry, so be sure to also check out the best wineries on Long Island for some great food!
While you're in the area, be sure to check out these 9 relaxing things to do in the North Fork!
When you're done with all of this wine drinking and relaxing, how about making it a weekend? Here are 10 great North Fork Long Island hotels to enjoy as well.
Make It A Weekend
The East End of Long Island is a really special spot. If you think you'd want to check it out and maybe even stay a while…that wouldn't be such a terrible idea.
If you wanted to consider different options for staying on Long Island, be sure to check out these great places to stay in Montauk, 11 Hamptons hotels, 10 North Fork Long Island hotels, and this Guide to Sag Harbor hotels! Enjoy reading up on and hopefully exploring these wonderful Shelter Island hotels and let me know if you decide to make it a vacation!
More From The Long Island Local
Maybe grab a freshly brewed beer at these Long Island breweries and when you've had your fill of vino!
The bounty of great food on Long Island seems endless! From great steakhouses on Long Island to great Shelter Island restaurants to Long Island lobster rolls and Long Island bagels, there's so much to enjoy. Check out this Huge List of Restaurants on the Water Long Island!!!
And how about all the wonderful Wölffer Estate Vineyard events and tastings?! Or maybe check out some Long Island oyster farms! How about these guides to Long Island Coffee Shops and Long Island coffee roasters!! Check out these 16 Long Island Boardwalks! Take the ferry over and enjoy these Fire Island restaurants!
Be sure to find out about more things to do on Long Island as well as more great spots to eat and drink! Maybe take a stroll in one of these amazing Long Island arboretums and gardens! There's even this great Long Island kayaks and paddleboard guide to explore!