Are you looking to find out more about the Suffolk County Blue Way Trail? Suffolk County is a unique place, with the Long Island Sound to the north and the Atlantic Ocean to the south – and an abundance of harbors, bays, rivers and lakes, we are home to more than 1,000 miles of shoreline that provides scores of opportunities for recreation and ecotourism. Kayaking, canoeing, paddle boarding and rowing are wonderful ways to get out onto the water for exercise, appreciation of the natural environment or just enjoy a beautiful day on the water!
RELATED: When you decide what parts of the Suffolk County Blue Way Trail you want to check out, be sure to review this Guide to Long Island Kayaks, Paddleboards, & Rowing Clubs beforehand so you can fully take advantage of the blue way!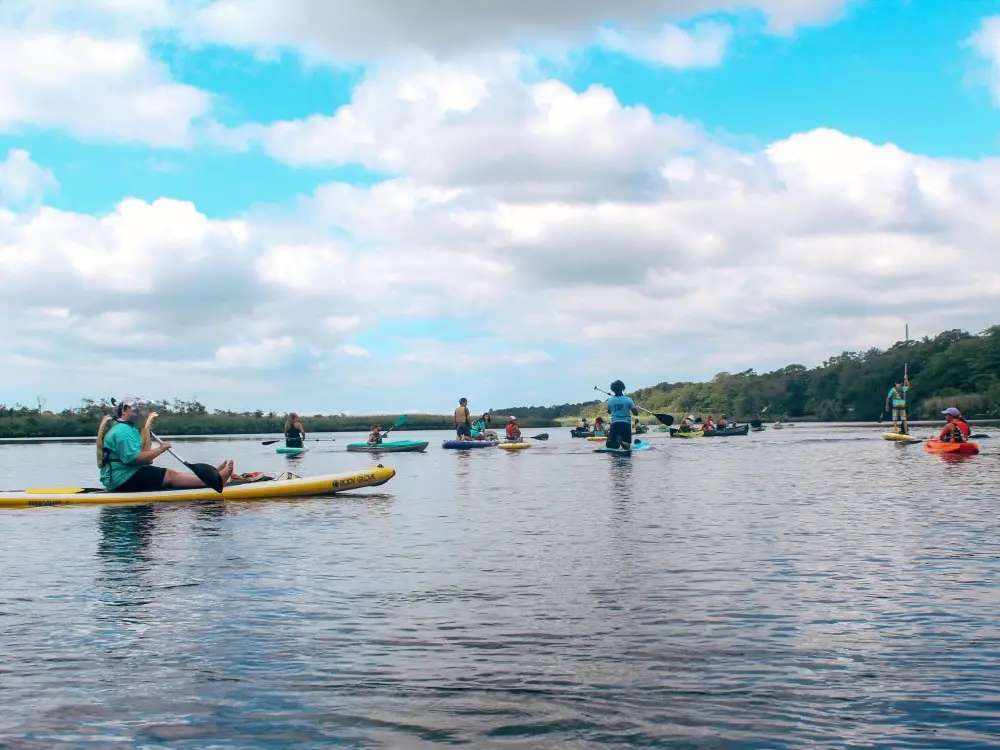 Suffolk County Launches the Blue Way Trail Plan
The Blue Way Trail Plan will make non-motorized water sports: kayaking, canoeing, paddle boarding and rowing more accessible to residents and visitors. It will also make it easier for residents and visitors to learn how to take advantage of these sports.
A Blue Way Trail is similar to a hiking trail, in that it provides suggested routes depending upon skill level and locations of features such as rest stops, scenic locations, good birdwatching and amenities such as restrooms, concessions, nearby businesses and parking. Unlike a hiking trail, a Blue way Trail does not have trail markers along the way, but, it does include wayfinding signage to help paddlers find launch locations and provides information such as maps, environmental educational information and safety information.
"The ultimate goal of this initiative is to link the Blue Way Trail to our great recreational assets, such as parks, beaches and bike and hiking trails as well as to provide opportunities to advance ecotourism and economic development in Suffolk County," said County Executive Bellone. "Paddling has become very popular as more of our citizens are looking to our waterways to enjoy the outdoors and exercise at the same time.
Current Status of the Blue Way Plan
Over the past months we have received valuable input from the Public Advisory Committee (PAC), various kayaking organizations, environmental groups, active paddlers, and members of the public. The PAC were able to identify over 200 possible launch sites on the more than 1,000 miles of waterfront, lakes and rivers in Suffolk County.
With the input gathered from the various sources we were able to develop an inventory of sites throughout the County. Our next step was to develop and give a ranking to each site based on a specific set of criteria. The criteria used included access to parking; proximity to a downtown area or deli's and or restaurants; sanitary facilities; ease of launching; ease of access to the water; location of launch site to parking facilities. Of the 200 possible launch sites, the top 25 were identified as sites that deserved further investigation.
Representatives from the County, the consultant, various municipalities and environmental groups spent the spring and summer performing actual site visits. From Huntington to Montauk each site was photographed, assets of the site were recorded, as well as any issues that would prevent the site from being considered as part of a Blueway Trail and what improvements would be needed to make the site a preferred location.
Possible Next Phase
Another inventory was completed for each of these top sites. There was also a "wish list" of improvements that could be part of the next phase of the plan. Upon physical inspection, some sites were deemed not eligible. Most were not easily accessible while other sites were identified as excellent for non-motorized water craft.
Conceptual improvements were identified at the various sites. These could include installation of ramps for easier access and ADA accessibility. It could also include improved parking facilities and improved sanitary systems.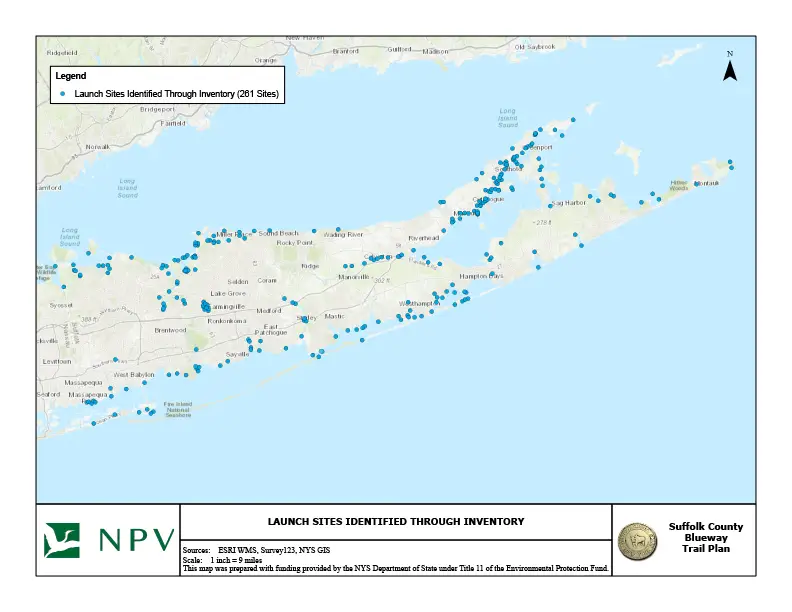 Map of Site Locations
A map of the top site locations as well as a detailed description of each site is being developed. Find out more by visiting these presentation links:
More To See and Do on the South Fork
The Hamptons and Montauk is a world-renowned beach resort destination for good reason! There is just so much to see, do, and enjoy! Here are just a few of them:
Check out some luxury homes in The Hamptons!
Maybe you will love it so much, you'll want to check out some Hamptons wedding venues!
Enjoy some of the world-class, amazing art in The Hamptons!
Enjoy some great Hamptons restaurants, including delivery!
Check out these Guides to The Hamptons Best Beaches and The Best Beaches in Montauk!!!
Check out Shelter Island! Shelter Island is only accessible by the Shelter Island Ferry. The South Ferry connects to North Haven on the South Fork. Find out more about Shelter Island, it's different towns and more by checking out this page that includes a handy Shelter Island Map!!
Explore Long Island Wine
While on the blue way, you may be pretty close to Long Island Wine Country! It's another great part of visiting the island. If you're in the mood for great wine, be sure to check out our Complete List of Long Island Wineries and Long Island Vineyards.
Check out the absolute best Long Island Wine Tours!
If you can't make it to a tour, why not do some wine tasting at home with Bedell Cellars!
I know you're getting hungry, so be sure to also check out the best wineries on Long Island for some great food!
While you're in the area, be sure to check out these 9 relaxing things to do in the North Fork!
How about making it a weekend? Here are 10 great North Fork Long Island hotels to enjoy as well.
Make It A Weekend
The East End of Long Island is a really special spot. If you think you'd want to check it out and maybe even stay a while…that wouldn't be such a terrible idea.
If you wanted to consider different options for staying on Long Island, be sure to check out these great places to stay in Montauk, 10 Hamptons hotels, 10 North Fork Long Island hotels, and this Guide to Sag Harbor hotels! Enjoy reading up on and hopefully exploring these wonderful Shelter Island hotels and let me know if you decide to make it a vacation!
More From The Long Island Local
Maybe grab a freshly brewed beer at these Long Island breweries and when you've had your fill of vino!
The bounty of great food on Long Island seems endless! From great steakhouses on Long Island to great Shelter Island restaurants to Long Island lobster rolls and Long Island bagels, there's so much to enjoy. And how about all the wonderful Wölffer Estate Vineyard events and tastings?! Or maybe check out some Long Island oyster farms! How about these guides to Long Island Coffee Shops and Long Island coffee roasters!! Check out these 16 Long Island Boardwalks! Take the ferry over and enjoy these Fire Island restaurants!
Be sure to find out about more things to do on Long Island as well as more great spots to eat and drink! Maybe take a stroll in one of these amazing Long Island arboretums and gardens!