After COVID cancelled the 2020 event, the Mattituck Lions Club's annual Strawberry Festival will return in 2021! Last year marked the first time since 1955 the festival could not be held, so this is a big deal!! I'm sure strawberry lovers and festival lovers alike are so pleased to hear this wonderful event is back! I know I am. I love festivals, I love farms, and I love old-school family fun. This checks all of those boxes, doesn't it? Plus fireworks, music, and so much more.
This is an awesome event that I think anyone of any age will really enjoy. Check out all of the details below!
Mattituck Lions Club's Strawberry Festival Details
Long Island's original and largest strawberry festival and charity fundraiser is back for its 66th go-round! This year's event will take place June 16-20, 2021. It has been extended one day, with the event kicking off Wednesday. As always, the proceeds from the festival will again be donated to community causes. 
The usual fun and attractions will be offered, but remember the strawberry festival is alcohol-free and backpacks are prohibited.
There will be Carnival rides, strawberry food offerings and even the crowning of the Strawberry Queen are on the agenda. There will also be arts & craft vendors, business exhibits, international food court, chocolate covered strawberries, alcohol-free strawberry daiquiris and fresh local strawberries.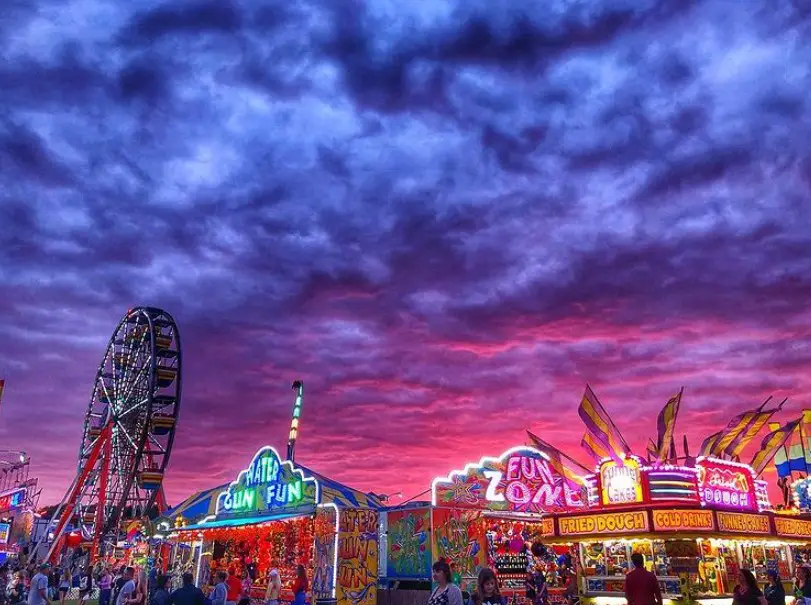 2021 Strawberry Festival Schedule Information
The strawberry festival will be open from 5:00PM – 10:00PM on Wednesday (6/16) and Thursday (6/17). The day is extended on house to 11:00PM on Friday (6/18). Saturday (6/19) is the longest day, open from 11:00AM – 11:00PM. The final day, Sunday (6/20) is open from 11:00AM to 5:00PM.
Special Events
Friday: 7:00 PM – 10:00 PM – That Motown Band sponsored by American Portfolios
Saturday: 3:00 PM – Announcement of Strawberry Queen, 7:00 PM – 10:00 PM – SouthBound sponsored by Twin Fork Landscape Contracting Inc
Sunday: 4:00 PM – 2021 BIG BUCKS Winners Announced
Fireworks Shows
Friday at 9:30 PM, Saturday at 10:00 PM, and Saturday at 10:15 PM (weather permitting). The event including the fireworks shows are sponsored by Mattituck Environmental Services.
2021 Ticket Information
Wednesday
Free admission. Carnival rides and Midway special pricing for Pay-One-Price Rides Bracelets of $25 per person.  Single ride tickets are also available.
Thursday
Adults and Children age 5 and over: $5.00; under 5 years old are free. Carnival rides and Midway special pricing for Pay-One-Price Rides Bracelets of $25 per person.  Single ride tickets are also available.
Friday
Admission $10.00 per person, under 5 years old are free. Carnival rides and Midway special pricing for Pay-One-Price Rides Bracelets of $30 per person.  Single ride tickets are also available.  SEE DISCOUNT OFFER* 
Saturday
Admission $10.00 per person, under 5 years old are free. Carnival Rides Pay-One-Price Bracelets Options:
1) $30. POP per person bracelet good from 11AM until 5PM
2) $35. POP per person bracelet good from 5PM until 11PM
3) $50. POP per person bracelet good all day from 11AM-11PM
Single Rides Tickets and Ticket Packages also available.
Sunday
Admission $10.00 per person, (Fathers Free with Paid Child), under 5 years old are free.
Carnival Rides Pay-One-Price Bracelets $30 per person, (Fathers Ride Free only with a Paid Child).  Single ride tickets are also available.
Discount Offer
Pay-One-Price Rides Bracelet Online (Megapass) can be used for either Friday, Saturday or Sunday.  For each Megapass, you will also receive ONE FREE admission to the festival and ONE rides bracelet. On Saturday, this is EITHER a morning bracket OR an afternoon bracelet for each Megapass purchased. This offer is for a Limited Time and is non refundable. Offer ends once festival starts.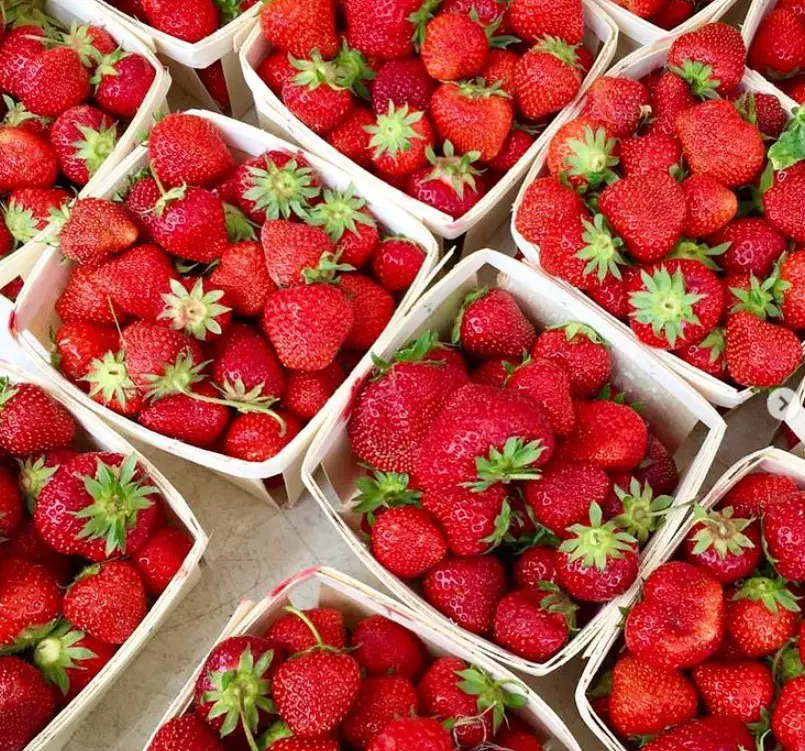 Buy Your Strawberry Festival Tickets Online
You can buy you ride Tickets Online here. You will be charged a $2 convenience fee for each ride bracelet purchased online.
Rain or shine event: All purchases are final with NO REFUNDS Even if it is necessary to close or partially close the event due to dangerous weather or conditions.
More About the Strawberry Festival
By the middle of June the North Fork strawberry crop is reaching its peak and bursting with flavor. On Father's Day weekend, the peak of the strawberry harvest, the Mattituck Lions Club brings the community together for a special weekend of fun and purpose. Whether you're here year-round, are a seasonal resident or are drawn here by the Festival, you're in for a wonderful time.
Dig into the strawberry shortcake, sample the strawberries dipped in chocolate, try the strawberries any way you like them. Head over to the rest tent to enjoy live music. Then find out what is available for sale from arts and craft vendors.
Cheer as the new Strawberry Queen is crowned. Experience the midway rides. Taste foods from around the world. The fun keeps going after the sun sets, so bring lawn chairs and enjoy the fireworks on Thursday, Friday and Saturday.
Much of the Festival fun is free, thanks to the efforts of our many volunteers. When you do spend, you help the Mattituck Lions advance their year-round community service efforts. Learn more about who benefits.
Find out more by visiting mattituckstrawberryfestival.org.
Check out the South Fork, too
The Hamptons and Montauk is a world-renowned beach resort destination for good reason! There is just so much to see, do, and enjoy! Here are just a few of them:
Check out some luxury homes in The Hamptons!
Maybe you will love it so much, you'll want to check out some Hamptons wedding venues!
Enjoy some of the world-class, amazing art in The Hamptons!
Enjoy some great Hamptons restaurants, including delivery!
Check out these Guides to The Hamptons Best Beaches and The Best Beaches in Montauk!!!
Check out Shelter Island! Shelter Island is only accessible by the Shelter Island Ferry. The South Ferry connects to North Haven on the South Fork. Find out more about Shelter Island, it's different towns and more by checking out this page that includes a handy Shelter Island Map!!
Explore Long Island Wine
While enjoying the Strawberry Festival, just know that you are in the middle of Long Island Wine Country! It's another great part of visiting the island. If you're in the mood for great wine, be sure to check out our Complete List of Long Island Wineries and Long Island Vineyards.
Check out the absolute best Long Island Wine Tours!
If you can't make it to a tour, why not do some wine tasting at home with Bedell Cellars!
I know you're getting hungry, so be sure to also check out the best wineries on Long Island for some great food!
While you're in the area, be sure to check out these 9 relaxing things to do in the North Fork!
How about making it a weekend? Here are 10 great North Fork Long Island hotels to enjoy as well.
Make It A Weekend
The East End of Long Island is a really special spot. If you think you'd want to check it out and maybe even stay a while…that wouldn't be such a terrible idea.
If you wanted to consider different options for staying on Long Island, be sure to check out these great places to stay in Montauk, 10 Hamptons hotels, 10 North Fork Long Island hotels, and this Guide to Sag Harbor hotels! Enjoy reading up on and hopefully exploring these wonderful Shelter Island hotels and let me know if you decide to make it a vacation!
More From The Long Island Local
Maybe grab a freshly brewed beer at these Long Island breweries and when you've had your fill of vino!
The bounty of great food on Long Island seems endless! From great steakhouses on Long Island to great Shelter Island restaurants to Long Island lobster rolls and Long Island bagels, there's so much to enjoy. And how about all the wonderful Wölffer Estate Vineyard events and tastings?! Or maybe check out some Long Island oyster farms! How about these guides to Long Island Coffee Shops and Long Island coffee roasters!! Check out these 16 Long Island Boardwalks! Take the ferry over and enjoy these Fire Island restaurants!
Be sure to find out about more things to do on Long Island as well as more great spots to eat and drink! Maybe take a stroll in one of these amazing Long Island arboretums and gardens!