If you want to enjoy the freshest seafood possible, you need to check out Inlet Seafood restaurant in beautiful Montauk, L.I.! The six commercial fisherman that opened Inlet Seafood Restaurant is all about fresh-off-boat seafood every day!! Inlet Seafood restaurant opened its doors in the summer of 2006 as an offshoot of Montauk Inlet Seafood, the largest packer/shipper of fresh seafood in New York State!!
These guys pride themselves on providing their customers with the freshest seafood possible, almost always locally-landed by one of their own boats. You just can't beat that…and it's something I love to support.
Also, their location on the East side of Montauk Harbor Inlet offers some amazing sunset and water views that really complete the experience at Inlet. I absolutely love eating and drinking by the water, don't you? It's just such an awesome way to spend some time and really enjoy what we have here on Long Island!
RELATED: Check out this Huge List of Restaurants on the Water Long Island!!!
Let's take a look and see what this fantastic spot has to offer!
Inlet Seafood Restaurant
Inlet Seafood restaurant is really awesome because it's an amazing restaurant on the water to enjoy. It's also really unique in that it's owned and operated by professional fisherman. These guys not only know about great seafood, they live it! They catch it and bring it home to the local docks. Instead of shipping it all to other places to enjoy, they keep it and prepare it themselves for their lucky customers to enjoy. I mean…it's pretty awesome, right?
The Food
This place is all about the fish and seafood, baby. Bring your sea legs, people! Dig into local clams and oysters on the half-shell or a bowl of their fresh clam chowder of the day. Cajun seasoned tacos, 1.5 pound Montauk lobster, and a lobster roll can't be beat either! They even create some delicious pastas, like lobster ravioli, spicy seafood fra diavolo, and linguine with clam sauce!
As you could imagine, the sushi here is super fresh! Much of what you will enjoy was swimming around local waters the day before! The options are huge for sushi, sashimi, and rolls. Tuna tartar, Nori rolls, and blue claw crab California rolls are great! There are a number of creative rolls, including a spicy lobster roll. The largest offering is the sashimi platter, consisting of 21 pieces of Chef's Choice assorted sashimi.
Of course Inlet Seafood restaurant offers a wide menu selection of fish and shellfish, for both lunch and dinner. That's a given, but even the non-seafood dishes are pretty awesome too! You land lovers can tuck into some roasted chicken, Long Island Duck, steaks, and cheeseburgers. How about General Tsao's cauliflower or even an awesome warm goat cheese ball coated in sunflower seeds!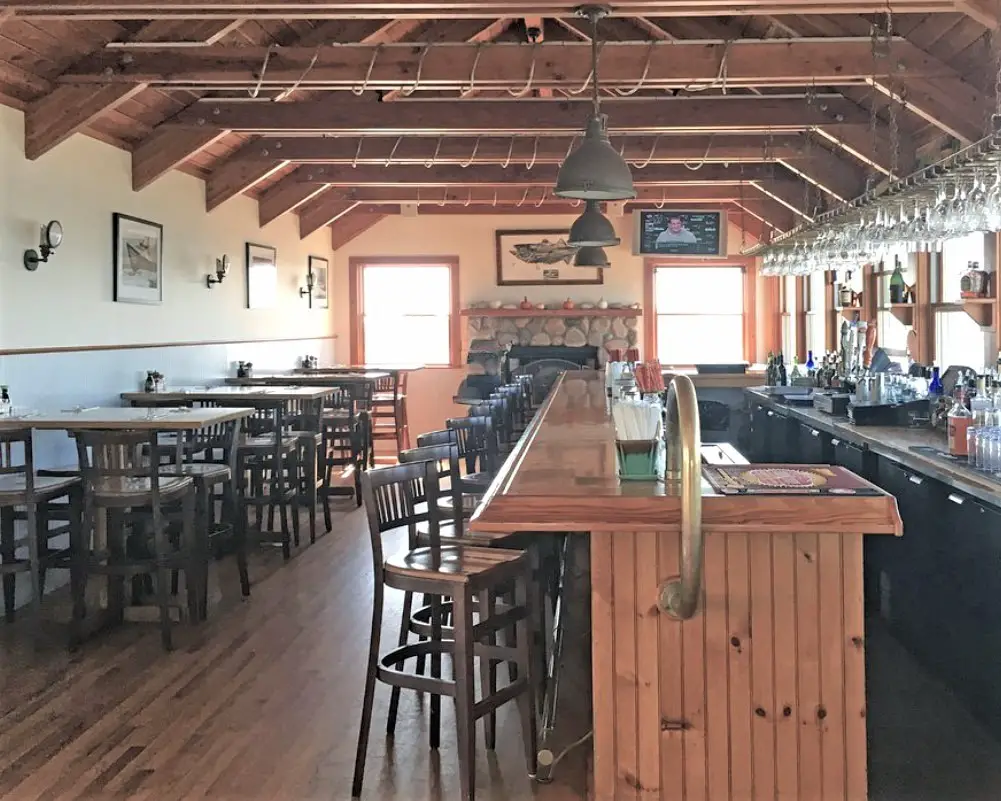 The Drinks
Inlet Seafood restaurant is loaded (pun sort of intended) with great drinks, too! They offer a full-service bar and wine list, draft and bottled beer, as well as hand-crafted specialty drinks and sake, too.
RELATED: Enjoy some great Hamptons restaurants, including delivery!
More Information
541 East Lake Drive, Montauk, L.I., NY 11954
Find out more by calling 631-668-4272 or by visiting inletseafood.com.
Getting to Inlet Seafood Montauk
Montauk is approximately two-and-a-half (or way more) hours by car from New York City (depending on traffic), and they can also be accessed by the Montauk branch on the Long Island Rail Road or the iconic Hamptons Jitney bus. The Hampton Ambassador or the Hampton Luxury Liner, are more upscale options, with more comfortable seats and better amenities.
It can be a trip to get to Montauk and this wonderful Inlet Seafood Montauk restaurant, but I think once you get there and experience it all…you'll think it was worth the trip!
RELATED: Check out this Guide to the Best Beaches in Montauk!
RELATED: Also check out this Guide to The Hamptons best beaches!!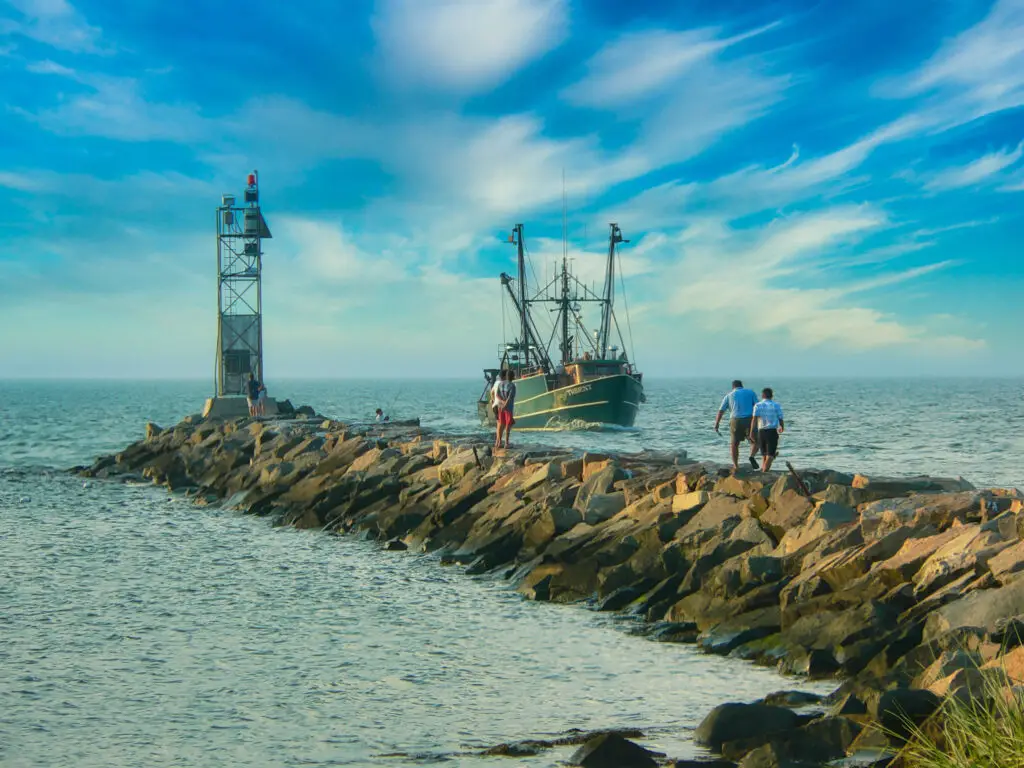 More To See and Do on the South Fork
The Hamptons and Montauk is a world-renowned beach resort destination for good reason! There is just so much to see, do, and enjoy! Here are just a few of them:
Check out some luxury homes in The Hamptons!
Maybe you will love it so much, you'll want to check out some Hamptons wedding venues!
Enjoy some of the world-class, amazing art in The Hamptons!
Check out Shelter Island! Shelter Island is only accessible by the Shelter Island Ferry. The South Ferry connects to North Haven on the South Fork. Find out more about Shelter Island, it's different towns and more by checking out this page that includes a handy Shelter Island Map!!
Explore Long Island Wine
While you're in The Hamptons, you're so close to Long Island Wine Country! It's another great part of visiting the island. If you're in the mood for great wine, be sure to check out our Complete List of Long Island Wineries and Long Island Vineyards.
Check out the absolute best Long Island Wine Tours!
If you can't make it to a tour, why not do some wine tasting at home with Bedell Cellars!
I know you're getting hungry, so be sure to also check out the best wineries on Long Island for some great food!
While you're in the area, be sure to check out these 9 relaxing things to do in the North Fork!
When you're done with all of this wine drinking and relaxing, how about making it a weekend? Here are 10 great North Fork Long Island hotels to enjoy as well.
Make It A Weekend
The East End of Long Island is a really special spot. If you think you'd want to check it out and maybe even stay a while…that wouldn't be such a terrible idea.
If you wanted to consider different options for staying on Long Island, be sure to check out these great places to stay in Montauk, 11 Hamptons hotels, 10 North Fork Long Island hotels, and this Guide to Sag Harbor hotels! Enjoy reading up on and hopefully exploring these wonderful Shelter Island hotels and let me know if you decide to make it a vacation!
More From The Long Island Local
Maybe grab a freshly brewed beer at these Long Island breweries and when you've had your fill of vino!
The bounty of great food on Long Island seems endless! From great steakhouses on Long Island to great Shelter Island restaurants to Long Island lobster rolls and Long Island bagels, there's so much to enjoy. And how about all the wonderful Wölffer Estate Vineyard events and tastings?! Or maybe check out some Long Island oyster farms! How about these guides to Long Island Coffee Shops and Long Island coffee roasters!! Check out these 16 Long Island Boardwalks! Take the ferry over and enjoy these Fire Island restaurants!
Be sure to find out about more things to do on Long Island as well as more great spots to eat and drink! Maybe take a stroll in one of these amazing Long Island arboretums and gardens! There's even this great Long Island kayaks and paddleboard guide to explore!