Are you looking for information about the Shelter Island Historical Society? If you want to know about Shelter Island's rich history, the historical society is a great place to begin. The Shelter Island Historical Society is a non-profit organization all about what you are looking for! The groups owns the Shelter Island History Center and the Havens House, built in 1743.
The Shelter Island Historical Society works hard to preserve the stories of Shelter Islanders for future generations. This mission has made it an important intersection of the island's past, present, and future.
Shelter Island Historical Society Exhibits
The two-floor History Center serves as an office and exhibit space as well as a vault for the Historical Society collection of 100,000 documents. Currently, there are four exhibitions on-site and one online.
The online exhibition consists of eight art pieces created by an important figure in Shelter Island's history, Walter Cole Brigham; click here to find more about the artist and his work.
The four exhibitions that you can check out at the History Center include a collection of artifacts used by the Manhansetts (Shelter Island's first residents), a multilayered digital piece of artwork called The Havens DIMONscape, and the work of Alan Shields and Helena Hernmark.
Shelter Island Historical Society Programs and Projects
The Historical Society has several programs and projects, which residents of Shelter Island can participate in. There is the Time Travelers Youth Program; in 2021, the program lasts four weeks and costs $200 per week. Any child from 6 to 11 years old can enroll and meet a new guest artist each week.
Regarding projects that The Society is currently undertaking, those are The Shelter Island History Project, Race, Ethnicity & Class on Shelter Island, Voices from The Vault, Then & Now, Living History Project, and House/Building Registry Program. Some of these projects you can see as videos online, some of them are open for you only if you live on Shelter Island, and some of them are for future generations, but all of them are important.
Tours and Events
Preserving and sharing the history of Shelter Island is a noble intention, but it'd be lost on many people if the Historical Society didn't come up with entertaining ways to do so. Luckily, they did, and these ways include musicals, guided tours, book sales and signings, and more.
If you aren't familiar with Shelter Island's history at all, you might want to start with the 45-minute outdoor guided tour that will take you through the campus of The Shelter Island History Center and introduce you to the history of the island and the Havens family. For extremely lucky ones, it might even be possible to check out the interior of the center. If you don't think the historical tour has anything new to teach you, The Secret Garden Tour will surely have some knowledge to share.
Besides tours, The Society hosts Havens Farmers Market from May through September. The opening hours of the event are 9 a.m. to 12:30 p.m. every Saturday. You can check out the list of vendors who will set up a booth at the market here.
In May and July, you can participate in book signing and sales. On May 29th, you can get your copy of Forever Is Not For Everyone signed by its author Betsy Durkin Matthes. On July 24th, Mark Torres will be signing copies of his book Long Island Migrant Labor Camps: Dust for Blood.
Also, from July 23 to 25, you'll get a chance to watch a beautiful musical called A Hill Of Beans: A 1950's Shelter Island Story about Shelter Island history.
Havens Store
The Historical Society has a store where they sell Shelter Island merchandise, like postcards, books, market bags, puzzles, napkins, candles, and body products. You can also buy works of various artists and photographers there. These art pieces aren't only beautiful paintings and photographs; there are also gorgeous pendant charms, bracelets, and sculptures. The list of artists includes Tabitha Benedict, John Pagliaro, Lora Lomuscio, and more.
The shop's products can be a lovely souvenir to remember your time on the Island or a thoughtful present to an art or Shelter Island lover.
Support The Society
Shelter Island Historical Society is a non-profit organization funded through donations. Donations keep the various existing programs and projects going and also allow new ones to come into existence. If you love history and Shelter Island and in a position to help via donations, you can do so here. You can also shop using on AmazonSmile, which automatically donates a portion of the purchase price to your chosen organization. Every time you buy something, Shelter Island Historical Society will benefit from it, too.
But even if you can't help by giving money, you can still support The Society's mission by donating your time. They often need volunteers for the guided tours, events, collection care. If you are interested in helping preserve Shelter Island's history, you can apply for a position here.
16 S Ferry Rd, Shelter Island, L.I., NY 11964
Learn more by visiting shelterislandhistorical.org or calling 631-749-0025.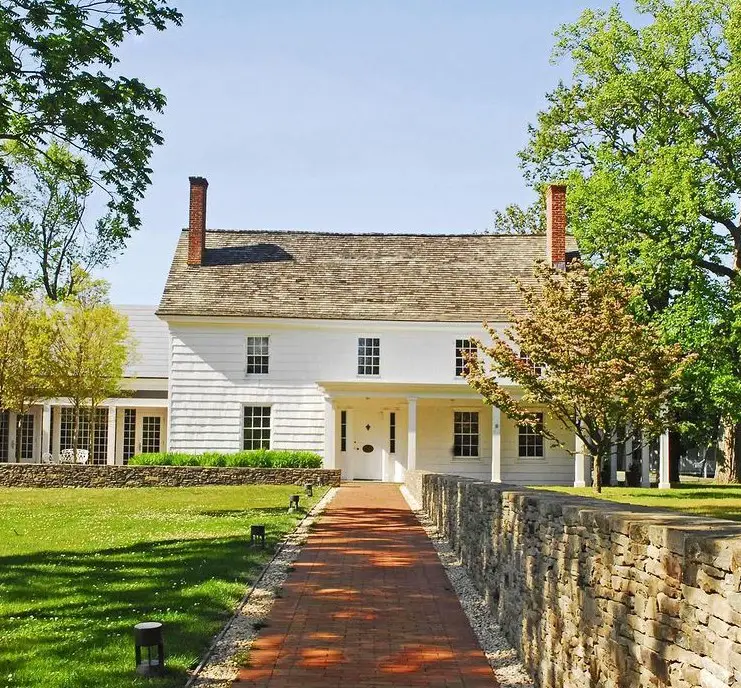 More Shelter Island
One very interesting part of Shelter Island's history, and a destination to visit, is Sylvester Manor Shelter Island Historic Farm!
Find out more about Shelter Island, it's different towns and more by checking out this page that includes a handy Shelter Island Map!! Then be sure to check out all the great articles about Shelter Island here.
Shelter Island is…an island. One of the things that makes it so unique, peaceful, and quaint is that there are no bridges linking to the island. Shelter Island is only accessible by the Shelter Island Ferry. The North Ferry connects to Greenport on the North Fork. The South Ferry connects to North Haven on the South Fork.
On the island, car service is available from Shelter Island Go-Fors and bikes can be rented from Piccozzi's Bike Shop.
If you are looking for great places to eat while visiting, check out these great Shelter Island restaurants.
Shelter Island is a really special spot. If you think you'd want to check it out and maybe even stay a while…that wouldn't be such a terrible idea. Enjoy reading up on and hopefully exploring these wonderful Shelter Island hotels!! Let me know if you decide to make it a vacation!
Other Places to Stay on Long Island
If you wanted to consider different options for staying on Long Island, be sure to check out these great places to stay in Montauk, 10 Hamptons hotels, 10 North Fork Long Island hotels, and this Guide to Sag Harbor hotels! Shelter Island is right smack in the middle of all these fantastic East End towns!
Check Out Some Long Island Wine
While you're on Shelter Island, you're so close to Long Island Wine Country! It's another great part of visiting the island. If you're in the mood for great wine, check out our Complete List of Long Island Wineries.
Check out the absolute best Long Island Wine Tours!
If you can't make it to a tour, why not do some wine tasting at home with Bedell Cellars!
Be sure to also check out the best wineries on Long Island for some great food!
While you're in the area, be sure to check out these 9 relaxing things to do in the North Fork!
More From The Long Island Local
Maybe grab a freshly brewed beer at these Long Island breweries and when you've had your fill of vino!
The bounty of great food on Long Island seems endless! From great steakhouses on Long Island to great Greenport restaurants to Long Island lobster rolls and Long Island bagels, there's so much to enjoy. And how about all the wonderful restaurants on the water Long Island?! Or maybe check out some Long Island oyster farms!
Be sure to find out about more things to do on Long Island as well as more great spots to eat and drink and wonderful places to stay off of Shelter Island!