Want to visit Long Island haunted houses in 2020? There are many of them that are open, but some of your favorites might be closed for the season. Hopefully the 2012 version will have every spot back up and running! Reminder, there are also Covid-19 protocols and tickets will probably sell out quickly. It's just one of many great things to do during a Long Island Halloween!
Check out these Long Island Haunted Houses that may or may not live on in your nightmares.
Long Island Haunted Houses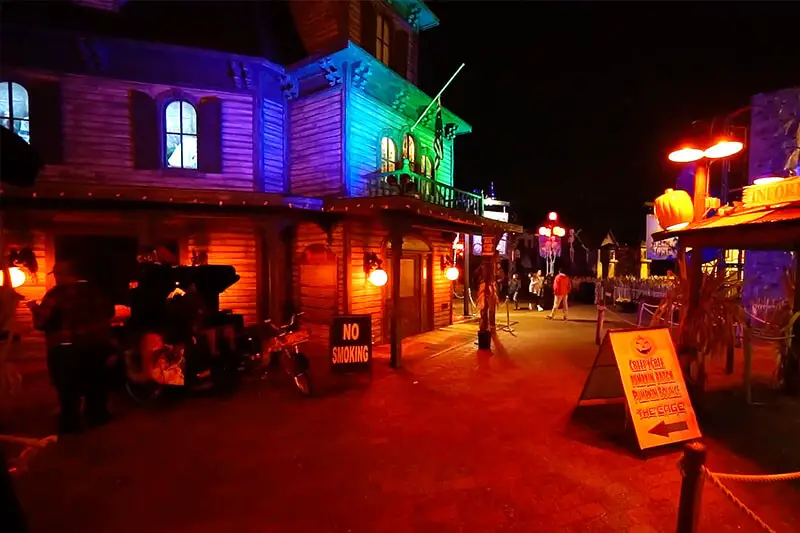 Bayville Scream Park
This is one of the biggest, best, most elaborate and scariest Long Island haunted houses. Be ready to be scared. There is no minimum age, but Bayville Scream Park does not recommend it's nightly haunted houses for kids under 10. There is a reason this place has been featured on tons of TV shows and 'best of' lists. It is not just a haunted house. It is a haunted house theme park! 
Related content: Check out my more detailed write-up here!
HOURS: Open: Days and hours vary through November 3, 2020. Kids' Days are Saturdays and Sundays, 9/28 and 10/12 from 11am to 6pm.
ADDRESS: 8 Bayville Ave, Bayville, NY 11709
MORE INFO: Find out more by calling 516-62-GHOST or visit bayvillescreampark.com.
Gateway's Haunted Playhouse
In 2020, Gateway's Haunted Playhouse is offering three outdoor attractions. They are VERY scary and not recommended for kids 13 and under. There are two drive-thru experiences with stories unfolding as you slowly drive down "The Forgotten Road". You do not have to leave your car. There is also an outdoor walk through at Brigand's Run. Also look for scary drive-in movies during October. 
HOURS: Most Thursdays – Sundays, October 2nd through October 31, 2020. Site opens at 7pm and closes at 10pm on weekdays and Sundays and 11:30pm on Friday and Saturday. 
ADDRESS: 761 Victory Ave, Yaphank, NY 11980.
MORE INFO: Find out more by calling (631) 286-1133 or visit gatewayshauntedplayhouse.com.
Cemetery of Lost Souls/The Hunt
With Covid-19 changing the haunted houses in Long Island, there have been some creative alterations. The Hunt is one of the most original. In 2020 The Cemetery of Lost Souls has created the The Hunt as a safe, socially distanced, haunted scavenger hunt. It takes visitors through haunted locations in Eastern Nassau County and Suffolk County on Long Island that will make the hair on the back of your neck stand up. Plus, proceeds will benefit a local charity helping families pay for non-medical expenses while a loved one is ill. 
HOURS: Varied
ADDRESS: 350 Broadway Massapequa Park, NY 11762
MORE INFO: Find out more by visiting lostsoulsli.com.

Chambers of Hell
Chambers of Hell is one of New York's top haunted events. It is more than just a haunted house and prides itself on scaring the living daylights out of you. It features 3 haunted attractions, a horror stage show, intense lighting and sound as well as over 40 live actors. Chambers of Hell has become known as the premier horror destination of New York. It is one of the largest indoor Long Island haunted houses. Note that masks and social distancing are required. There is no age minimum but this is not created for kids. 
HOURS: Open weekends Fridays 7pm -11pm, Saturdays 7pm – 12am, Sundays 7pm – 10pm Columbus Day and the last two Thursdays before Halloween 8pm – 10pm. 
ADDRESS:1745 EXPRESSWAY DRIVE NORTH, HAUPPAUGE, NY 11788
MORE INFO: Find out more by visiting chambersofhell.com
Restless Souls
Restless Souls Haunted House Complex offers four "horrifying" haunted attractions. They also have nightly entertainment and a Phantom Plaza Midway. It is one of those haunted houses where you get so much value for your money. Restless Souls uses a combination of interactive actors, audio-animatronics, elaborate sets and more to ensure your time with the "creatures" is as immersive and realistic as can be. Plus, your money will go to a good cause. Proceeds will benefit the West Hills United Methodist Church, one of the few LGBTQ-friendly churches on Long Island. 
HOURS: Not released yet. 
ADDRESS: 301 W Hills Rd. Huntington Station, NY 
MORE INFO: Find out more by visiting restlesssoulsli.com
Schmitt's Farm Haunt
For the past 26 years the Schmitts Farm Haunt has been a staple of the Long Island community and a must attend Halloween attraction each October. Every year the Schmitt brothers push the envelope of what's possible to create the best experience possible for their guests. This is one of the few haunted experiences that offer a specific experience for kids or those who don't want to be too scared. The Daytime ticket features a lights-on walk through of the haunt and haunted corn trail with no actors. The Haunted House Nights feature the haunt and the haunted corn trail with animatronics and a full acting staff. 
HOURS: Daytime, weekends and Columbus Day 12pm – 5pm; Nighttime, Weekends, Columbus day and select Thursdays 7pm – 12am (11pm on Sundays).
ADDRESS: F&W Schmitt Family Farm, 26 Pinelawn Rd. Mellville, NY
MORE INFO: Find out more by calling (631)271-3276 or visit schmittsfarmhaunt.com
Spooky Walk's Haunted Drive-thru
If you are looking for a Covid-19-friendly, socially-distanced way to have a haunted house experience, then this Haunted Drive-Thru is perfect for you. Spooky Walk's Haunted Drive-Thru is a contactless Halloween experience benefiting Camp Paquatuck, a camp for children with special needs.You will encounter some favorite haunted exhibits, from Club Boogie to Living Hell Hospital to Alice in Zombieland, all while staying safe and away from the crowds in your car. 
Related Content: Check out my more detailed write-up here!
HOURS: October 16,17, 23, and 24, 2020, 7pm – 10pm.
ADDRESS: 2 Chet Swezey Rd. Center Moriches, NY 11934
MORE INFO: Find out more by calling (631) 878-1070 or visit spookywalk.com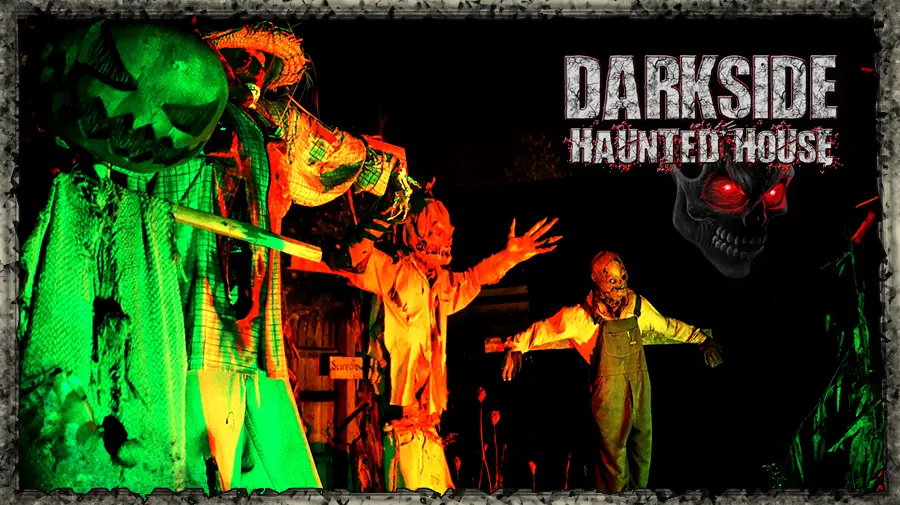 Darkside Haunted House
The Darkside Haunted House is one of the most well-known Long Island haunted houses, scaring and entertaining Long Island since 1998. It's large, clocking in at over 14,000 Scare feet and has over 30 scenes of fright! The Darkside Haunted House includes two attractions in one, including an outdoor attraction "The Village" and an indoor attraction "The House". Guests get to experience professional scare actors, realistic costumes, bone chilling special effects, movie quality sets and heart pounding scares. It is no wonder the Darkside Haunted House is the place to visit every October.
HOURS: Open every Friday in October from 7:00pm – 12:00am, Saturdays 6:00pm – 12:00am, Sundays 6:00pm – 10:00pm, and October 15, 22, 19, 28 & 29 7:00pm – 11:00pm.
ADDRESS: 5184 NY-25A, Wading River, NY 11933.
MORE INFO: Find out more by visiting darksideproductions.com/.
These Long Island Haunted Houses are super, crazy scary. If you want to experience the thrills of Halloween, visit any of them. Just beware that there are no refunds for being too scared.
Spooky Fest at Tanglewood Preserve
The Center for Science Teaching and Learning celebrates Halloween with Spooky Fest at their beautiful sixteen acres preserve! This family friendly Halloween event features a walk through the Haunted Woods, a not-so-spooky walk through the woods for children, a kids arts and crafts area, live animal exhibits, face painting and more.
Tickets will have an arrival time for when your experience will start. Only your group of people will be allowed in some areas at a time. Face masks are required.
HOURS: Spooky Fest is open Oct. 16, 17, 18, 23, 24, 25, 30, 31 and Nov. 1 from 6:30 to 9:30 p.m., rain or shine. Tickets are $10 for the non-scary attractions only, and $15 for the whole experience.
ADDRESS: 1450 Tanglewood Road, Rockville Centre, L.I., NY 11570
MORE INFO: Find out more by visiting cstl.org/spooky-fest/