I have some great news if you loved using the Hampton Hopper bus! It's back in action and looking to mingle on the South Fork this summer!! These awesome, spotlessly clean, bright blue buses are brand-new and improved for your enjoyment. They feature comfy seating, air conditioning, and free refreshments on select routes and they are ready to take your around to all of your favorite South Fork hotspots (or completely chill spots). Time to hop on, hop off once again!!
The Hamptons Hopper Bus Fleet
The Hopper fleet is new and fresh!! The buses are only under 2 years old on average. All of these wonderfully cool vehicles feature air conditioning, comfy seating, mood lighting, custom sound (with USB and Bluetooth) and all that style. The buses are super clean and well-maintained, too
These buses are super cool and custom built! Hopper has buses that seat 32 adults, 25 adults and 14 adults. Some you can charter for your private use.
Hamptons Hopper Bus iPhone App
The service is great, and it's really easy to use, too. The company is all about being high-tech and making the service work well for it's customers. Their really great iPhone app shows you the stop closest to you, the location of the nearest Hopper, and the estimated time until the next hopper arrives. Everything should be this good, shouldn't it???
For bus times and stops, visit hamptonhopper.com and download the app.
Hamptons Hopper Bus Schedule & Routes
Hampton Hopper's easy-to-spot blue school buses offers service between East Hampton Village and the Montauk Lighthouse. Buses run Wednesday through Sunday from 10 a.m. to 10 p.m. until Labor Day at a suggested $5 fare. It's sponsored by Stony Brook Southampton Hospital and has private charters available. 
The service also operates commuter routes, as part of the South Fork Commuter Connection. This is such a great option for people to get to work in Southampton, East Hampton, Amagansett, and Montauk.  Simply park your car at Speonk or Hampton Bays, take advantage of expanded LIRR train service, and grab a Hopper bus at the train station!
If you need more specific info, please be sure to check out the schedules here.
Unbeatable Montauk Deal
Hamptons Hopper bus operate a free local route in Montauk that includes 15 stops between Hither Hills and the docks, including various hotels and points downtown, provided with funding from the Town of East Hampton. 
The free Montauk Hopper shuttle service sponsored by the Town of East Hampton is also back all summer. Most routes are free.  For paid routes, buy and manage tickets right from the iPhone or Android app. Show your pass right from your phone.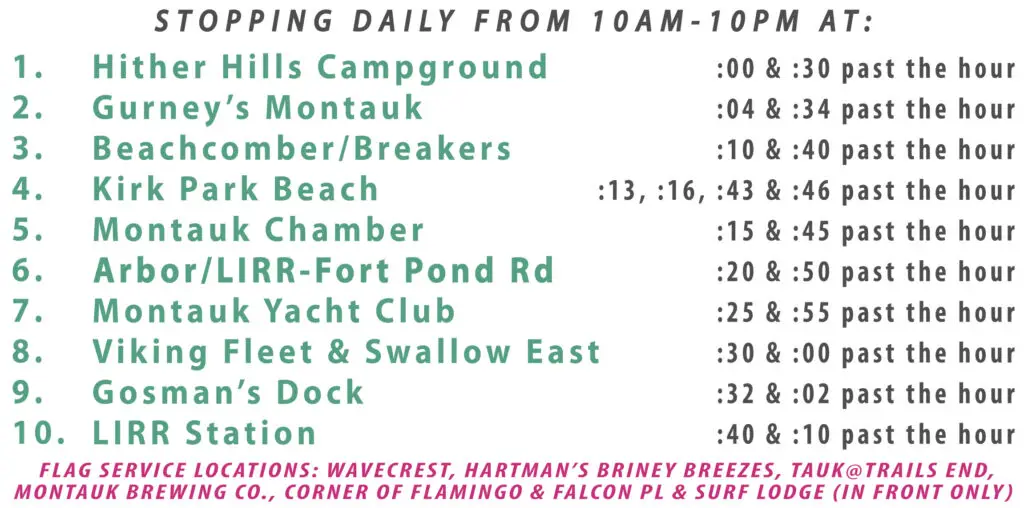 Enjoy the ride!!! It's such a great service, I'm so happy that it's back!!
Things To See and Do on the South Fork
While you are out and about on the hopper bus, make sure to really see as much of the South Fork as possible!! You actually aren't too are away from the World Famous North Fork and South Fork (The Hamptons)!!
The Hamptons and Montauk is a world-renowned beach resort destination for good reason! There is just so much to see, do, and enjoy! Here are just a few of them:
Check out this Guide to the Best Beaches in Montauk! Also check out this Guide to The Hamptons best beaches!!
Check out some luxury homes in The Hamptons!
Maybe you will love it so much, you'll want to check out some Hamptons wedding venues!
Enjoy some of the world-class, amazing art in The Hamptons!
Check out Shelter Island! Shelter Island is only accessible by the Shelter Island Ferry. The South Ferry connects to North Haven on the South Fork. Find out more about Shelter Island, it's different towns and more by checking out this page that includes a handy Shelter Island Map!!
Explore Long Island Wine
Long Island Wine Country is another great part of visiting the island. If you're in the mood for great wine, be sure to check out our Complete List of Long Island Wineries and Long Island Vineyards.
Check out the absolute best Long Island Wine Tours!
If you can't make it to a tour, why not do some wine tasting at home with Bedell Cellars!
I know you're getting hungry, so be sure to also check out the best wineries on Long Island for some great food!
While you're in the area, be sure to check out these 9 relaxing things to do in the North Fork!
When you're done with all of this wine drinking and relaxing, how about making it a weekend? Here are 10 great North Fork Long Island hotels to enjoy as well.
Make It A Weekend
The East End of Long Island is a really special spot. If you think you'd want to check it out and maybe even stay a while…that wouldn't be such a terrible idea.
If you wanted to consider different options for staying on Long Island, be sure to check out these great places to stay in Montauk, 11 Hamptons hotels, 10 North Fork Long Island hotels, and this Guide to Sag Harbor hotels! Enjoy reading up on and hopefully exploring these wonderful Shelter Island hotels and let me know if you decide to make it a vacation!
More From The Long Island Local
Maybe grab a freshly brewed beer at these Long Island breweries and when you've had your fill of vino!
The bounty of great food on Long Island seems endless! From great steakhouses on Long Island to great Shelter Island restaurants to Long Island lobster rolls and Long Island bagels, there's so much to enjoy. Check out this Huge List of Restaurants on the Water Long Island!!!
And how about all the wonderful Wölffer Estate Vineyard events and tastings?! Or maybe check out some Long Island oyster farms! How about these guides to Long Island Coffee Shops and Long Island coffee roasters!! Check out these 16 Long Island Boardwalks! Take the ferry over and enjoy these Fire Island restaurants!
Be sure to find out about more things to do on Long Island as well as more great spots to eat and drink! Maybe take a stroll in one of these amazing Long Island arboretums and gardens! There's even this great Long Island kayaks and paddleboard guide to explore!